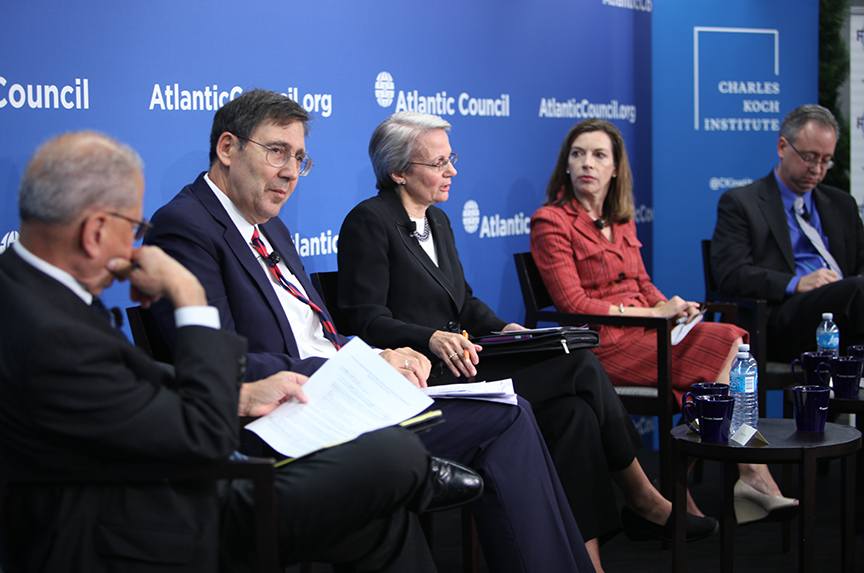 As presidential nominees, Hillary Clinton and Donald Trump have taken divergent views of Russia and its relationship with the United States. Clinton, a Democrat who as secretary of state presented a big red "reset" button to her Russian counterpart in 2009, has taken a hawkish view of Vladimir Putin's Russia. Trump, on the other hand, has said that it "wouldn't be so bad" if the United States got along with Russia. How, then, should they approach Russia when either of them are elected president on November 8?
The next president of the United States—regardless of whether it is Clinton or Trump—must do more to deter Russia, former US officials said at the Atlantic Council on November 3.
"In terms of the Russia policy, we need to change the dynamics. It is not working now. Something needs to change," said Judy Ansley, who was an assistant to the president and deputy national security advisor in the George W. Bush administration.
Ansley argued for a "stronger and much more assertive approach to Russia."

"Quite frankly, the old adage, 'peace through strength' comes to mind. We have to show strength," she said.
"We have to make it clear [to Russia] that there will be consequences for its actions and that we are willing to take those steps," she added, while calling on NATO to return to its original mission of being a deterrent force.
Ansley was joined in a panel discussion by Evelyn Farkas, who served as deputy assistant secretary of defense for Russia/Ukraine/Eurasia in the Obama administration; John Herbst, a former US ambassador to Ukraine who currently serves as director of the Atlantic Council's Dinu Patriciu Eurasia Center; and William Ruger, vice president for research and policy at the Charles Koch Institute. Adrian Basora, co-director of the Eurasia Program at the Foreign Policy Research Institute, moderated the discussion. The panel was part of a conference jointly hosted by the Atlantic Council, the Charles Koch Institute, the Foreign Policy Research Institute, and the Johns Hopkins School of Advanced International Studies, in collaboration with the University of Pennsylvania.
The US-Russia relationship has sunk to its lowest point since the Cold War. This is in large part due to Russia's revanchist behavior in its neighborhood and its aggressive military support for Syrian President Bashar al-Assad's regime.
"We have to do more to deter Russia," said Farkas. While acknowledging that NATO has been effective in providing such deterrence, she advocated for a greater emphasis in the air defense and maritime arenas.
Besides this, Farkas, who is a nonresident senior fellow at the Atlantic Council, said lethal defensive weapons should be provided to Ukraine, Georgia, and Moldova which have "no NATO Article 5 guarantee, so the least we can do is give them those weapons."
At the same time, Farkas advocated leaving the door open for cooperation with Russia but said this approach should be realistic. She said the United States needs to restart its dialogue with Russia on strategic stability issues. "The area where there is the greatest danger in our relationship with Russia has to do with strategic stability writ large, which is really our balance of military power with Russia that includes everything from cyber all the way up to strategic nuclear," she said. Russia's fear of US military capabilities has driven it to a dangerous military doctrine, she added.
Farkas said the international community has done a "miserable job" of holding Russia accountable for acts of aggression such as cyberattacks, which the Obama administration in October publicly blamed on Russia. Russia has denied the accusation.
Herbst said that when it comes to the threat posed by Putin in Europe, the Russian leader "wants to upend the security order" but US President Barack Obama "just didn't get it."
"One of the reasons [Obama] didn't get it is because his predecessor [George W. Bush] had us engaging in the Middle East in ways that were beyond our capacity," Herbst said, adding, "We have a vital interest in stopping Putin in Europe."
In his or her first hundred days in office, the next president of the United States should state publicly the US interest in strengthening NATO and the European Union, endorse NATO's Warsaw Summit decision to increase military capabilities in the Baltic States, Romania, and Poland; impose more sanctions on Russia; and provide defensive weapons to Ukraine, Herbst said.
Reasserting US leadership
Ansley said that the United States needs to re-establish its leadership on the world stage.
"Rightly or wrongly, we are perceived as weak on the world stage and we have done a little bit too much leading from behind," said Ansley. "That dynamic needs to change if we are to successfully engage with Putin."
Ruger said on the question of its role in the world, the United States' grand strategy should focus on making the country safer. "The policies we have been pursuing… over the last fifteen or twenty-five years I just don't think have been working," he said. "We need a more realist-centered approach to the world and to Russia that has a laser-like focus on America's safety and our vital national interests, that is more prudential about using [a military component] and a greater realization of the problem of unintended consequences, and less ignoring of constraints," he added.
One of the problems of the current US approach to Russia is that is hasn't been realistic, Ruger said.
Noting that it takes "two to tango," Ruger said that since the end of the Cold War there have been actions by the United States that have provoked a security dilemma inside Russia.
NATO, he said, should weigh the costs and benefits of Alliance membership for countries like Ukraine and Georgia. "We have to ask the question, 'Is that actually good for our safety?'" he said.
Herbst agreed with Ruger that NATO enlargement plays on historical Russian sensitivities, but contended that enlargement makes sense because of what he described as "imperial Russian tendencies," which are "very much not in American interests."
Ansley agreed with Herbst. "I don't buy the argument that what we're seeing from Putin today is because of mistaken US or European policies. I don't think they are mistaken policies," she said.
Policies like NATO enlargement are in the US national interest and should continue to be supported, she said. "I don't think we should lower our values or lower the policies that we support because of what Russia believes… the only way we have been mistaken in recent years is not responding strongly enough when Russia has acted," she added, citing Russian aggression in Ukraine and Georgia.
Ansley said the United States should send Russia a strong signal by stating that it is US policy to have NATO membership for Ukraine and Georgia "as soon as we can get it." The United States, she said, has gone "over and above" to reassure Russia about NATO expansion, but, she added, it clearly didn't work.
Ashish Kumar Sen is deputy director of communications at the Atlantic Council. You can follow him on Twitter @AshishSen.