NATO's July 11-12 summit in Brussels will be defined by two basic objectives: demonstrating political unity and resolve and advancing military readiness. The latter provides the means necessary to deter and defeat adversaries. Only with the former can this community of democracies fully leverage those capabilities. Both are critical to the effectiveness and long-viability of NATO, history's most effective military alliance.

With days remaining before NATO heads of state and government convene, the Alliance's unity has been shaken by its de facto leader—the president of the United States. In the span of four weeks, US President Donald J. Trump has insulted key NATO leaders at the G-7 Summit in Canada, tweeting that its host, Canadian Prime Minister Justin Trudeau, is "weak" and that Germany's Chancellor Angela Merkel is losing power. He imposed tariffs on Canadian and European steel and aluminum imports and threatened additional tariffs on European automobiles.
Trump's personal taunts to Allied leaders were a sharp contrast to his warm embrace of North Korean dictator Kim Jung-un in Singapore on June 12. Trump's last-minute scheduling of a summit meeting with another authoritarian, Russian President Vladimir Putin, in Helsinki on July 16 has also unnerved his NATO counterparts. They fear Trump may impulsively concede Ukrainian territory illegally seized by Russia or US security commitments to Europe in an effort to improve relations with Moscow.
Trump, if anything, is unpredictable. Thus, a positive summit, one that rhetorically exudes unity is theoretically possible. But damage to Alliance cohesion has been done, and one summit alone will not instantaneously heal Alliance confidence in the United States. That will take time and above all the personal and sustained commitment of Trump.
The irony is that despite Trump's dismissive remarks about NATO his administration has strengthened the US military commitment to Europe. It significantly increased spending on the European Deterrence Initiative that facilitates the US military presence in Central Europe. It is increasing that presence with an additional armored combat brigade. Washington bolstered the defenses of Ukraine and Georgia by providing them weapons, including Javelin anti-tank weapons. The Trump administration has also repeatedly imposed additional sanctions on Russia for Putin's military aggression and other provocative actions.
The upcoming NATO summit is set to roll out a substantive set of military readiness deliverables, much of which has been advanced by US Secretary of Defense Jim Mattis in his effort to drive the Alliance back into a true warfighting posture and mindset. Notable among these are the following:
Increased Allied Defense Spending: Trump has singularly defined his NATO policy with his demand that allies meet their commitment to spend the equivalent of 2 percent of respective national GDP on defense. His tough language has yielded results. Today, all allies are increasing their defense spending. This year eight, including the United States, will meet that spending target, and fifteen others are on a track to meet that mark. This is yielding billions of new defense dollars to the Alliance. Trump has a right to demand more, but this progress should be recognized and he should take credit for success to date.
Military Mobility: NATO is working with the European Union (EU) to eliminate diplomatic, regulatory, and infrastructure obstacles that impede the ability of Allied forces to traverse across the territories of member states. Over the past three decades, NATO took its eyes off of the fundamentals of territorial defense, failing to ensure that its own roads and railways can handle military grade equipment. Investing in robust and tested internal lines of communication is critical to the rapid military mobility necessary to defend NATO's eastern frontier against Russian aggression.
Command Structure Reform: The summit will highlight the creation of two new NATO commands. Germany will host the Allied Joint Sustainment and Enablement Command (JSEC) responsible for the logistics requirements that comes with deploying large amounts of troops and equipment. An Atlantic Joint Force Command will be established in Norfolk, Virginia, to protect the Atlantic Ocean from enemy air and maritime forces and thereby ensure North America's ability to reinforce Europe.
30-30-30-30: The "four thirties" are an initiative of Mattis' in which NATO allies commit to generate by 2020 thirty land battalions, thirty air fighter squadrons, and thirty naval ships ready to deploy within thirty days. While it has been adopted in principal by NATO defense ministers, important elements—such as the specific contributions of each ally—are still to be negotiated. Nonetheless, if implemented, the "four thirties" promise to yield a near-term and significant improvement in NATO war-fighting capability.
The Alliance should add to its readiness agenda a further intensification of its military exercises. NATO exercises have become more robust over the years, but the NATO Response Force (NRF), a 40,000-man joint unit established to lead the Alliance's defense against a major act of aggression, such as a Russian invasion of the Baltic States, has never been exercised in its entirety. A full-scale drill of the NRF is long overdue and could be tied to an exercise that features the cross-Atlantic deployment of significant North American combat forces.
NATO should also regularly test the spearhead force of the NRF, the 4,000-man Very High Readiness Joint Task Force, through no-notice deployments across the Alliance's territory, if not elsewhere. Likewise, Allied air and missile defense units, including European owed-PATRIOT batteries, should be sent on short-term deployments to regions featuring provocations by the Russian air force, be it along the Black Sea, Baltic Sea, or the High North. These types of exercises would demonstrate Allied resolve and refine military interoperability, mobility, and readiness.
The United States and other allies are advocating initiatives to enhance NATO decision-making so that the Alliance's political and military authorities together can operate at the ever accelerating speed of war. This should include guidance that enables NATO military commanders to conduct snap military exercises and to deploy forces under defined circumstances in response to provocations, aggression, and other crises. Such steps would increase NATO's political-military agility, leverage more effectively the deterrence potential of its forces, and further the reanimation of its war-fighting mindset.
NATO has before it a readiness agenda that will strengthen its ability to check Russian aggression and other 21st century challenges. This provides the substantive basis for a highly successful summit in Brussels. However, political cohesion is the core of NATO effectiveness. This readiness action plan will yield its desired results only if Trump focuses not on petty tweets and fomenting division, but on the unifying powers only his office can bring to the Alliance.
Ian Brzezinski is a resident senior fellow with the Atlantic Council's Scowcroft Center for Strategy and Security and is a member of the Atlantic Council's Strategic Advisors Group. Follow him on Twitter @IanBrzezinski.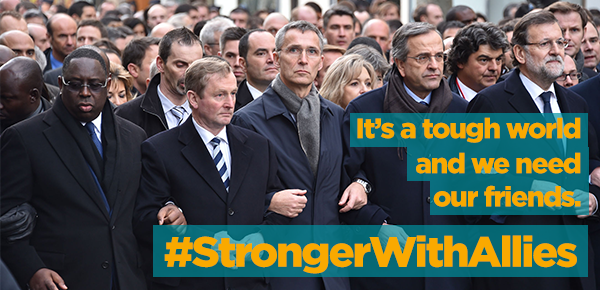 The Atlantic Council is supporting the #StrongerWithAllies campaign, promoting the idea that the United States is stronger and safer with friends abroad. Please join our effort by visiting StrongerWithAllies.org and using our social media toolkit to share your own content about why we're #StrongerWithAllies.