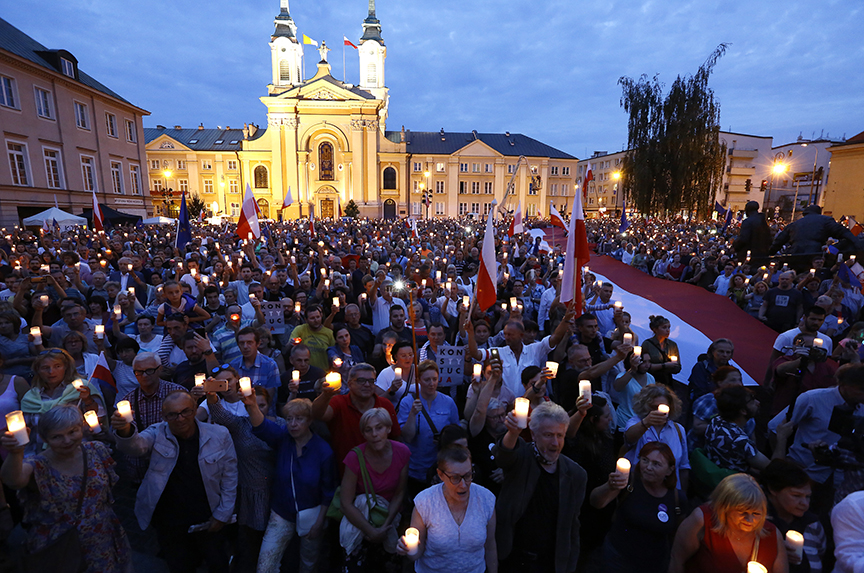 Warsaw must focus on repairing ties with the European Union, said Atlantic Council's Fran Burwell
Polish President Andrzej Duda's decision to veto controversial judicial reforms gives Poland—the scene of creeping authoritarianism—an opportunity to mend its relationship with the European Union (EU). It also represents a significant split between the president and Jarosław Kaczyński, the head of the ruling Law and Justice party (PiS) and a man to whom Duda owes much of his political career.
On July 24, Duda vetoed two of three controversial judicial reforms approved by parliament. These include replacing supreme court judges with government nominees.
"[Duda's decision] gives Poland the opportunity to walk back from the brink with the European Union," said Fran Burwell, a distinguished fellow with the Atlantic Council's Future Europe Initiative.

Under the PiS government, Poland has headed down an authoritarian path marked by a tightening of controls over the civil service, the courts, and the media. In January of 2016, the European Commission took the unprecedented step of launching an inquiry after Duda approved controversial laws enabling the government to appoint the heads of public television and radio, and pick judges for the constitutional court.
The EU has considered imposing sanctions on Poland, but it needs unanimous consent from its members for such action. Hungary, an ally of Poland led by the authoritarian Viktor Orbán, has opposed sanctions.
Had Duda agreed to sign the controversial judicial reforms, Hungary would have come under enormous pressure from the other EU countries to impose sanctions on Poland, said Burwell. "Now there can be a more constructive conversation between the EU and Poland, if Mr. Kaczyński allows it," she added.
Duda's veto was a rare act of defiance against Kaczyński, a former prime minister who leads the PiS. Duda had to give up PiS membership when he took the job of president.
"Kudos to President Duda for standing up to someone to whom he basically owes his political career," said Burwell. Acknowledging that this decision opens a big split between the two men, she predicted Duda will now face plenty of criticism from Kaczyński. PiS has already expressed displeasure at Duda's decision to veto the judicial reforms.
"Politics have never been kind and forgiving in Poland. People really go after each other, so I would not be surprised to see serious criticism from Kaczyński about Duda," said Burwell.
Michał Kobosko, the Poland-based director of the Atlantic Council's Global Forum, noted that Duda had, until now, been "extremely loyal" to Kaczyński.
"Duda signed all but one of the bills promoted by the ruling party, even the most controversial laws that opened way to paralyzing the Constitutional Tribunal a few months ago," said Kobosko. Given this history, he added, the president's veto decision took Poland by surprise.
Poland's next presidential election will be held in mid-2020, and, in the short term, Duda does not risk much with his decision to stand up to Kaczyński, said Kobosko. "But an eventual emancipation of the president may significantly reduce his chances to get the party nomination to run for re-election in 2020," he added.
Burwell said that in such an event, Polish Prime Minister Beata Szydło, who has proven herself to be a firm Kaczyński loyalist, would be a strong contender for the presidency.
Duda's decision followed massive street protests and warnings from the EU and the United States. US President Donald J. Trump, much to the surprise of many analysts, heaped praise on Poland's right-wing government in a speech in Warsaw on July 6.
PiS has "pursued a vision of 'democracy' that they believe is purified from all taint of communism, but in doing so they have rejected the pluralism that is vital to democracy," said Burwell. "There has been a creeping erosion of democratic principles in Poland. Putting the judiciary under political authority – that was one step too far. Poles have said that they have had enough of the government's attempts to undermine democracy."
While Duda said he will veto two of the three reforms passed by parliament, he still supports a third which gives the justice minister the right to select and dismiss judges in lower courts.
However, according to Burwell, Poland does not have a pressing need for judicial reform. "The priority should be to open a constructive conversation with the European Union about the issues that are causing difficulty in that relationship," she said.
A failure to seize this opportunity means that the strong Franco-German engine emerging in the EU—partly as a result of the United Kingdom's decision to leave the bloc—could result in Poland being left out, she said. "The more challenging the Polish relationship is with the European Union the more likely is it that that is going to happen."
Ashish Kumar Sen is deputy director of communications at the Atlantic Council. You can follow him on Twitter @AshishSen.