Scan the headlines these days and you would be forgiven for thinking that the United States is the only country preparing for an important election. As seemingly all attention focuses on voters from the Atlantic to the Pacific don't lose sight of some other contests around the world. Here is a look at the races we are watching in the runup to the US midterms.
Brazil – October 28
Brazil is poised to elect a populist as its next president. If Jair Bolsonaro of the Social Liberal Party (PSL) defeats Fernando Haddad of the Workers' Party (PT) in a runoff vote on October 28 it will be the first time since 2002 that the PT has lost a presidential election.
Bolsonaro is the odds on favorite going into the vote. In the first round on October 7, he won more than 46 percent of the vote, just shy of the overall majority needed to avoid a run-off. Haddad was a distant second with just short of 30 percent.
Bolsonaro's potential election is seen as a sign of Brazilian dissatisfaction with the political establishment and hyper polarization. He survived a stabbing on September 7, which hobbled his ability to campaign in the late stages of the first round. Haddad has suffered from growing dissatisfaction with his PT, which has been blamed for economic mismanagement and whose former leader—Luiz Inácio Lula da Silva—has been ensnared in a corruption scandal.
"Many, if not most, Brazilians will choose to abstain from voting rather than vote for either candidate in the second round, and many more will vote for Bolsonaro simply to keep the PT away from power," according to Roberta Braga, an associate director in the Adrienne Arsht Latin America Center.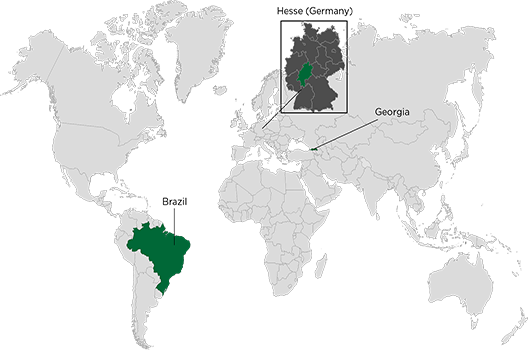 Hesse (Germany) – October 28
Normally a state election would not turn too many heads, especially in Germany where Chancellor Angela Merkel has governed for thirteen years. Following a dismal showing by her Christian Democratic Union (CDU) party's sister party, the Christian Social Union (CSU), in Bavarian state elections on October 14, however, eyes are fixed on Hesse with concerns that another poor result could throw Merkel's coalition into question.
In addition to CSU's poor result, the Social Democrats (SPD), who are in a governing coalition with Merkel, also lost significant support in Bavaria, falling all the way down to fifth in total seats. Polls in Hesse currently show SPD tied with the Greens at 21 percent, a result that could cause infighting within the SPD and potentially force SPD leaders to withdraw from the governing coalition in Berlin.
Perhaps more worryingly for Merkel, her CDU party has its party congress in December and another poor result for her party in Hesse (polls predict it could be a double-digit percentage drop) could spark calls for her to step aside.
Georgia – October 28
Voters in the Caucasus nation will go to the polls for the final time to elect a president on October 28. Following a constitutional change last year, Georgia will begin moving toward a parliamentary system of government, with the office of president becoming largely symbolic and, beginning in 2024, elected by members of parliament and government officials, rather than the whole electorate.
The top contenders include Salome Zuravbishvili, a former foreign minister who would be the first woman to hold the post; Grigol Vashadze, another former foreign minister; and Davit Bakradze, a former speaker of parliament and presidential candidate in 2013. Polls show a close race and it is likely that no candidate will reach the majority needed to avoid a run-off.
Making history: Ethiopia got its first-ever female president this week. Ethiopian members of parliament elected Sahle-Work Zewde, an experienced diplomat, to the largely ceremonial position.
David A. Wemer is assistant director, editorial at the Atlantic Council. Follow him on Twitter @DavidAWemer.