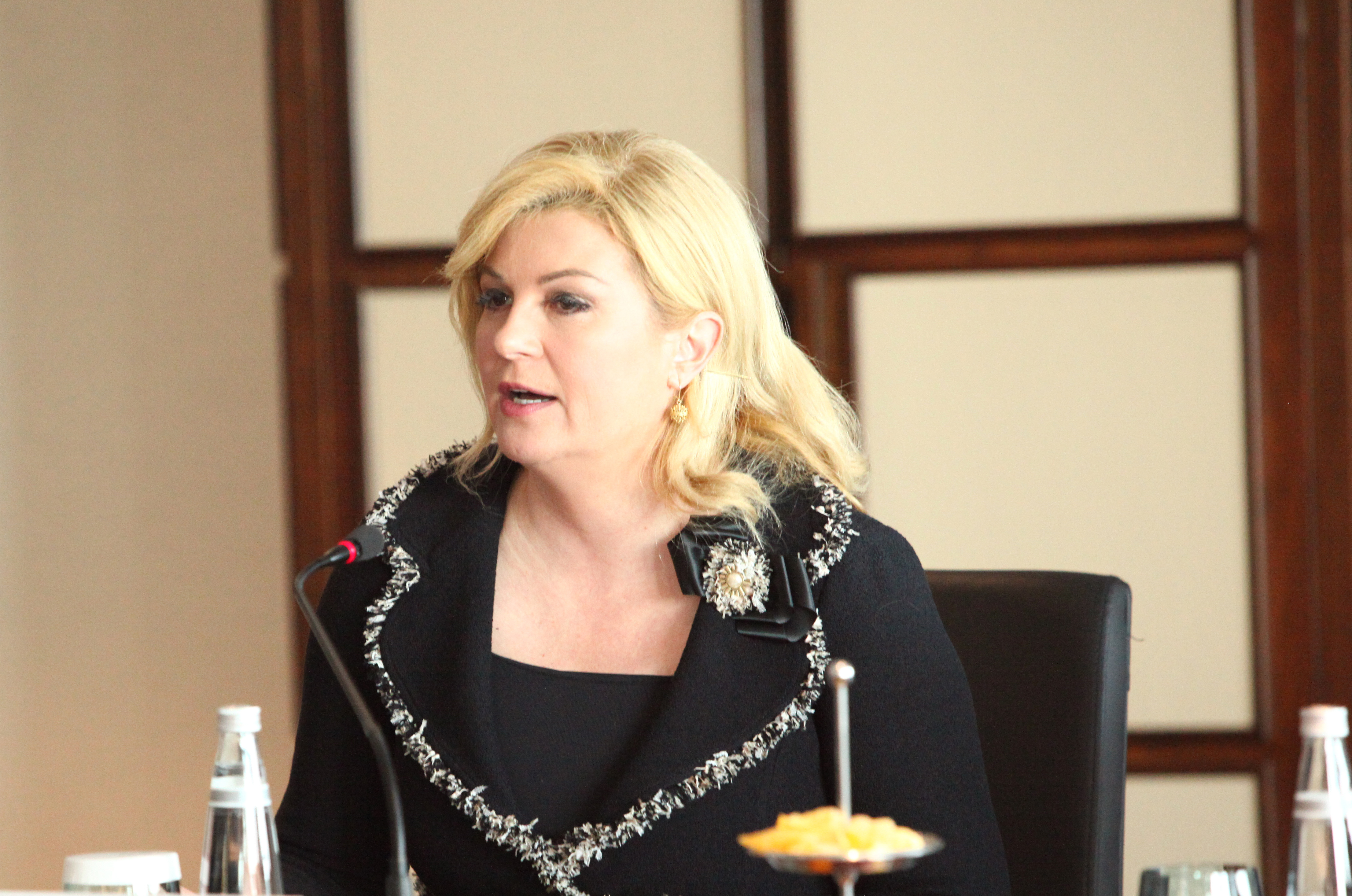 At Istanbul summit, European leaders lay out plans to diversify energy sources
Energy security was the main theme of the remarks by Albania's Prime Minister and Croatia's President at the Atlantic Council's seventh Energy & Economic Summit in Istanbul on Nov. 19.
"Energy security has become a challenge for all of Europe, thus the efforts to diversify the sources in the Balkans and beyond should be shared," said Albanian Prime Minister Edi Rama.
"The energy union in the Balkans, it is today, very clearly a commitment to fundamental and lasting change for our region and the whole of Europe," he added.

Rama said Albania is "diversifying and consolidating" its energy position through an existing alliance with Greece and Montenegro and by building interconnectors with Kosovo and Macedonia.
A Trans-Adriatic Pipeline (TAP), which will carry Caspian natural gas from Azerbaijan to the rest of Europe through Albania, for the first time puts Albania at the center the European Union's geostrategic policy, he added.
Croatian President Kolinda Grabar-Kitarović emphasized the importance of "adaptability and connectivity" toward ensuring energy security.
Grabar-Kitarović has launched an initiative aimed at bringing together the leaders of twelve European Union member states that span the Adriatic, Baltic, and Black Seas — Austria, Bulgaria, Croatia, Czech Republic, Estonia, Hungary, Latvia, Lithuania, Poland, Romania, Slovakia, Slovenia. This initiative aims to explore opportunities to enhance integration in energy and transportation infrastructure, security, and business.
"With the reunification of Europe, the East and the West were being reconnected … but we forgot about connecting the North and the South of the reintegrated part of Europe," she said.
Grabar-Kitarović said her initiative with other EU member states aims to facilitate intergovernmental coordination and cooperation, and to attract proactive engagement of the business community. This would be "crucial for realizing the elements of the Adriatic, Baltic, Black Sea — the North-South corridor," she said.
Bringing all twelve countries together will "serve as a strong foundation for unleashing the full economic potential," she said, adding that it must become a reality soon.
Rama said modernization of energy networks is a serious concern for countries in Europe, and advocated joint plans for the sustainable development of the energy sector.
Southeast Europe, especially the Balkans, have an important role to play, he said. However, he acknowledged, countries in the western Balkans — Albania, Bosnia and Herzegovina, Kosovo, Macedonia, Montenegro, and Serbia — face many challenges in developing their energy supplies as a result of decades on underinvestment and delayed reforms.
Turkey, too, is interested in energy diversification.
Ali Rıza Alaboyun, Turkey's Minister of Energy and Natural Resources, noted the fact that Turkey has large energy resources to its east and consumers on its west, puts it in an important geostrategic location between suppliers and consumers.
Turkey aims to double its energy production by 2023, is planning to diversify its energy needs, and is determined to reduce its dependence on natural gas for electricity generation, said Alaboyun.
The Energy & Economic Summit
World leaders and business and policy titans are gathered in Istanbul this week for the Atlantic Council's seventh Energy & Economic Summit. Turkish President Recep Tayyip Erdoğan delivered the keynote address at the opening session on Nov. 19. More than 500 delegates from forty countries are participating in the summit.
"There is nothing routine about this year's summit," Frederick Kempe, President and CEO of the Atlantic Council, noting that the conference is taking place at a time when "oil prices are stuck at abnormal lows even while extreme violence rises to abnormal highs," Saudi Arabia has a new king, a war is raging in Yemen, the Islamic State of Iraq and al-Sham (ISIS) is expanding its reach, Russia is intervening in Syria, and Paris just suffered its most deadly attack since World War 2.
"A consensus is emerging that the longstanding human tragedy of this region, which has reached European shores in the form of hundreds of thousands of refugees and hundreds of terrorists, and they are very different, by the way, can no longer be contained or ignored," he said. "We need solutions, immediate and long-term, urgent and lasting."
In his remarks, Atlantic Council Chairman Jon M. Huntsman, Jr. said the world today faces a "defining moment" that is marked by "a range of threats from the proliferation of unbenevolent actors spreading violence and instability across the world, to the rise of undemocratic regimes obstructing the global balance of power."
"Looking across the world, this global order is in crisis," he added, noting that the Paris attacks on Nov. 13 that killed at least 129 people and wounded more than 350 underscored the need for robust global leadership.
By convening the summit, "we hope to not only identify the challenges we are facing, but to energize us all to think in innovative and productive ways toward a better, more secure future," said Huntsman.
Defne Sadiklar-Arslan, Director of the Atlantic Council Energy & Economic Summit, said the decision to host the annual summit in Turkey is an affirmation of Turkey's importance to its neighborhood, to the world economy, and the energy sector.
The US Ambassador to Turkey, John Bass, said the Obama administration is "proud to support the work here today, and on a broader basis of one of the premier think tanks and advocacy organizations in the United States."
Tuncay Dinç, CEO of Borsa Istanbul, İlker Aycı; Chairman of the Board and the Executive Committee of Turkish Airlines; and Ali Fuat Taşkesenlioğlu, CEO of Halkbank, also participated in the opening session.
'Turbulent times'
The summit is taking place in the shadow of the terrorist attacks in Paris.
"These are turbulent times," said Grabar-Kitarović, noting the "relentless" speed at which threats are emerging.
Lasting peace will depend on a decisive and determine common approach based on defense, diplomacy, and development, she said.
Grabar-Kitarović emphasized the importance of tolerance noting that while condemning terrorism committed in the name of Islam there has to be a recognition that intolerance and disrespect for human life goes against the values of Islam. "We need to continue to build safe, tolerant, and flexible communities eliminating preconditions for radicalization through the expansion of economic, educational, and development opportunities," she said.
Her message of tolerance is especially important as some far-right parties in Europe have sought to exploit the Paris attacks to stir up xenophobic sentiments toward the migrants.
But most of all, Grabar-Kitarović said, "We have to stop taking security for granted."
"This is more than just a joint fight against terrorism. … This is a relentless battle to preserve civilization and global order," she added.
Ashish Kumar Sen is a staff writer at the Atlantic Council.