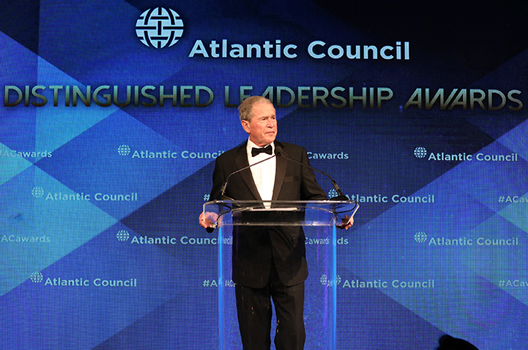 Former US president makes a pitch for preserving PEPFAR
Former US President George W. Bush, accepting the Atlantic Council's Distinguished International Leadership Award in Washington on May 10, warned of the dangers of isolationism and said it is critical that the United States step up to the responsibilities of global leadership.
Bush also made a pitch for securing a program started on his watch that has saved the lives of more than thirteen million people in Africa who are suffering from HIV/AIDS.
"America is indispensable for the world," said Bush. "The dangers of isolation loom."

He said: "The price of greatness is responsibilities. One cannot rise to be in many ways the leading community in the civilized world without being involved in its problems, without being convulsed by its agonies and inspired by its causes."
"People in the United States cannot escape world responsibility," he added.
The former president's comments come at a time when critics say the United States is increasingly turning inward under US President Donald J. Trump. On May 8, Trump withdrew the United States from the multilateral Iran nuclear deal. Trump has also pulled the United States out of the Paris Climate Agreement and the Trans-Pacific Partnership, a trade deal with Pacific Rim nations. And he wants to build a wall on the border with Mexico to keep out migrants.
The Atlantic Council honored Bush for his commitment to global health. As president, Bush created the President's Emergency Plan for AIDS Relief (PEPFAR) in 2003. The initiative, which provided lifelong HIV treatment to more than thirteen million HIV patients in Africa, is credited with having saved millions of lives.
The Atlantic Council also presented its Distinguished Military Leadership Award to Gen. Curtis M. Scaparrotti, supreme allied commander Europe and commander, US European Command; the Distinguished Business Leadership Award to Howard Schultz, executive chairman, Starbucks Corporation; and its Distinguished Artistic Leadership Award to Grammy Award-winning singer Gloria Estefan.
Opening the awards dinner, retired Gen. James L. Jones, Jr., interim chairman of the Atlantic Council, described the event as an "annual celebration of international leadership and tribute to the men and women who make our world a better place."
Jones underscored Bush's leadership in creating what he said had "brought about the largest health initiative of one country focused on one particular disease."
Bush said his administration was driven to start PEPFAR because it believed that "of those to whom much is given, much is required."
"In 2003, we decided that the greatest, wealthiest nation ever had a moral responsibility to intervene" in the health crisis in Africa, he said. "We recognized, too, that the United States had a national security imperative to act. Societies mired in disease breed hopelessness and despair, leaving those forgotten by wealthy nations susceptible to recruitment by radical extremists."
Bush used his remarks to highlight PEPFAR's success and to make a plea to Washington—the Trump administration and the US Congress—"to make sure this program continues to be strong, to save lives."
"We've turned the tide against HIV/AIDS, but the gains are still fragile," said Bush. "We cannot stop. We have now reached a stage in the journey where there can be no pause. We must go on."
The plea gains particular resonance at a time when there is uncertainty about Washington's commitment to foreign aid.
Touting the success of PEPFAR, Bush said that today, across Africa, people who had once been given up for dead are today leading healthy and productive lives. "Entire villages that had been abandoned are now thriving," he said. However, he added, "the sad news is most Americans have no idea that their generosity has such an amazing effect."
"It's the best kind of diplomacy there is. It's soft power at its most beautiful," said Bush.
Acknowledging that some Americans may ask whether saving lives in Africa is in the United States' national interest and question why the United States is spending money overseas, Bush said: "Those are legitimate questions. Here is my answer: I believe that spending less than two-tenths of 1 percent of our federal budget to save millions of lives is the moral, the practical [thing to do], and in the national security interests of the United States."
"People say we shouldn't spend money on programs that don't work at home or abroad. I completely agree. But we should invest in programs that are efficient, effective, and results-oriented. PEPFAR is a program—such a program. It works," he added.
The George W. Bush Presidential Center uses the platform provided by PEPFAR to deal with cervical cancer in women, the leading cause of death of women in Africa.
Condoleezza Rice and Stephen J. Hadley introduced Bush.
Hadley, executive vice chairman of the Atlantic Council's board of directors, served as national security advisor to Bush. He credited the former president with keeping the United States safe in the years after the terrorist attacks on 9/11 and averting calamitous predictions of death from HIV/AIDS and malaria through PEPFAR and the Global Fund to Fight AIDS, TB, and malaria.
Rice, who served as secretary of state and national security advisor in the Bush administration, said in taped remarks that Bush led the United States "in the most difficult of times with dignity, dedication, and a deep love for the United States."
Following 9/11, Bush "summoned the best in us," said Rice. "He led us to champion freedom from tyranny for all."
"George W. Bush showed what true leadership means and requires—being true to yourself and doing what you think is right even if it's not popular. It is not telling people what they want to hear or playing to their fears. It is telling the truth and calling on them to see the world not just as it is, but as it should be," Rice said.
"Ultimately, true leadership requires being deep down a good person. Character matters and it is evidenced most clearly in how leaders treat the people around them. They assign worth, dignity, and respect to every person and they treat them accordingly. It helps, too, to be humble and to have a good sense of humor," she added.
Jones, who served as commander of US European Command under Bush, also acknowledged the former president's leadership in expanding NATO to include Estonia, Latvia, Lithuania, Slovakia, Slovenia, Romania, and Bulgaria.
Bush's remarks were laced with humor, often self-deprecating. In a dig at Trump who nicknamed North Korean leader Kim Jong-un "Little Rocket Man," he joked that he calls fellow honoree Schultz "Starbucks man."
He also took a dig at his father, former US President George H.W. Bush, saying that when Hadley told him not to wear his old tuxedo to the awards dinner he responded: "Hadley, read my lips. No new tuxes."
In a more serious vein, Bush cited the example of Winston Churchill. In his lifetime, two world wars had shown the late British prime minister "that oceans no longer protected the new world from problems of the old," said Bush.
"The only way for peace was through partnership and engagement. If we are together, nothing is impossible. If we are divided, all will fail. That's why the Atlantic Council is important today. And I appreciate your good works," he said.
Ashish Kumar Sen is deputy director of communications, editorial, at the Atlantic Council. Follow him on Twitter @AshishSen.