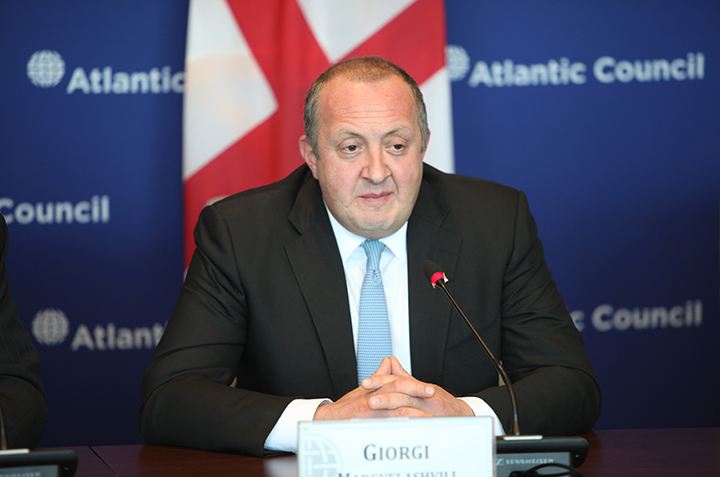 Paris, Brussels terrorist attacks add to urgency, says Georgian President Giorgi Margvelashvili
The terrorist attacks on Paris and Brussels show that there is an urgent need for "bigger security guarantees" for countries of the Eastern Partnership, Georgia's President, Giorgi Margvelashvili, said at the Atlantic Council on March 30.
"At the end of the day…are we ready to open our eyes and face the reality that security, even security of NATO, is not solved without the security of other countries," asked Margvelashvili.
"This is a reality that has been revealed in a very severe and terrible format," he added referring to the attacks in Paris on November 13, 2015, and on Brussels on March 22 of this year. The Islamic State of Iraq and al-Sham (ISIS) has claimed responsibility for both of the attacks.
Margvelashvili said the attacks had shown the extent of the challenge for even the "most strong military alliance and the countries in this alliance."

The Eastern Partnership is a joint initiative that includes the European Union and six Eastern European partners—Armenia, Azerbaijan, Belarus, Georgia, Moldova and Ukraine. In 2009, Georgia joined the Eastern Partnership initiative, which encourages democratic reforms in Europe's eastern flank through incentives such as free trade and visa-free travel.
Margvelashvili spoke ahead of a private meeting led by Damon Wilson, Executive Vice President for Programs and Strategy at the Atlantic Council.
In his public remarks, Margvelashvili affirmed Georgia's commitment to Euro-Atlantic values and noted that his country has done a lot toward realizing its goal of NATO and EU membership.
The EU deepened political and economic ties with Georgia in 2014 by signing an Association Agreement. Georgia is currently implementing a Substantial NATO-Georgia Package that was adopted at NATO's Wales Summit in 2014. A Joint Training and Evaluation Center, the largest project under the Package, was inaugurated in August of 2015.
On March 9, the European Commission proposed visa-free travel for Georgians traveling to the Schengen zone. This decision was widely interpreted as an acknowledgment of the success of judicial reforms in Georgia.
"As a government, as a society, as a culture, we have done a lot during these twenty-five years…to show how really we believe in NATO, in EU, and how we want to pursue that process," said Margvelashvili.
The President said Georgia has a clear vision and a record "without any question marks" when it comes to pursuing its Euro-Atlantic dream.
It is, however, unlikely that NATO will offer Georgia a Membership Action Plan—a formal step toward membership—at the Alliance's Warsaw Summit in July. That is, in part, because 20 percent of Georgia's territory is occupied by Russia following a war in 2009 that centered on the provinces of South Ossetia and Abkhazia. Russian President Vladimir Putin has since signed treaties with both provinces that give Moscow control over their defense as well as their borders.
Some Alliance officials have expressed the view that NATO membership for Georgia will only annoy Russia and put Georgia at further risk. "You [Georgia] must respect the reality, and the reality is that you have a common border with Russia. True friends of Georgia do not want to put you at risk," Ian C. Kelly, the US Ambassador to Georgia, reportedly said in February.
Nevertheless, Margvelashvili said Georgia is trying to build "political understanding and public opinion" on the line that "solutions for many issues are in closer partnership with Georgia, Europe, and the United States."
The President pointed out that Georgia had contributed to global peace and security through its commitment of troops to Afghanistan, for example. Georgians "will finally and at some point reach the destination that they belong," he added.
Ashish Kumar Sen is a staff writer at the Atlantic Council.