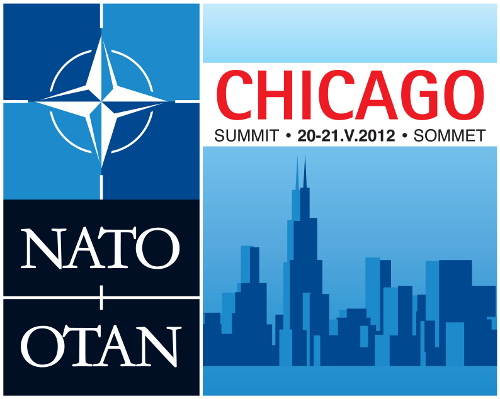 White House reporters can be forgiven their collective shrug when they received the readout from President Obama's meeting last week with NATO Secretary General Anders Fogh Rasmussen, in advance of the alliance's Chicago summit this weekend.
Laced with the usual, mind-numbing NATO-speak, the dry listing of the summit's three areas of focus – Afghanistan, defense capabilities, and partnerships – didn't sound like the stuff of history.
However, beneath the third agenda item – partnerships – lies a potential revolution in how the world's most important security alliance may operate globally in the future beside other regional organizations – and at the request of the United Nations. At a time of euro zone crisis, U.S. political polarization and global uncertainty, it provides a possible road map for "enlarging the West" and its community of common values and purpose. "NATO is now a hub for a global network of security partners which have served alongside NATO forces in Afghanistan, Libya and Kosovo," Obama and Rasmussen agreed.
As America's willingness and capability to act unilaterally declines, any U.S. president will find himself increasingly drawn to NATO as an even more vital tool for foreign and defense policy – against a host of global threats ranging from Syrian upheavals and North Korean nuclear weapons to cyber attacks and piracy. The problem, however, is that NATO members more often than not won't be located where they are most needed. Or due to lack of political will or inadequate military muscle, many NATO members may not have the capability to intervene. That means regional partners will be increasingly necessary to provide both the credibility and resources for the most likely future operations.
Although many experts, including then-Secretary of Defense Robert Gates, opposed NATO's 2011 intervention in Libya, the operation's ultimate success provides something of a model for this sort of future. NATO operated alongside key regional and European non-alliance partners within NATO structures – with the blessing of the Arab League and the United Nations Security Council. The alliance – and by extension the United States – achieved its objectives with no allied casualties, minor collateral damage and limited U.S. engagement. The war lasted seven months and cost the alliance just $1.2 billion, the equivalent of one week of operations in Afghanistan.
Such situations never repeat themselves precisely. Should NATO ultimately be involved in Syria, for example, regional engagement would likely be far greater. In a North Korean scenario, it is hard to imagine any response that wouldn't be coordinated with America's Asia-Pacific allies and China. Regarding maritime security, the NATO countries involved and local partners would shift given the threat, whether off the Gulf of Guinea or the Straits of Hormuz. What's clear is that for the model of NATO at the hub of a global security network, the alliance will need to become more flexible and adaptable – and to build a broader and deeper array of global partnerships.
The expected discussions of NATO leaders this weekend about how best to wind down their decade-long Afghan military operation and about how to maintain sufficient defense capabilities, despite growing budget cuts, risk leaving the impression of an alliance in retrenchment or decline. That's hardly an inspiring or helpful message for a U.S. president heading home to Chicago at the beginning of his re-election campaign.
By contrast, NATO's efforts to broaden and deepen cooperation with capable partner nations can be rolled out as a pro-active, forward-looking initiative that has NATO going on offense for a new era. So that no one misses his notion of NATO at the core of a global security network, President Obama and his allies will stage an unprecedented summit meeting with 13 partner nations – from South Korea, Japan, New Zealand and Australia in Asia-Pacific to Jordan, Morocco, Qatar and the United Arab Emirates in the Middle East and North Africa. Also present will be five European states that aren't members of the alliance but routinely contribute to alliance activities – Austria, Finland, Sweden and Switzerland.
What they'll be trying to do is give teeth to an agenda for NATO that I first saw discussed in detail by former National Security Adviser Zbigniew Brzezinski in a major Foreign Affairs article in October 2009. He argued against those who wished to expand NATO into a global alliance of democracies. He said that would dilute the crucial importance of the U.S.-European connection, which still accounts for half of the world's economy, and that none of the world's rising powers would be likely to accept membership in a global NATO. An ideologically defined democratic alliance would needlessly draw institutional lines between the U.S. and, for example, China.
"NATO, however, has the experience, the institutions, and the means to eventually become the hub of a globe-spanning web of various regional cooperative-security undertakings among states with the growing power to act," he wrote. "In pursuing that strategic mission, NATO would not only be preserving transatlantic political unity; it would also be responding to the twenty-first century's novel and increasingly urgent security agenda."
It would also rescue the alliance from geostrategic irrelevance.
Fred Kempe is the president and CEO of the Atlantic Council. This blog series was originally published by Reuters and is part of a series of New Atlanticist pieces on NATO's 2012 Chicago Summit.