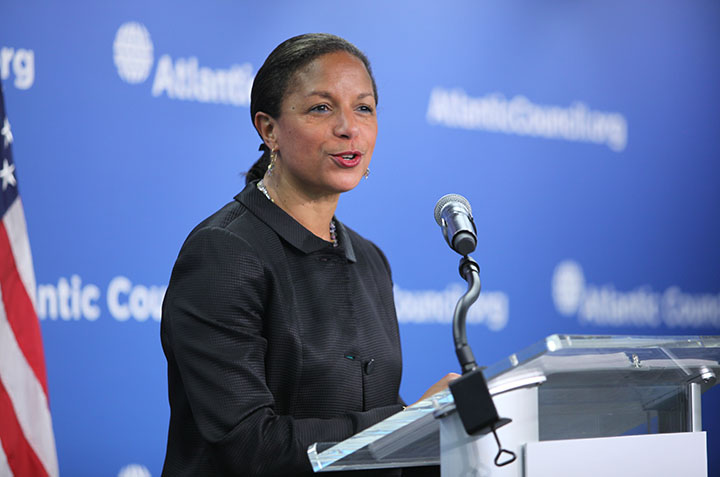 President will make historic visit to Havana on March 20
Human rights and democratic reform will be at the top of US President Barack Obama's agenda when he visits Cuba next week and meets with Cuban President Raúl Castro as well as civil society leaders of his choosing, and not those handpicked by Havana, according to US National Security Advisor Susan Rice.
"Our unwavering commitment to democracy and human rights will be plain," Rice said.
"The message President Obama will deliver, privately and publicly, is simple: We believe the Cuban people, like people everywhere, are best served by genuine democracy when they are free to choose their leaders, express their ideas, and practice their faith," she added.
Rice spoke at the Atlantic Council on March 17 at an event the Council co-hosted with the Brookings Institution, the Inter-American Dialogue, and the Woodrow Wilson International Center for Scholars.

When Obama arrives in Havana on March 20 he will become the first US President to visit Cuba since Calvin Coolidge made the trip in 1928.
"On Sunday, Air Force One will depart Andrews Air Force Base en route to Havana, Cuba. No National Security Advisor has ever said that before," Rice joked. Coolidge made the trip to Cuba on a battleship.
The United States and Cuba restored diplomatic ties and opened embassies in each other's capitals in July of 2015 ending more than five decades of estrangement between the two countries. The two countries have since taken a number of steps to build on this rapprochement, including easing travel restrictions and a restoration by the United States of commercial flights to Cuba.
In Cuba, apart from a bilateral meeting with Castro, Obama will attend a state dinner hosted by the Cuban leader, meet with human rights activists, deliver a speech at the National Theater, and watch a baseball game between the Tampa Bay Rays and the Cuban national team.
From Cuba, Obama will travel to Argentina where the election of a new President—Mauricio Macri—has provided an opportunity for Washington to mend ties with Buenos Aires that frayed under Macri's predecessor, Cristina Fernández de Kirchner.
Rice said the Obama administration has been impressed by many of the reforms initiated by the Macri administration. "We believe Argentina can be a strong global partner on a range of issues, from counternarcotics to climate change," she said.
In Buenos Aires, Obama and Macri will announce a number of new partnerships, including efforts to combat crime and drug trafficking, promote sustainable energy development, and fight climate change.
Obama's visit to Argentina coincides with the fortieth anniversary of the "dirty war," which lasted from 1976 to 1983, and during which US officials encouraged a regime crackdown that left tens of thousands dead.
The United States has already released more than 4,000 documents from that period. At the request of the Argentine government, Obama will announce a comprehensive effort to declassify even more documents, including for the first time, military and intelligence records, said Rice.
"On this anniversary and beyond we are determined to do our part as Argentina continues to heal and move forward as one nation," she added.
A 'transformational moment'
In his remarks welcoming Rice, Atlantic Council President and CEO, Frederick Kempe, said Obama's visit to Cuba is a "historic turning point for the United States' relations with Cuba, and with Latin America broadly."
The United States' relationships across Latin America have been transformed under Obama. Besides the historic opening with Cuba, the United States has helped facilitate the end to a more than fifty-year war with leftist Revolutionary Armed Forces of Colombia (FARC) guerrillas in Colombia. It is also negotiating a transformational Trans-Pacific Partnership (TPP) trade agreement that includes three Latin American countries—Mexico, Chile, and Peru.
The year 2016 "is an especially significant, perhaps historic year" for Latin America, said Rice, noting that the United States' relationships across the region are at a "transformational moment."
"President Obama and all of us throughout his administration intend to make the most of it," she added.
Rice said this transformation has been mirrored in a change in the United States' approach to the region. Before Obama came to office, the United States' standing in Latin America had suffered. "If you asked some neighbors about the Yankees, you would have gotten roughly the same answer you'd get from a Red Sox fan," she joked.
Three areas to build on
Rice laid out three areas where the United States can make further progress across Latin America: the economy, security, and democracy and human rights.
On the economic front, since Obama took office US exports to Latin America have grown by more than forty percent. The TPP provides an opportunity to further deepen the United States' trade and investment ties in Latin America. "This is a good deal with strong labor and environmental standards, and we are committed to working with Congress to ratify it," Rice said of the TPP.
The United States also seeks to build clean energy partnerships in Latin America, create new opportunities for farmers and entrepreneurs, and give more US students the opportunity to study in Latin America, and more Latin American students to study in the United States.
However, Rice observed, economic growth is dependent on security.
Noting the threat posed by narcotraffickers in Latin America, Rice said, "The frontlines of this fight are in Central America—in the Northern Triangle of El Salvador, Guatemala, and Honduras." The violence in this region forced around 68,000 children to flee to the United States in 2014.
The United States is providing law enforcement in some Latin American countries with the training and technology needed to confront the challenge of narcoterrorism, while protecting human rights. It is also expanding regional coordination, cracking down on the flow of guns across its southern border, squeezing cartel finances, working to reduce the demand for drugs in the United States, and stepping up partnerships to combat mosquito-borne diseases such as Zika, dengue, and chikungunya.
Democracy and human rights, Rice said, are central to the US foreign policy. In Venezuela, where the opposition made big gains in parliamentary elections in December, the National Security Advisor said the Obama administration was heartened by the fact that the election results were initially respected. "But we remain deeply concerned by the marginalization of the legislature and the jailing of dissenters," she said while calling for a dialogue between the government of President Nicolás Maduro and the opposition.
In Brazil, where President Dilma Rousseff is facing an impeachment process and massive anti-government protests, Rice said Brazilians must rely on the strength of their democratic institutions.
Ashish Kumar Sen is a staff writer at the Atlantic Council.