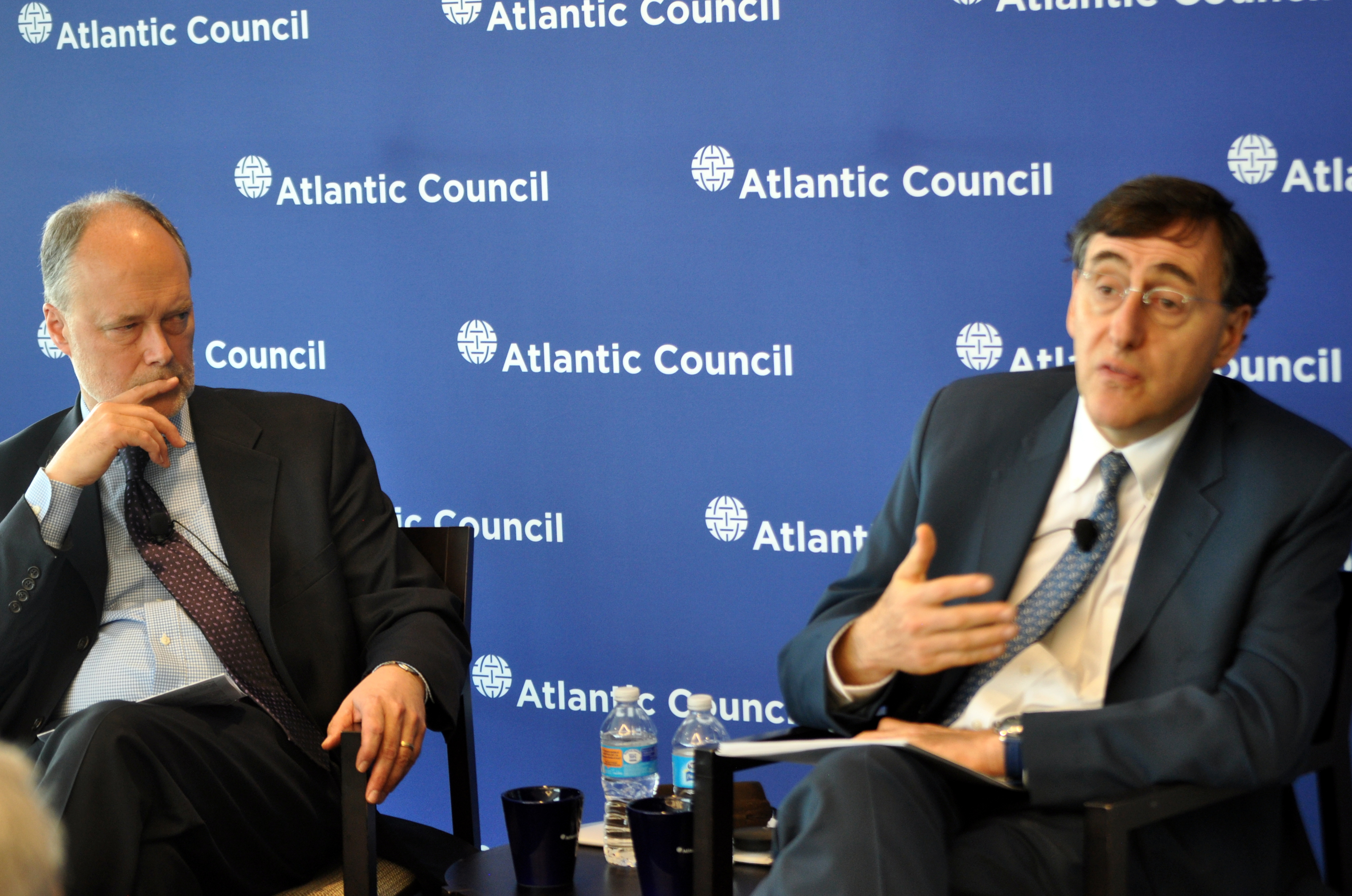 Fund official says administration in Kabul still has to overcome some 'bottlenecks'
Afghan President Ashraf Ghani has shown the world that his administration is "open for business," but Afghanistan still faces "a lot of bottlenecks" that need to be addressed, the International Monetary Fund's top official in Kabul said June 11.
Paul Ross, IMF Mission Chief in Afghanistan, said at the Atlantic Council that his counterparts are "optimistic about the long term, but they do see some short-term challenges" in Afghanistan.

In recent discussions with Afghan officials, he said "there was a very strong impetus and desire of the [Ghani] administration to agree [to] something with the IMF as a way of signaling to the world that Afghanistan is open for business and the new administration is determined to proceed with reforms."
Those discussions yielded the IMF's Staff-Monitored Program (SMP) for Afghanistan. The SMP, valid from April to December 2015, aims to support the Afghan government's reform agenda by tackling economic vulnerabilities and helping secure funds from foreign donors.
Ghani, a former World Bank economist and former member of the Atlantic Council's International Advisory Board, was elected President in June 2014 but only assumed office in September after protracted post-election talks with his main rival, Abdullah Abdullah. (Abdullah now serves in Ghani's team in a post especially created for him: that of Chief Executive Officer of Afghanistan.)
Political difficulties, along with uncertainty about the future presence of foreign troops in Afghanistan, slowed economic growth in 2014, which Ross called a "difficult year."
The political uncertainty "basically shut down the economy," said James B. Cunningham, a Senior Fellow in the Atlantic Council's South Asia Center who was US Ambassador to Afghanistan from 2012 to 2014.
"But the economy didn't crash… Things are slowly righting themselves," added Cunningham, who occupies the Atlantic Council's Zalmay Khalilzad Chair on Afghanistan and who moderated the conversation with Ross.
In order to revive the Afghan economy, the Ghani government must create an environment conducive to attracting private-sector investment, improve the business climate through governance reform, and strengthen efforts against corruption and money laundering, said Ross.
"There is a lot more in terms of how the government interacts on a much broader basis with all of its population," said Ross. "Is it a user-friendly government?"
Most of Afghanistan's people are younger than 25. Many need jobs, and agriculture is a potentially "employment-rich" field, said Ross.
Afghanistan is also rich in mineral resources, but to fully exploit them, the country needs a business climate that encourages foreign companies to invest heavily, and infrastructure that allows those companies to transport their products cheaply from the mines to world markets.
Impact of troop withdrawal
As Afghan troops battle a resilient Taliban, Ghani had urged US President Barack Obama to be flexible on a timeline to withdraw US troops from Afghanistan.
Obama agreed to that request in March, when he announced that he'd leave 9,800 US troops in Afghanistan until the end of 2015. He had earlier planned to keep only 5,600 soldiers there by December.
Over the years, the presence of foreign troops in Afghanistan has injected billions of dollars into the local economy, and as soldiers pull out, less money is being spent. But, said Ross, "when you are faced with lower activity, it energizes you to look for ways to try and make the economy grow."
At the same time, illicit activities such as opium cultivation, drug smuggling, and illegal mining have had a "huge impact" on the economy, Cunningham said, adding that stopping those activities will be a "very long struggle" for Afghanistan.
By agreeing to an SMP with the IMF, the Ghani administration signaled its commitment to economic reform, said Ross, noting that the SMP's key components are reforms in the fiscal, financial, and governance sectors.
The SMP will help ensure that the Afghan government continues carrying out economic reforms, said Ross, though the country will still need support from foreign donors.
"We're trying to help, but it is a long road," said Ross.
Ashish Kumar Sen is a staff writer at the Atlantic Council.