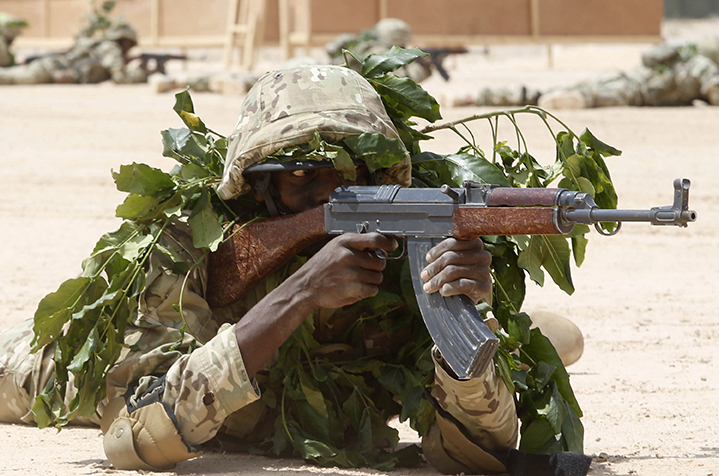 US strike on terrorist group exposes 'serious strategic challenge,' says Atlantic Council's J. Peter Pham
A US airstrike that killed more than 150 al Shabaab fighters at a training camp in Somalia over the weekend emphasizes the extent of the terrorist threat in a country that US President Barack Obama once cited as a counterterrorism success story, said the Atlantic Council's J. Peter Pham.
"The airstrike was a tactical and operational success, but it also underscores that there is a very serious strategic challenge," said Pham, who is Director of the Atlantic Council's Africa Center.
The airstrike hit a training camp about 120 miles north of the Somali capital, Mogadishu. Pentagon spokesman Capt. Jeff Davis said a "large-scale" attack was being planned. "We know they were going to be departing the camp and they posed an imminent threat to US and [African Union] forces," he said according to reports.

While al Shabaab has not managed to carry out attacks in the West, it has attacked Western targets in Somalia as well as, indirectly, in the region. In a video posted online in early 2015, it did, however, call for attacks on shopping malls in Canada, the United Kingdom, and the United States. The video listed the Mall of America in Bloomington, Minnesota, as a target. Minnesota is home to the United States' largest Somali community.
Al Shabaab appeals to a "very small minority" of the Somali diaspora in the United States, said Pham. Nevertheless, it does have a network that has facilitated people traveling from the United States to Somalia to fight alongside the group.
"Unlike the isolated, so-called 'self-radicalized' ISIS sympathizer, this is a group that has a network that has successfully served as a pathway from the United States, and presumably, and this is a risk, a path back to the United States," he said.
Shirwa Ahmed, the United States' first suicide bomber in the modern era, came from the Somali-American community in Minnesota.
Al Shabaab's leader Ahmed Abdi Godane pledged allegiance to al Qaeda leader Ayman al-Zawahiri in February of 2012. Godane was killed in a US airstrike in September of 2014. Al Shabaab also has ties to two al Qaeda affiliates—al Qaeda in the Arabian Peninsula (AQAP) and al Qaeda in the Islamic Maghreb (AQIM).
Al Shabaab has resisted overtures from the Islamic State of Iraq and al-Sham. Instead, it has conducted a ruthless campaign to root out those calling for alignment with ISIS, said Pham.
J. Peter Pham spoke in an interview with the New Atlanticist's Ashish Kumar Sen. Here are excerpts from our interview.
Q: What is the significance of the US airstrike on al Shabaab targets in Somalia?
Pham: The airstrike was a tactical and operational success, but it also underscores that there is a very serious strategic challenge. The airstrike, which is reported to have killed 150 al Shabaab militants, is quite significant for two reasons: some good news and some bad news.
The good news is that someone in the United States was keeping an eye on the ball. We had good enough intelligence that the group had assembled, and we were able to react quickly and eliminate the terrorists.
The bad news is that the group could assemble 150 people in one spot and was not afraid to do so. These are not signs of a group that is supposedly on the run or defeated.
Less than two years ago, President Obama cited the supposed success stories in Yemen and Somalia. Yemen today is definitely not a success story and Somalia's success story has been overblown. But there have been some successes in Somalia. In the last five or six years, al Shabaab has been pushed out of Mogadishu as an occupying force, although it still carries out attacks there. It no longer controls two-thirds of south-central Somalia. But the group has proven to be remarkably resilient and now, freed of the burden of having to hold and govern territory, it carries out a wide range of attacks ranging from suicide bombings to conventional assaults. Less than two months ago, al Shabaab successfully overran the forward operating base in El Adde, Somalia, manned by Kenyan troops serving with the African Union Mission in Somalia (AMISOM), killing scores of peacekeepers.
Another important news story out of Somalia today was the announcement from the Australian Navy that the HMAS Darwin stopped a fishing boat en route from Oman to Somalia with 100 RPGs on board worth roughly $2 million, 2,000 automatic rifles, and assorted other armaments. The sheer size of the arsenal is problematic as is the fact that the group has the resources to pay for it. A group that is "on the run" doesn't need an arsenal that large—which begs the question of the judgment of those who advanced the supposed "success" of the "Somali model" for confronting Daesh in Iraq and Syria.
Q: Does the United States have a credible security partner in Somalia?
Pham: The United States and its European allies can take credit for training and equipping the AMISOM force that has helped push Shabaab out of territory in major urban centers like Mogadishu. Our efforts to train an effective Somali security force to assume responsibility have, however, been less successful. Part of the reason for this is you cannot build a sustainable security force without building a government that will be responsible for that security force.
The fact is that despite our good intentions, the Somali government is still wracked by corruption. Last year, Reporters Without Borders rated the internationally-backed Somali government as having one of the worst records on freedom of expression, ranking down at the very bottom of the World Press Freedom Index with the likes of Eritrea, North Korea, Turkmenistan, and Syria. US federal courts will routinely refuse to deport people back to Somalia because they find conditions so abysmal as to be a violation of our treaty obligations to compel people to go there. Until a government is built that is truly legitimate in the eyes of Somalis, it is a Sisyphean endeavor to try to build a security force.
Q: Despite overtures from the Islamic State of Iraq and al-Sham (ISIS), al Shabaab has been reluctant to declare its allegiance to the group. Why is that?
Pham: In the last six months, Shabaab leaders have been internally repressing any dissident elements calling for a realignment with the so-called Islamic State. The group has unleashed its intelligence and security branch, the so-called Amniyat, on its own membership to root out, and in some cases kill, those who advocate ties with Daesh.
Shabaab has had longstanding relations with al Qaeda, which go back to the late leader of al Shabaab, Ahmed Abdi Godane. He trained in Afghanistan and fought with al Qaeda-linked forces in Afghanistan, Pakistan, and perhaps Kashmir, long before 9/11.
Q: What support does al Shabaab derive from the Somali American diaspora?
Pham: Al Shabaab's appeal has been to a very small minority in the Somali American community. That being said, if one goes by the prosecutions and convictions that have been secured by the US government, it does have an infrastructure that has facilitated people going and joining the fight as well as people sending support to the group. In that sense, it is one of the few foreign terrorist organizations that has succeeded in building an infrastructure within the American homeland, however small. Thus al Shabaab does have that reach.
Unlike the isolate, so-called "self-radicalized" ISIS sympathizer, this is a group that has a network that has successfully served as a path from the United States to Somalia, and presumably, and this is a risk, a path back to the United States.
Q: Does al Shabaab have the capacity to carry out an attack in the West?
Pham: We tend to focus too much on outrageous comments like those calls [to attack the West] that are meant as much to get our attention and to bolster the group's standing among extremists. While we shouldn't ignore the possible threats, I don't think it's helpful to allow al Shabaab's propaganda to determine our allocation of limited intelligence and other counterterrorism resources. Instead we should focus on the real threat of Shabaab that not only remains, but has changed and is growing in East Africa.
Ashish Kumar Sen is a staff writer at the Atlantic Council.