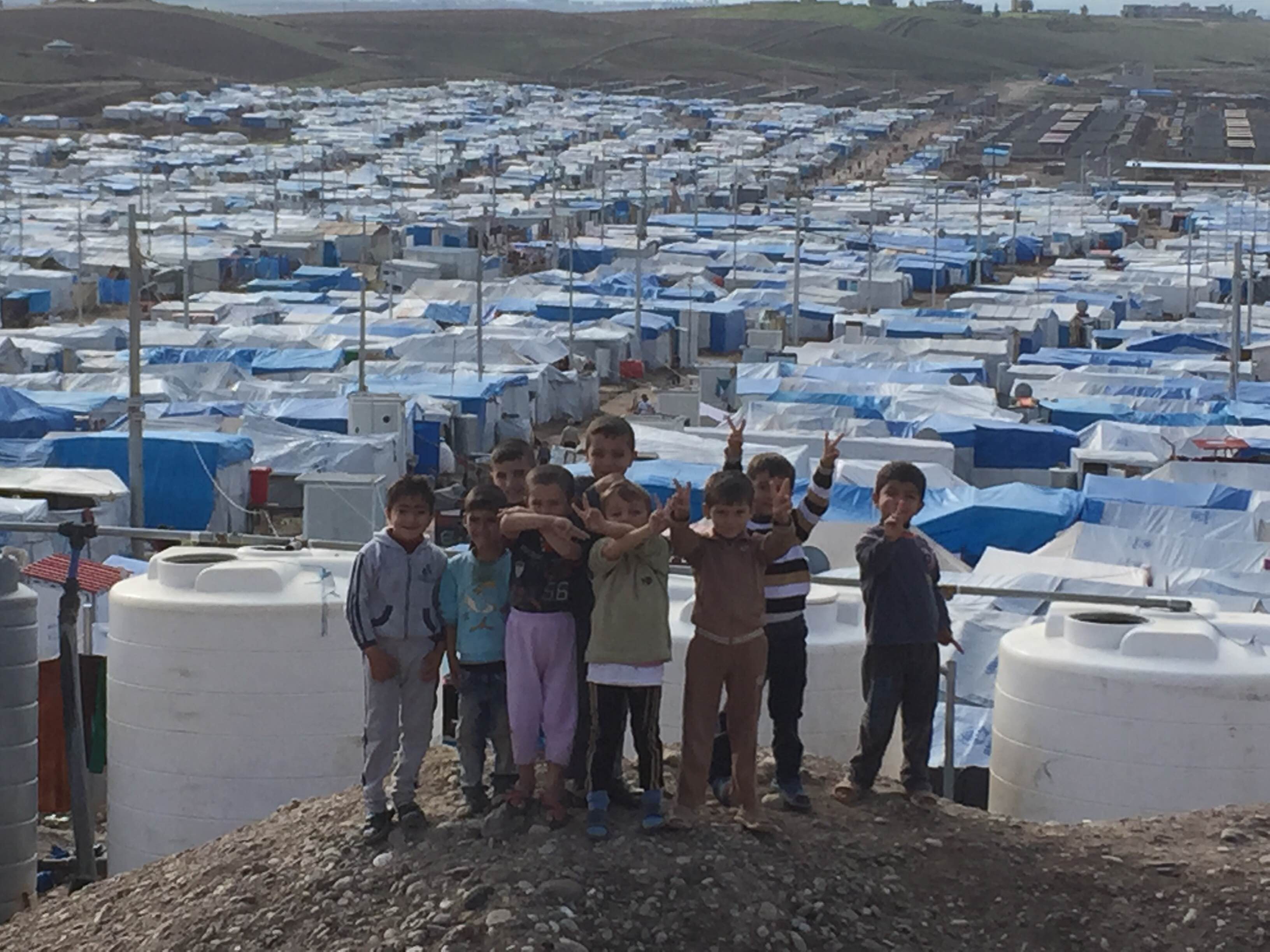 Of 2 Million Refugees in Kurdish Zone, Most Languish Outside Camps, With Little or No Aid
Amid the world attention focused on 3.8 million Syrians uprooted by the violent spread of the ISIS Islamist army, a little-noted part of that crisis is the flood of perhaps 2 million refugees from both Syria and Iraq into Iraq's Kurdistan region.
As of November, Kurdistan had received more than 250,000 Syrians and 1.5 million Iraqis fleeing the Islamic State of Iraq and al-Sham (ISIS). The office in the Kurdish regional capital that tracks displaced persons estimated 2 million of them in the region as of the end of the year. For the Kurdish region's own population, estimated at 5-6 million, this is a crushing tsunami of human misery. It's analogous to the United States suddenly absorbing between 90 million and 120 million people—the total population of, say, the Philippines or Mexico.

Even established national governments and United Nations agencies are struggling to cope with those fleeing war. Lebanon this month began requiring visas for Syrians trying to flee to its territory. Jordan has struggled to cope with its burden of more than 1 million displaced arrivals. Last month the UN World Food Program was forced to suspend food vouchers for 1.7 million Syrian refugees for more than a week while it raised new funds.
Kurdish Region: Under-Funded While Overburdened
The needs of the Kurdistan Regional Government in Iraq for dealing with the humanitarian crisis cannot be overstated; they will be even more vulnerable and at risk during this winter season. Disagreements between the Kurdish regional authorities and Iraq's national government led to a cutoff in national budget funds reaching Kurdistan for nearly all of last year (until some of the funds were paid in November). This has left the regional government under-funded and heavily dependent on international organizations to help care for refugees.
Iraqi Kurdistan has taken in two big waves of Syrian refugees. As many as 250,000 people arrived about eighteen months ago. The second wave came last summer as ISIS closed in on the ethnic Kurdish Syrian town of Kobanê. About 1,500 families fled into Turkey, from where they were transported in United Nations buses to Kurdistan.
Last summer also brought a surge in the number of Iraqis fleeing into the Kurdish region. When ISIS stunned Iraq by seizing its second-largest city, Mosul, as many as a half-million of its residents fled into the Kurdish region, not far to the east.
Refugee Camps in Kurdistan
The Kurdish region has worked with aid agencies in setting up refugee camps, which house mainly the Syrian refugees. The largest camp, Domiz, houses an estimated 70,000 people. The Kurdish Regional Government and international humanitarian organizations are struggling to keep up with the needs for shelter and are building new camps.
Last fall, I visited the Kawergosk camp, where dense rows of tents and shelters covered with plastic sheeting sprawl across a plain of bare earth surrounded by a chain-link fence, guard posts—and, in the distance, mountains. It's the size of a town, with 14,000 Syrians—the second-largest camp for Syrian refugees in Kurdistan.
I heard from its director that what he needs most are not blankets and winter coats, but cement and concrete blocks to build more durable shelters. The biggest threat for a part of the year is the rain, which turns camps into a muddy pools that destroys tents.
Kawergosk and the other camps offer at least basic access to education and medical assistance. Registered refugees receive a residency card within two months, which lets them work and rent or buy housing. Since the Kawergosk camp opened in August 2013, about 120 families moved out to settle in Erbil or elsewhere when family members were able to find jobs. Other camp residents commute daily to Erbil for work.
Plight of Displaced Iraqis
As difficult as the Syrians' plight is, the Iraqis uprooted by war face even deeper misery. The Iraqis (who are classified by aid groups as "internally displaced persons," or IDPs, because they have not fled across an international border) form only 4 percent of those living in the refugee camps. Many crowd into the homes of relatives or friends.
Others camp in mosques, schools, under bridges, or in unfinished buildings on construction sites—and they are the most vulnerable of all. They tend to be unregistered by, and are less accessible to, aid agencies. As winter has settled in, these people face a particular shortage of warm clothes and other means to endure temperatures that can dip to well below freezing.
The Syrian refugees, as ethnic Kurds, speak the Kurdish language and have more easily found jobs, in part because many of them arrived at a moment when the local economy was booming. Many of the Iraqis face greater difficulties because they came later, as the economy stagnated, and they speak Arabic, which is only a second language in the region. Many of the Iraqis also are from smaller, historically more vulnerable minority groups in Iraq, such as the Yezidis and the Christians.
As the United States has sent military advisors and trainers to Iraq to help its government fight ISIS, it also has offered humanitarian help. It drew attention by air-dropping relief supplies to members of the minority Yezidi sect who were trapped by ISIS in August on Mount Sinjar. It funded relief work through UN agencies, helping to pay for the transport of Syrian Kurdish refugees, and for computer training classes for children at Kawergosk. Still, of $143 million given to Iraq for humanitarian assistance for refugees since 2012, it's not clear how much may have reached Kurdistan, given the funding dispute between the Kurdish Region and Baghdad.
The war against ISIS will be long-term, and its refugees, both Syrian and Iraqi, will continue to pose an excruciating burden on Iraq's Kurdish zone. For both the United States and its key allies, who are the major funders of international refugee assistance, those displaced to Kurdish Iraq must be better included in the Middle East-wide assistance effort. A good start in making that change would be coverage by international news media to build a fuller recognition of the problem.
Bina Hussein is assistant director of the Dinu Patriciu Eurasia Center at the Atlantic Council.