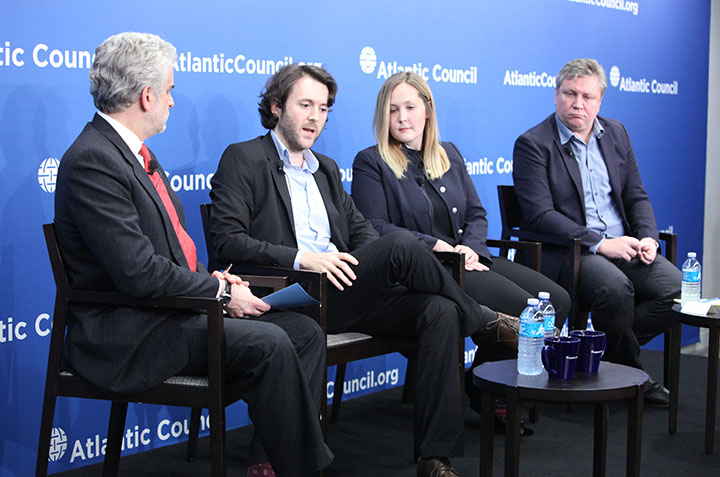 Top commanders 'disavow' shift of strategy away from caliphate-building, says journalist
A shift from the Islamic State of Iraq and al-Sham's goals of building a caliphate to attacking Europe and the United States is reportedly causing a rift in the terrorist group's upper echelons.
A lieutenant to ISIS' self-proclaimed caliph, Abu Bakr al-Baghdadi, told Martin Chulov, a reporter with the Guardian, that he and at least half a dozen others in the group's military leadership council don't believe ISIS can benefit from this shift in strategy.
"He has come to totally disavow what he sees as the current ISIS agenda, and that is spoken quite openly within the organization itself, and that is to do its best to export the chaos to the US and Europe, in particular," said Chulov, referring to his high-ranking source. Chulov did not disclose the identity of his source, but did reveal that he is a member of ISIS' military council and was imprisoned along with Baghdadi at Camp Bucca, a US military detention center in Iraq that was later shut down. Many former Camp Bucca inmates are now key players in ISIS.
Baghdadi's lieutenant and at least half a dozen other members of ISIS' leadership council have grown disenchanted with the group and want to leave, but are unable to do so because they fear deadly repercussions will befall them and their families at the hands of their cohorts, said Chulov.

Chulov was part of a panel hosted by the Atlantic Council's Brent Scowcroft Center on International Security in Washington on March 15. Michael Weiss, a Senior Editor at the Daily Beast; and Jade Parker, a cyber researcher at TAPSTRI, were also part of the panel. Barry Pavel, Vice President, Arnold Kanter Chair, and Director of the Scowcroft Center, moderated the discussion.
ISIS, which controls a large swathe of territory that spans from Syria to Iraq, is increasingly turning its sights elsewhere. Holding on to this territory—which it originally claimed for its caliphate—is no longer a priority for ISIS' leadership, according to Chulov's source. "What is important is that this base is used to export chaos far beyond, and the thinking is that by getting a cell structure up and running in Europe and elsewhere, the organization's goals will be fulfilled by osmosis," Chulov added.
The most stunning display of ISIS' global reach came on November 13, 2015, when terrorists struck in Paris killing 130 people and wounding more than 350 others. Top US intelligence officials have warned that ISIS will likely attempt more such attacks in Europe, and will also try to attack the United States. In an interview with CBS' 60 Minutes in February, CIA Director John Brennan said it is "inevitable" that ISIS will try and carry out attacks in the United States.
ISIS has embraced social media as a tool to spread its radical message and recruit disaffected youths across the world. A recent report entitled "Worldwide Threat Assessment of the US Intelligence Community" found that "approximately five dozen" people linked to ISIS were arrested in the United States in 2015.
Parker, who communicates online with ISIS members "eighteen hours a day, seven days a week," said gruesome videos posted on the Internet by the terrorist group are not its main recruiting tool. ISIS has succeeded online because isolated and discontented youths are increasingly turning to their friends in the "cyber caliphate" who are available 24-7, she said.
On the ground, ISIS functions like a state. It has a security service, collects taxes, and provides healthcare to those who have sworn allegiance to its leader. Taxes, not oil, are the main source of revenue, said Weiss, noting that with territory come people, and with people come taxes.
ISIS-controlled territory has shrunk as a result of US-led coalition airstrikes. Yet while ISIS has suffered some tactical defeats as a result of these airstrikes, it hasn't taken any strategic defeats, said Chulov.
Iran nuclear deal fallout
ISIS "fights like lemmings going off a cliff," nevertheless, it has managed to take territory because it portrays itself as the defender of Sunni Islam, a Syrian member of ISIS who trained many of the group's fighters, told Weiss.
ISIS has been "bolstered by the accidental geopolitics of the last decade," said Weiss, who is a co-author of "ISIS: Inside the Army of Terror."
The nuclear deal with Iran, in particular, has reinforced a belief held by many in the Middle East, "by no means jihadi ideologues, by no means brainwashed by the ISIS ideology," that "the United States is in it for the dispossession and marginalization of the Sunni majority of the Middle East," said Weiss. "This is the most dangerous sociological or anthropological appeal that ISIS has."
"We are almost doing their propaganda for them," he added.
US President Barack Obama's strategy of taking a backseat and encouraging multilateralism has not worked in the eyes of his allies, said Chulov. "It has given the message to ISIS and to ISIS leaders that America doesn't want to play anymore," he said, "but just as significantly it has given the message to allies, in particular Saudi Arabia and the Gulf, that the pivot toward Iran is a strategic pivot underpinned by the values of the administration and of the US."
Chulov said ISIS has exploited the failure of the "body politic" in countries like Iraq, Syria, and Lebanon. "ISIS is saying the Sunnis are the victims of this and 'We have your back. We provide you a support network that the political system does not do,'" he said.
Weiss said there is a perception among Arab Gulf states that the United States has "had it with the Sunnis… and they want to do a deal with Iran."
"That is music to Abu Bakr al-Baghdadi's ears," he added.
Ashish Kumar Sen is a staff writer at the Atlantic Council.