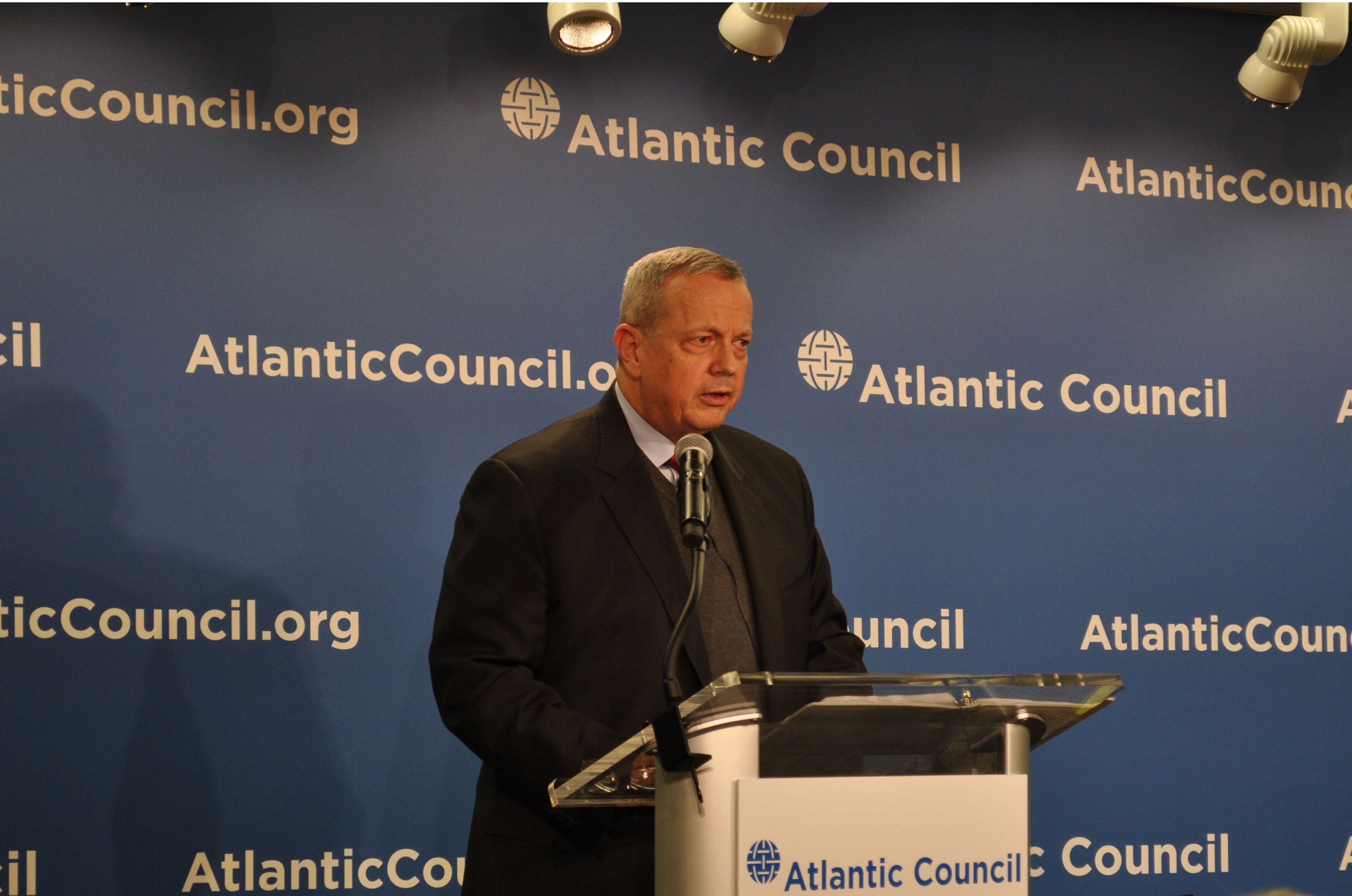 US envoy says officials in West, Middle East, and Southeast Asia are worried about growing threat

Officials in Europe, the Middle East, and Southeast Asia worry about the threat posed by affiliates of the Islamic State in Iraq and the Levant (ISIL) and their potential to inspire foreign fighters, says retired Gen John Allen, the US Special Presidential Envoy for the Global Coalition to Counter ISIL.
These officials are concerned that besides destabilizing their home countries, the foreign fighters could help ISIL replenish its ranks, Allen said at a March 2 event hosted by the Atlantic Council's Brent Scowcroft Center on International Security.
The United States is focused on these concerns, and the 62-member coalition of nations and international organizations to fight ISIL in Iraq and Syria must decide how it will respond to this emerging threat, Allen said.
"The challenge that has been evolving over the last several months has been the emergence of organizations outside … Iraq and Syria. Those organizations, which have put their hand in the air ultimately to become affiliated with or to join the ISIL movement, [are] something that we are watching very carefully and very closely," Allen said.

Noting that some of these groups have "real capacity," Allen cited as examples Ansar Beit al-Maqdis, now known as Sinai Province, in Egypt's Sinai Peninsula; and ISIL's affiliate in Libya, which beheaded twenty-one Coptic Christians on a beach in February.
Terrorists inspired by ISIL have carried out multiple attacks across Europe, including an attack at a kosher grocery store in Paris and a shootout with police in Verviers, Belgium, in January; and shootings at a free speech forum and outside a synagogue in Copenhagen in February.
Allen described the issue of foreign fighters — those inspired by terrorist groups or who have joined their ranks — as a "prominent, if not the preeminent, topic of concern" and "an unprecedented and generational challenge."
"We have to be prepared for the foreign fighters to operate as a strategic asset as we've seen in places like Paris, Sydney, Brussels, Ottawa, and Copenhagen," Allen said.
"Indeed, and increasingly, a foreign fighter or an ISIL sympathizer never even has to travel to or from Syria and Iraq to become a national security threat," he added.
US President Barack Obama in September vowed to "degrade and ultimately destroy" ISIL, which controls swaths of territory in Iraq and Syria. US officials claim the group has suffered setbacks following a campaign of coalition airstrikes.
"We have blunted ISIL's organizational, strategic, operational, and tactical momentum in Iraq," said Allen.
On the ground, Iraqi soldiers and Shiite militiamen are conducting an offensive to reclaim the city of Tikrit, hometown of the executed former President Saddam Hussein.
Iraqi forces are also reportedly preparing a spring offensive to retake the city of Mosul from ISIL. However, Iraqi Prime Minister Haider al-Abadi has declined to commit to timelines for the operation. Iraqi forces will launch that operation when they are ready, he told the BBC in an interview.
"The difficulty with Mosul, of late, was an attempt to portray it along a timeline," said Allen, endorsing al-Abadi's position.
Besides the operations in Tikrit, ISIL in Iraq is under pressure in Anbar province in the west, and from Kurdish fighters in the north, Allen said in a conversation with Atlantic Council President and CEO Fred Kempe.
"The point about Mosul, or the point about any aspect of the counteroffensive, is less about the timing than it is about the preparation," he added.
That preparation includes a clearing force to defeat the militants; a hold force to provide security after the militants have been routed; a civilian leadership to establish control of the city; and the provision of humanitarian relief and services, including water and electricity, to the liberated population.
Reports of conditions in areas under ISIL control are trending from "negative to horrendous," said Allen.
While ISIL's advance has been halted in Iraq, a lack of partners on the ground in Syria has made the situation more challenging and complex, he added.
Dissenting views within the global anti-ISIL coalition abound, especially when it comes to the objectives in Syria, a fact Allen acknowledged in his remarks.
"We will never find complete agreement… but we must strive for a unifying vision," he said.
The US and Turkey, which have differences on strategies in Syria, have agreed to train and arm vetted Syrian rebels. Saudi Arabia and Qatar have also agreed to host training sites. US officials plan to train around 5,000 Syrian rebels each year over the next three years.
ISIL suffered a significant setback in February when its militants were defeated in the Syrian city of Kobani.
"ISIL's defeat in Kobani has exploded the myth of their invincibility" and has sparked dissent and desertions within its ranks, said Allen, describing the militants' strategy in Kobani as a "profound misjudgment."
Despite the international coalition's success in blocking ISIL's access to banks, stemming the flow of private donations, and restricting oil revenue, the militant group has "diverse" and "nearly self-sustaining" financial resources, said Allen.
ISIL has filled its coffers through criminal extortion from populations under its control, kidnapping for ransom, human trafficking, a sex trade, and the sale of antiquities.
An important piece of the fight against ISIL is that credible Muslim voices oppose ISIL's doctrine, Allen said in response to a question from retired Gen James L. Jones, Jr., Chairman of the Atlantic Council's Brent Scowcroft Center on International Security.
To this end, the United States has collaborated with the United Arab Emirates to set up a digital communications hub to counter ISIL messaging. A similar center may be opened in Southeast Asia, said Allen.
"What's important about the role and the pronouncements of the religious leaders is that it also helps us to deny the attractiveness of the messages for the purposes of foreign fighters," he added.
Ashish Kumar Sen is a staff writer at the Atlantic Council.