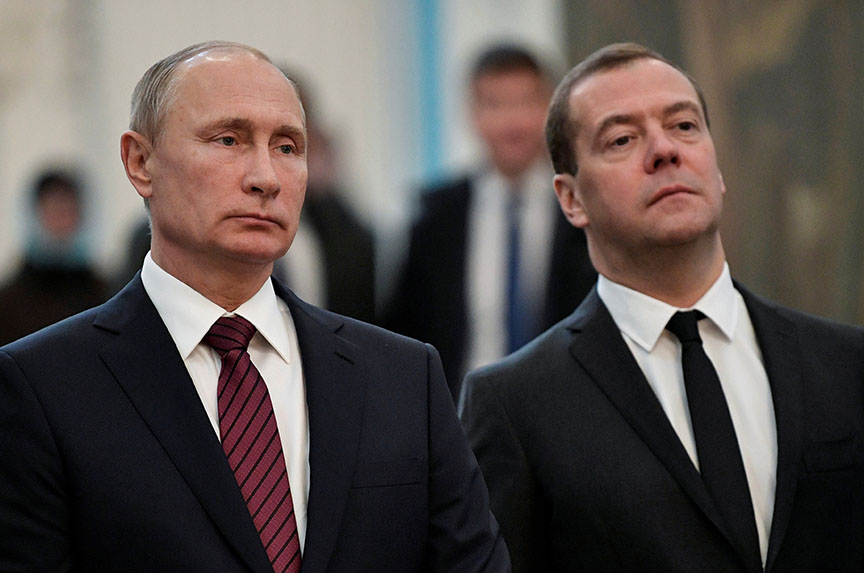 The US Treasury Department's decision not to slap sanctions on Russian oligarchs and officials, some with ties to the Kremlin, is a missed opportunity to check Russian aggression, according to the Atlantic Council's Daniel Fried.
"I think the [Trump] administration missed an opportunity [on January 29] to extend the use of sanctions to Russia's aggressive behavior," Fried, a distinguished fellow in the Atlantic Council's Future Europe Initiative and Eurasia Center, and formerly the State Department's coordinator on sanctions policy, said in a phone briefing hosted by the Council on January 30.
However, he said, if a classified Treasury list of Russian officials is "credible and strong" then "its existence may have some deterrent value, but the administration then needs to work on its messaging to make sure that this is understood."

While Fried described the scope of Treasury's public list as a "missed opportunity" and a "disappointment," he said he would not call it a "catastrophe" if a classified list can deter future Russian meddling, such as interfering in the 2018 midterm elections in the United States.
The Treasury Department on January 29 identified 210 Russian billionaires and top officials as per the requirements of US sanctions law, but noted that none of those named will be targeted for new sanctions.
"This report is not a sanctions list," Treasury said in a statement. "The inclusion of individuals or entities in any portion of the report does not impose sanctions on those individuals or entities. Nor does it create any other restrictions, prohibitions, or limitations on dealings with such persons by either US or foreign persons."
However, US Treasury Secretary Steve Mnuchin told the Senate Banking Committee on January 30 that the Kremlin Report would be followed by sanctions.
The Treasury report rollout occurred ahead of the March 18 presidential election in Russia. Russian President Vladimir Putin, who is seeking another term, is widely expected to win.
The US Congress mandated the so-called Kremlin Report to punish Russia for its interference in the 2016 US elections. A special prosecutor, Robert Mueller, is currently investigating links between US President Donald J. Trump's campaign and Russia ahead of the 2016 vote.
Section 241 of the Countering America's Adversaries Through Sanctions Act (CAATSA) mandates the administration to submit to Congress within 180 days "identification of the most significant senior foreign political figures and oligarchs in the Russian Federation, as determined by their closeness to the Russian regime and their net worth."
Fried said Treasury's list of Russians was "so broad and so inclusive and so undiscriminatory that it undercut the clear purpose of Section 241, which was not to go after all rich Russians or corrupt rich Russians, but to go after the Putin power structure."
"I understand the basis for tactical discretion in the service of strategic determination, what I don't understand is why they thought that strategic determination can be conveyed when your discretion might be mistaken for weakness. That's a problem," he added.
Fried said of Treasury's report: "It was a disappointing job because Section 241 has generated anxiety in Russia which could have been used to convince the Russian regime to back off some of its aggressive actions."
CIA Director Mike Pompeo told the BBC that he expects Russia will meddle in the midterm elections in the United States.
Fried said: "Discretion, tactically, to advance strategic determination has advantages, but deterrence works only when the threat to use your deterrent weapon is credible."
Anders Åslund, a senior fellow in the Atlantic Council's Eurasia Center, who along with Fried recommended to the Trump administration a strict criteria for identifying the Kremlin ruling elite and its agents, tweeted a forceful response to Treasury's report.
By naming the whole Russian government, presidential administration & all Russian billionaires, the Trump administration has undermined & ridiculed the US sanctions on Russia & CAATSA. This is what I feared. It looks as if @realDonaldTrump has taken orders from Putin.

— Anders Åslund (@anders_aslund) January 30, 2018
#Putin must be congratulated upon the US CAATSA list. Once again, it looks as if @realDonaldTrump is operating on Putin's orders against US interests. #Trump helps Putin ridicule US policy & solidifying the Russian establishment around Putin. #kremlinreport

— Anders Åslund (@anders_aslund) January 30, 2018
The White House had reportedly objected to the requirements of the law and while Russian oligarchs and officials nervously anticipated the release of the list, Putin warned about its deleterious effects on the bilateral relationship.
The day after the report's release, Putin described it as "indisputably an unfriendly act."
While Putin is not on the list, senior Russian officials, including Prime Minister Dmitry Medvedev, Foreign Minister Sergey Lavrov, Defense Minister Sergey Shoygu, Energy Minister Aleksandr Novak, and several of Putin's aides are listed.
The Treasury report coincided with the State Department's decision not to announce new sanctions on countries or companies that conducted significant transactions with the Russian defense and intelligence sectors—another provision mandated by CAATSA.
State Department spokesperson Heather Nauert said the Trump administration had told Congress there was no need to impose sanctions since the legislation was already deterring Russian defense sales.
Fried said he was particularly surprised by the "clumsy" rollout of the Treasury's Kremlin Report because the Trump administration has acted "responsibly and credibly" over the past year to implement existing Russia sanctions.
While Treasury said the names on its list "were selected based on objective criteria drawn from publically available sources," Fried noted that it appeared to be close to a "cut-and-paste job" of Forbes' list of rich and influential Russians.
"I find that puzzling because I have reason to believe that the administration was in fact taking this report seriously and had proceeded with diligence to compile a serious list of the Putin power structure," he said.
"For reasons that I cannot understand, [the administration] chose another course," he said.
However, holding out hope for a classified list that focused on Putin's power structure, Fried added: "If I were in the Kremlin I wouldn't chortle too much about the public list because, given the mood of the Congress and in the United States and Europe, if Russia continues to interfere in our elections and European elections, that work that was done will not be in vain."
Ashish Kumar Sen is deputy director of communications at the Atlantic Council. Follow him on Twitter @AshishSen.