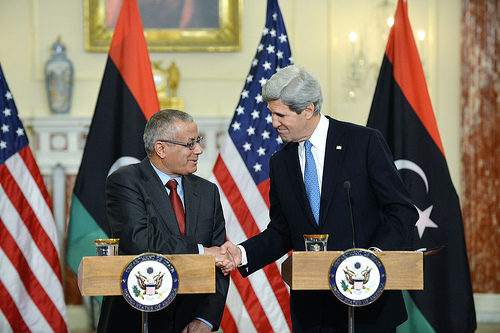 Deborah Jones is scheduled to appear Tuesday before the Senate Foreign Relations Committee on her nomination as the new U.S. ambassador to Libya. This will present a stark reminder of the events that took the life of Ambassador Chris Stevens and three other Americans on Sept. 11, 2012.
Since that tragedy, the United States has understandably focused on bringing those responsible for it to justice and taking steps to bolster diplomatic security. But as a result, the United States has largely disengaged from Libya's democratic transition. This transition is critical — not only for Libya but also for the security and political stability of its neighbors — and the United States is essential to its success.
To be sure, Libya's challenges are daunting. The Benghazi attacks, the recent car bombing at the French Embassy in Tripoli and frequent assaults on government ministries give the appearance of a country out of control. Armed groups remain an obstacle to stability, frequently disrupting the political process through intimidation and violence. Institutions remain dilapidated, dysfunctional and strikingly weak. Certainly, security is paramount to ensuring that all the key components to build stability fall into place: Constitutional negotiations, job creation, attraction of foreign investment and legal reform are among many items on the agenda. Questions about the political role of Gaddafi-era officials, private-sector development and border control have yet to be answered.
These obstacles amplify the necessity of U.S. reengagement in Libya. The United States has important national security interests in North Africa, including the need to combat growing regional terrorist networks, to prevent a destabilizing flow of loose arms to the broader Middle East and to avoid an influx of refugees to Europe. Politically, a successful transition in Libya would be a comforting and important model for democracies emerging elsewhere in the region. Greater engagement can make Libya a bulwark against, rather than a catalyst for, regional instability.
A rare combination of characteristics exists in Libya that may facilitate U.S. efforts. Ranked "Partly Free" in Freedom House's 2013 Freedom in the World publication, Libya succeeded in holding free and fair parliamentary elections in July and registered one of the most substantial one-year improvements in the report's nearly 40-year history. The country's vast oil wealth, coupled with its relatively small and homogenous population (6.5 million citizens), enables Libya to finance its development with only modest foreign investments. Its burgeoning and vibrant civil society continues to make significant strides in the face of a weak state. Perhaps most important, after being isolated from the international community for decades, the political will to succeed and positive popular sentiment toward the United States open a door that was once firmly shut. But continued disengagement threatens the United States' opportunity to make a constructive contribution.
The eight-month absence of an ambassador has undermined the U.S. role in Libya's transition, but swift confirmation of a new ambassador would enable Washington to play a desperately needed leadership role. Despite the constraints of heightened security concerns, the new U.S. ambassador should restart efforts to engage broadly with the Libyan population, as Chris Stevens did, especially outside the capital. The U.S. government should support broad reform efforts in the security and justice sectors, including assistance in demobilizing militias and building an effective internal security force. Targeted funding for democracy and governance programs can provide civil society with technical assistance and resources to ensure the promotion of stability and the protection of human rights throughout the country.
During Libyan Prime Minister Ali Zeidan's visit to Washington in March, Secretary of State John Kerry said, "The community of nations is very, very proud that we helped to give the Libyan people a fighting chance for their future." But this chance is at risk. The United States must build on the success of the 2011 NATO intervention and recognize the low cost and high reward of helping Libya evolve into a stable, prosperous and democratic ally in North Africa. A strong U.S. commitment to Libya is essential to the consolidation of its democratic transition, which would inspire confidence in a region struggling to overcome generations of authoritarianism.
Charles Dunne is director of Middle East and North Africa programs at Freedom House. Stephen McInerney is executive director of the Project on Middle East Democracy. Karim Mezran is a resident senior fellow at the Rafik Hariri Center for the Middle East at the Atlantic Council. They are co-chairs of the Working Group on Libya. This piece first appeared on The Washington Post.

Photo credit: State Department