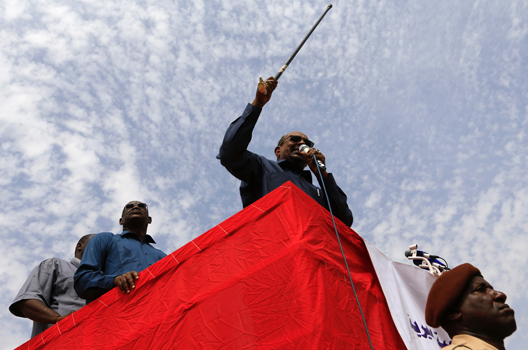 The United States' decision to lift the sanctions on Sudan, citing progress made on counterterrorism and humanitarian efforts, indicates Washington's understanding that cooperation with Khartoum will best serve the interests of both countries, according to an Atlantic Council analyst.
"This decision reflects the conviction that engagement, rather than isolation, is more likely to advance US interests—and the welfare of the Sudanese people—on a range of governance, humanitarian, economic, and security issues," said Mary Carlin Yates, an Atlantic Council board director, former senior director for African affairs at the US National Security Council, and US chargé d'affaires to Sudan from 2011-2012. However, Yates added, "there is still much work to do."

On October 6, the administration of US President Donald J. Trump lifted the sanctions package and an economic embargo imposed on Sudan, effective October 12. According to the press statement by US Department of State Spokesperson Heather Nauert, the revocation of economic sanctions is "in recognition of the Government of Sudan's sustained positive actions to maintain a cessation of hostilities in conflict areas in Sudan, improve humanitarian access throughout Sudan, and maintain cooperation with the United States on addressing regional conflicts and the threat of terrorism."
The statement continues: "This action came about through a focused, sixteen-month diplomatic effort to make progress with Sudan in these key areas."
The revoked sanctions, which date back to 1997, were the result of the Sudanese government's connection to terrorism, and further sanctions were added in 2006 for its involvement in the conflict in Darfur. Before leaving office, former US President Barack Obama eased the sanctions, to the distress of human rights groups. In July, Trump extended the review process, citing October 12 as the deadline for a final decision.
According to Kelsey Lilley, associate director of the Atlantic Council's Africa Center, "today's decision is a recognition of the important—if imperfect—progress made between the United States and Sudan on key items of mutual interest over the past eighteen months."
The decision follows increased cooperation between Sudanese and US officials to counter militants in Africa and ramp up counterterrorism efforts. In addition, it recognizes efforts made by the Sudanese government to address humanitarian concerns, following talks with US officials urging Sudan to improve the state of religious freedom in the country. The lifting of sanctions "is also a testament to the efforts to build much-needed trust between both parties despite a checkered diplomatic history," said Lilley.
Yates and Lilley co-authored a recent Atlantic Council report on US re-engagement with Sudan in which they argue that "our policy of non-engagement toward Sudan has failed to move the needle on key items of interest to the United States," such as counterterrorism. Sudan: A Strategy for Re-engagement, released in July, "argues that a rethink of the US relationship with Sudan would be both timely and advantageous—to benefit US interests and to promote Sudan's political transformation in a way that brings peace and prosperity to all its citizens."
The report was released as part of the ongoing efforts of the Atlantic Council's Sudan Task Force, established by Yates and Atlantic Council Vice President and Africa Center Director J. Peter Pham. The group has included a number of prominent Africa experts, including Johnnie Carson, former US assistant secretary of state for African affairs, and Princeton Lyman, former US special envoy for Sudan and South Sudan.
Lifting sanctions may be a step in the right direction, but it is only the first of many. According to Lilley, "the United States should follow this decision with a strategy for future engagement, one which addresses the need for inclusive and accountable governance in Sudan."
The lifting of sanctions follows Trump's decision to remove Sudan from the travel ban list, although it still remains on the list of state sponsors of terrorism. Consideration of the latter is under separate review.
US Department of State reports consistently cite Sudan as having a questionable record on human rights and religious freedom. Sudanese President Omar al-Bashir at one point hosted Osama bin Laden and is wanted by the International Criminal Court for charges related to the genocide in Darfur.
While sanctions against individuals with outstanding arrest warrants for their role in the conflict in Darfur remain in place, the administration's decision marks a shifting US approach to Sudan.
"This decision is a step forward not only for the bilateral US-Sudan relationship, but more importantly, for the people of Sudan, who for too long have been the unintentional victims of the isolation of comprehensive sanctions," according to Yates. "Sanctions, when they are needed, should be smart and targeted—not broad," she said.
The lifting of sanctions will ultimately help the people of Sudan, according to Yates. "The next generation of Sudanese deserve opportunities in their country and with Americans," she said.
Rachel Ansley is an editorial assistant at the Atlantic Council.