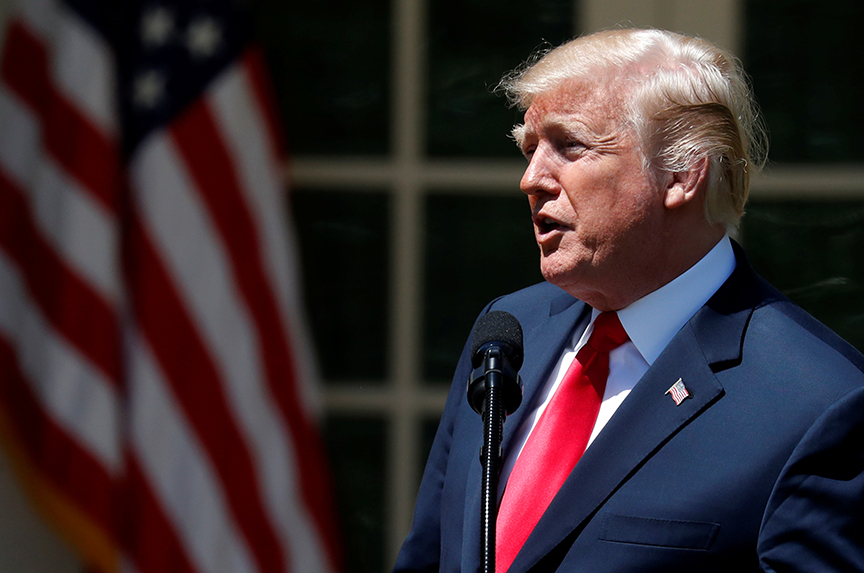 The best-selling novel "Little Fires Everywhere" by Celeste Ng provides an apt title for the next book in the long-running non-fiction history of Middle East conflicts—that which will come after US President Donald J. Trump moves to modify or nullify the Iran nuclear agreement. Those fires, not so little for those directly affected, are burning in Syria, Lebanon, Yemen, Iraq, and Gaza. The challenges for US policy in the coming months will not be directly related to Iran's nuclear program. Iran's nuclear program poses no short-term threat. Iran will not have a nuclear weapons capability in the near future regardless of the president's decision. It will be the "little fires" that require more attention than ever.

Keeping a campaign promise about the nuclear agreement will be satisfying for about a nanosecond as the Trump administration then discovers that this action makes solutions to other regional conflicts even more difficult. There are several elements to a diplomatic strategy that the new secretary of state will need to pursue. US security and military commitments in the region should be in service of that diplomatic strategy, not independent elements.
US Secretary of State Mike Pompeo already made a start in cleaning up the mess when he told our Saudi friends during his recent trip that enough was enough in their long-running boycott and public relations campaign against Qatar. The Saudis and Emiratis have ignored this same US message since this spat started in June of 2017. Instead of dealing with it in any constructive way, they (and the Qataris) would rather pour millions into the coffers of US influence peddlers to tell their side of this very small story. This is a problem that Iran delights in and the United States does not need—it's time the Saudis and their junior partners understood that. Put out the fire.
In the face of a broken Joint Comprehensive Plan of Action, (JCPOA), Iran will take steps to consolidate its positions elsewhere in the region. The most worrying and important battleground is Syria. Most worrying because this fire has the most potential for spreading into a wider conflict between Israel and Iran, based on some unpredictable witches' brew of miscalculation, provocation, and opportunism. The United States has zero interest in being drawn into a major conflict between Iran and Israel, which would also be a conflict between the United States and Russia. Diplomatic and intelligence efforts will need to be redoubled so that the United States can understand the evolving intent in Syria of both friend and foe. Specifically, the Trump administration will need to ensure against any impression by Israeli Prime Minister Benjamin Netanyahu's government that it has a US "green light" to take any military actions it likes against Iran and then can expect US back-up when it does. Russia needs to communicate the flip side of that coin to its Iranian ally.
The dangerous mix of Iranian, Saudi, and Israeli interests will also play out in the aftermath of the May 6 Lebanese parliamentary elections. The Iranians will likely do all they can to protect the position of their reliable Hezbollah ally. They are very likely to support Hezbollah in sending a signal that it can still inflict damage on Israel. The Israelis are already expecting an Iranian reaction to their April 29 attack in Syria that reportedly killed a number of Iranians. The Israelis and Hezbollah have historically taken some care to choose their moments and calibrate their actions in retaliating against each other. However, given all the other uncertainty introduced after Trump acts on JCPOA, the risk is that this fire can get out of control, with unpredictable but almost certainly tragic consequences.
The Saudis also should take care not to over react in Lebanon after the elections. Their heavy-handed and ineffective treatment of Lebanese Prime Minister Saad Hariri last year set a bad precedent, perhaps mitigated by a more recent Hariri visit to Riyadh during which he was at least outwardly treated as prime minister of a sovereign country rather than an errant vassal.
Yemen is fast becoming the forgotten war, even though the extent of the humanitarian calamity is tremendous. This is yet another fire in the Middle East that should have been controlled long ago and that has provided political benefits to Iran as it helps the Houthis withstand the superior firepower of the Saudis and their allies.
Pompeo stated recently that the conflict in Yemen will only be solved by a political solution, but this comes off as a tired platitude and has not been translated into sustained US leadership towards achieving a solution. Rather, the United States seems to be fueling the conflict by providing military and intelligence support to the Saudis, without any apparent thought of employing the leverage of this support in the cause of a negotiated solution.
Like administrations before it, the Trump administration has tried to limit its exposure to the risks of Middle East conflicts. Not unlike the Obama administration, it has tended to rely on a mix of arms sales, deployment of special forces, and intelligence sharing to pursue policy goals. These instruments have not required much congressional debate or public approval. But they have been inadequate substitutes for a diplomatic strategy that recognizes that US interests need to be pursued vigorously and independently.
Modifying or withdrawing from the JCPOA is a tactical move and should not be mistaken for an overall strategy, either to counter Iran or to bring stability to the region. After the May 12 decision, the work will have just begun, again.
Richard LeBaron is a nonresident senior fellow at the Atlantic Council. He served as the US ambassador to Kuwait from 2004 to 2007 and deputy chief of mission at the US Embassy in Tel Aviv from September 2001 to July 2004. Follow him on Twitter @RBLeBaron.