From economic competition with China to energy supplies to the war in Ukraine to the looming debt ceiling standoff, US President Joe Biden covered plenty of ground in his State of the Union address on Tuesday night to a packed US House chamber. Our experts tweeted their analysis and insights throughout the speech, providing the backstory to Biden's policy pronouncements and forecasting how his message will shape world affairs.
On the economy
While admittedly an awkward exchange on the Debt Ceiling with the audience, the issue of not risking the Full Faith and Credit of the US, is critical in #StrategicCompetition and ensuring the dollar remains the standard for global commerce. 10/n

— Arun Iyer (@Arun_Iyer_Real) February 8, 2023
The CHIPS act and broader prioritization of semiconductor competition is monumental for many reasons—arguably the most important technology strategically and economically—but only in the #sotu2023 would I expect it to be framed around jobs (never bad!)

— David Yellen (@david_yellen) February 8, 2023
But are the jobs really coming back? Still not clear how real "reshoring" will prove to be and what about "friend-shoring," or moving manufacturing from rivals like China to countries considered US allies – that's Treasury secretary Yellen's own phrase… https://t.co/pjArRD5ez9

— Dexter Roberts (@dtiffroberts) February 8, 2023
As President Biden outlines the state of the US economy, see how US GDP growth compares to G7.

Check it out in this graph:#SOTU2023 pic.twitter.com/x8zlXT3hhL

— Atlantic Council GeoEconomics Center (@ACGeoEcon) February 8, 2023
On China
With partial credit due to Beijing and its wolf warrior diplomats, a rare bipartisan issue has solidly taken hold in Washington: opposition to China's rise – lots of applause when Biden just highlighted the Chips Act, touting all the jobs it will create..

— Dexter Roberts (@dtiffroberts) February 8, 2023
Very strong and firm challenge to name any world leader who would change places with Xi. Interesting take, on Xi personally and pointing out that the US strength is in being a nation to be admired and aspired to. China falls far short of that standard. 14/n

— Arun Iyer (@Arun_Iyer_Real) February 8, 2023
On the war in Ukraine
#sotu2023 laid out the stakes in Ukraine well, embedding them in a larger strategy coming from norms & values. The battle still hangs in the balance and arms to (& pressure on Russia) Ukraine need to move fast. Still, Biden's statement of the case was needed and he delivered. https://t.co/dvvBJTXcf5

— Daniel Fried (@AmbDanFried) February 8, 2023
Biden recognizes Ukrainian ambassador to the US @OMarkarova, at the SOTU for the second year in a row. Last year, it was days after Russia's full-scale invasion. Now, nearly a year in, the brutality continues, but so does US support for Ukraine in their fight for freedom.

— Shelby Magid (@shelbyjmag) February 8, 2023
Biden making the moral case for supporting Ukraine at #sotu: "standing for sovereignty and freedom."

He can strengthen those arguments by ALSO clearly articulating why major support for Ukraine is in US interests. Helping Ukraine defeat Russia makes Americans safer.

— Andrew D'Anieri (@andrew_danieri) February 8, 2023
"We came together to defend a stronger and safer Europe" #SOTU2023 "togetherness," "resilience," and "progress" are the opening messages so far…

— Olga Khakova (@OlgaKhakova) February 8, 2023
Biden rightly said Putin's invasion of Ukraine was a test for us all. We can never forget that. It remains a test, not just for Ukraine and their resolve, but for Western unity and investment in security in the long term. And in the US, that support must be bipartisan.

— Shelby Magid (@shelbyjmag) February 8, 2023
On energy and climate change
Biden calls out Big Oil's record profits in his #SOTU2023 We will need public + private coordination to solve the chronic underinvestment in the energy sector and to help #Europe resolve the energy crisis.

— Olga Khakova (@OlgaKhakova) February 8, 2023
.@POTUS says we will need oil "for at least another decade." To which many laughed at the #SOTU

Let's phrase it a different way, how long do you think oil will be central to our energy system? #energytwitter

— Julia Pyper (@JMPyper) February 8, 2023
"The Inflation Reduction Act is also the most significant investment ever to tackle the climate crisis." #sotu2023 it's also critical to note that the act is an opportune platform for cooperation on commercializing new tech and clean supply chains WITH our allies

— Olga Khakova (@OlgaKhakova) February 8, 2023
On the rest of the speech—and what Biden didn't say
In #SOTU @Potus #Biden mentions #LAC in context of #Venezuela Humanitarian Parole Program & expansion to #Cuba, #Haiti & #Nicaragua. Sustainably decreasing migration requires focus on push factors & a long-term strategy that brings jobs, investment & rule of law. @AtlanticCouncil

— Jason Marczak (@jmarczak) February 8, 2023
Good to hear praise for @PEPFAR in #sotu2023 – most ambitious and transformative US foreign aid program since Marshall Plan. Remembering @MJGerson who gave it a name: President's Emergency Plan for AIDS Relief. Nice to see Bono of @ONECampaign, a supporter, in audience.

— 🌍 Andrew Marshall 🌎 (@Consultifi) February 8, 2023
More community prevention programs will help with violence from many causes, whether domestic terrorism or domestic violence. Pilot projects over the past few years have demonstrated they work – but they need funding, just as the President said.

— Tom Warrick (@TomWarrickAC) February 8, 2023
I guess Iran got written out of #SOTU2023

— Holly Dagres (@hdagres) February 8, 2023
Further reading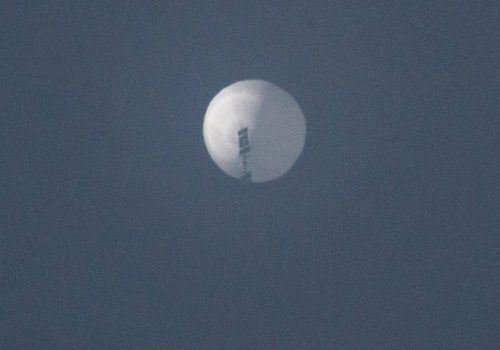 Fri, Feb 3, 2023
New Atlanticist By Atlantic Council experts
US fighter jets have shot down a suspected Chinese spy balloon, but the tensions linger in the world's most important bilateral relationship. Our experts float their takes.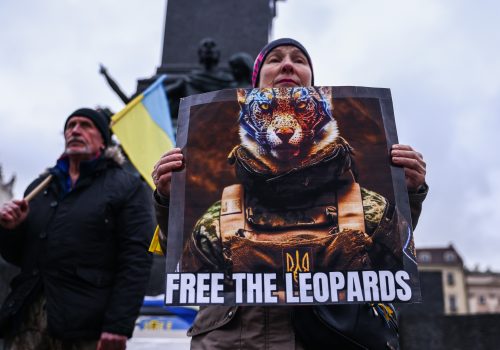 Wed, Jan 25, 2023
Experts react By Atlantic Council experts
Is this a turning point for Germany's participation in arming Ukraine? Our experts lay out what's next.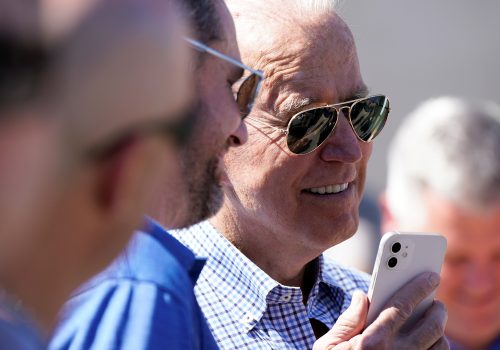 Tue, Jan 24, 2023
New Atlanticist By Kenneth Propp
If Congress and the White House can unite to pass regulations on data privacy and tech competition, they would set the stage for deeper EU-US coordination.