Macedonia and Greece have reached "a generational point here [where a] decision can be taken," George Robertson, who served as NATO's secretary general from 1999 to 2004, said at an event at the Atlantic Council on October 22. Robertson, speaking on Macedonia's potential succession to NATO, explained that the agreement between Macedonia and Greece to change Macedonia's name is "an alignment of stars that is unlikely to happen for another thirty or forty years."
Robertson spoke just three days after Macedonia's parliament officially began the process of ratifying the name deal forged with Greece earlier this year. On June 12, Greek Prime Minister Alexis Tsipras and Macedonia Prime Minister Zoran Zaev reached an agreement, which would see Macedonia's name changed to "North Macedonia," in exchange for Athens dropping its opposition to Macedonia's accession to NATO and the European Union.
The deal sought to end a twenty-seven-year dispute between the two countries over the name "Macedonia," which was adopted when that country gained independence in 1991 following the break-up of Yugoslavia. Many in Greece objected to the use of the term "Macedonia," which they argue has purely Greek origins and implies claims on Greece's northern provinces with the same name.
The June 12 accord, also known as the Prespa agreement, led to the announcement on July 11 that NATO would officially invite Macedonia to join the Alliance once the agreement was ratified.
Macedonia held a non-binding consultative referendum on September 30 that showed 90 percent of voters in favor of the agreement, but with only 37 percent turnout. The low turnout has complicated Zaev's efforts to get the agreement passed in parliament, as the measure needs to be enacted through constitutional amendments requiring two-thirds majority. Zaev's current governing coalition is eight seats short of this mark and needs to peel off these votes from the opposition Internal Macedonian Revolutionary Organization (VMRO-DPMNE).
On October 19, Zaev achieved his victory as a dramatic late-night parliamentary session ended with eighty members of parliament—exactly the number needed—voted in support of a motion starting the process of ratifying the agreement. Several more votes must follow, but this initial hurdle was a significant step toward final ratification. In response to the defection, VMRO-DPMNE has expelled all eight of its members who voted in favor of the agreement, which could improve Zaev's chances of keeping these votes in tow.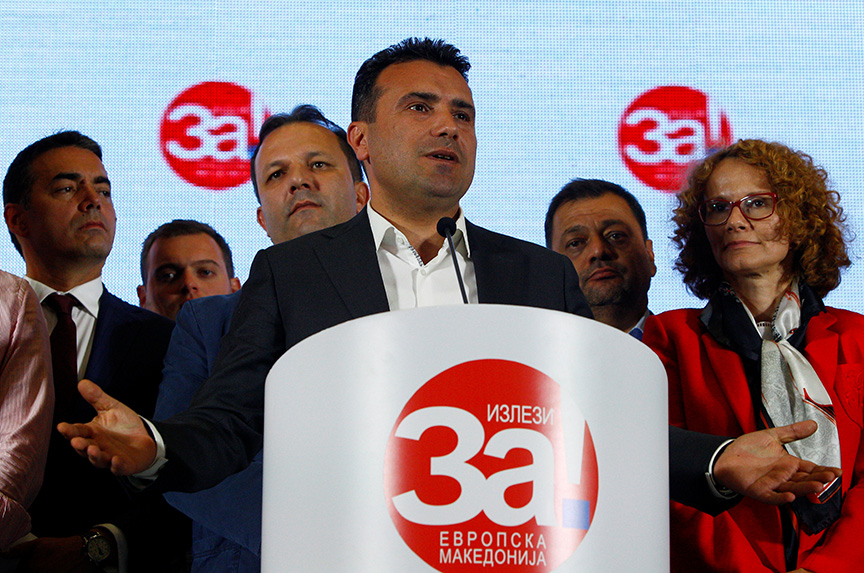 Robertson pushed back on VMRO-DPMNE's opposition to the name deal, saying that he recently asked an opposition politician if he wanted "his country to be called FYROM [the former Yugoslav Republic of Macedonia] forever." FYROM—which is used by the European Union and other countries around the world due to Greek opposition to the name Macedonia—is "a reduction" of the "national sovereignty" that VMRO-DPMNE is supposedly concerned about, Robertson said.
Opposition politicians must ask themselves, Robertson argued, if the agreement will "have the effect of wiping the word FYROM from the maps of the world." Robertson assured that it would and urged Macedonian politicians to "put the national interest before the party interest."
Michael Carpenter, a nonresident fellow at the Atlantic Council's Eurasia Center, Future Europe Initiative, and Scowcroft Center for Strategy and Security, pointed out that it is "eminently reasonable for the population of a country to resent the fact that another country is demanding that they tack on an adjective to their country's name." But Carpenter warned that this name deal is "as good as it gets," for Macedonian's European aspirations and that "this is the decision of a generation. I don't think there will be another chance at this."
"This is a difficult issue," Damon Wilson, the Atlantic Council's executive vice president for programs and strategy, said, adding that it is "an emotional issue for those whom this is more than a policy or strategy."
Macedonian officials now have thirty days to prepare the specific constitutional changes before beginning to finalize legislation, which then must be passed by parliament. Lilica Kitanovska, chief of the Voice of America Macedonian Service, said that the "whole thing is doable in sixty days." She believes that the Macedonian government is targeting December 23 or sometime right after the new year for ratification to be completed. The timeline was significantly shortened, Kitanovska argued, after the parliament vote took away the possibility of Zaev calling an early election. If Skopje approves the deal, it will then need to be approved in Greece's parliament.
Significant obstacles remain for Greek approval of the deal. On October 17, Greek Foreign Minister Nikos Kotzias—a significant backer of the name deal—resigned his position over disagreements with Greek Defense Minister Pannos Kammenos. Kammenos, who is also the leader of the Independent Greeks party which is in coalition with Tsipras' Syriza, has been openly hostile to the name agreement. While Tsipras remains openly supportive of the deal, Kammenos has pledged that his party will oppose the deal and has threatened to withdraw its support for Tsipras' government should the name agreement be brought up in parliament.
Robertson maintained that along with the Macedonians, he doesn't "see that [the Greeks] have an alternative. . . I don't see any early signs that there would be another Greek government or leadership that would have some new ingenious idea that would actually solve the issue." He warned that NATO's policy of unanimity means that "there can be no NATO membership for Macedonia if Greece does not agree. . . that is not going to change."
Significant support from the United States and NATO allies for the name agreement could put pressure on Athens if it begins to balk at ratification. US Defense Secretary James Mattis, German Chancellor Angela Merkel, and other Western leaders have visited Skopje in recent months to express their support for the deal. In a tweet on October 20, US State Department spokesperson Heather Nauert said the United States "believes that the Prespa agreement is a historic opportunity to advance stability, security, and prosperity," throughout southeastern Europe.
"This could all still fall apart," Wilson cautioned.
"The free world is facing a pretty serious challenge from an alternative model," of growing authoritarianism, Wilson said, benefitted by the fact that democracies "are doing a lot of fighting within the family."
A key to pushing back against this threat is "resolving the unfished business," Wilson argued, and there is clearly "unfinished business in southeastern Europe."
David A. Wemer is assistant director, editorial at the Atlantic Council. Follow him on Twitter @DavidAWemer.