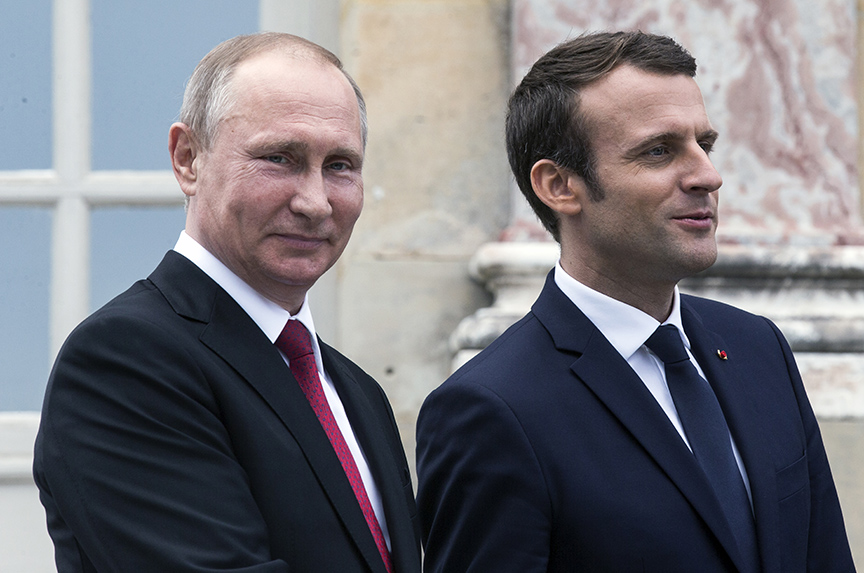 French President Emmanuel Macron would like to work with Russian President Vladimir Putin in an effort to seek mutually acceptable solutions to crises that have bedeviled ties between the West and Russia over the past few years, France's ambassador to the United States, Gérard Araud, said in an Atlantic Council phone briefing on June 19.
Unlike the Soviet Union, Russia "is not an existential threat" to Europe, said Araud.
"Russia has done things that we don't accept, but at the same time Russia has its own legitimate interests, so let's talk with the Russians to see whether we reach compromise deals which are mutually acceptable," he said.

In his meeting with Putin in Versailles in May, Macron showed he was not shy about raising contentious issues when he brought up the torture and harassment of gays in Chechnya and promised military action should Russia's Syrian allies use chemical weapons.
The French president is interested in "real dialogue, but also firmness, but firmness without provocation," said Araud.
Macron, 39, became France's youngest president when he was elected on May 7. On June 18, his fledgling En Marche! movement won a large parliamentary majority winning 350 out of 577 seats. En Marche! and its centrist ally, Democratic Movement (MoDem), needed 289 seats to have an absolute majority in parliament.
En Marche!'s strong performance gives Macron the political strength to push through a social and economic reform agenda that includes reforming the labor market and creating a more business-friendly tax system. After the German elections in September, Macron will also be focused on reforming the Eurozone, said Araud.
France's traditional political parties—Les Républicains and the Socialist party—performed poorly in the legislative elections. The far-right National Front (FN) increased its number of seats in parliament from two to eight, including one for its leader Marine Le Pen who challenged Macron for the presidency in May.
A record number of women were elected to parliament. Of the 577 new lawmakers, 223 are female. This was largely due to the fact that Macron's party fielded a gender-balanced list of candidates. However, low voter turnout—forty-three percent—cast a shadow over an otherwise brilliant performance by En Marche!
Macron's election comes at a time when populism, particularly far-right populism, is on the rise in the West. In a conversation moderated by Atlantic Council President and Chief Executive Officer Frederick Kempe, Araud said Macron's triumph has shown that despite the radicalization of voters—both on the left and on the right—there is a political center that is ready to support someone who can express its values.
Macron's election was different from US President Donald J. Trump's election in November of 2016 in that "we were lucky to have a populist candidate running on a centrist platform—European, centrist, business-friendly platform," the French ambassador said.
Dealing with Russia
On June 19, a man rammed his car into a police vehicle near the Champs-Elysees in Paris. The attacker was shot dead, but no other fatalities or injuries were reported.
"The major threat that we are facing is terrorism. Period," said Araud.
Macron's meeting with Putin in Versailles was motivated by a desire to tackle terrorism—the war in Syria is seen as a root cause for many of the recent acts of terror carried out in Europe.
However, Russian meddling in elections in the United States and Europe have diminished a willingness on the part of politicians to engage Moscow. "Unfortunately, considering what has happened in the US, but also in the French elections, people are defining policy in terms of pro- or anti-Putin," said Araud. "That is really not the way in which we should think."
In Syria, Western policy should consider the reality that Russia supports Syrian President Bashar al-Assad and take Moscow up on its stated interest to cooperate in the fight against terrorism, said Araud. "I don't see any other solution than negotiating with the Russians. At the same time, it takes two to tango so we have also to check whether the Russians are ready to reach a compromise with us," the French ambassador said.
Tensions between Russia and the United States flared on June 19 after a US fighter jet downed a Syrian warplane. Russia threatened to shoot down US jets and suspended a hotline that the two countries have used to avoid shooting each other's planes.
In Ukraine, it has been France, along with Germany, that has been the lead negotiator in the effort to resolve the conflict sparked by Russia's annexation of Crimea in 2014 and its support for separatists in eastern Ukraine. "We have been trying to get both sides… to abide by the [Minsk] agreement," Araud said, placing the emphasis on "both sides"—the Russians and the Ukrainians—and noting that progress has been minimal.
France's relationship with the United States
Macron's election has put a leader in the Élysée Palace who is seen as one of the more prominent anti-Trump leaders in Europe. Following Trump's June 1 decision to withdraw the United States from the Paris climate accord, Macron invited US scientists to move to France in order to continue their work.
France is seen as one of the countries that could fill the void left should Trump's America First policy result in the United States stepping back from the world stage.
"We should not be trapped by controversy, by the particular political climate in Washington, DC," said Araud. "Yes, the Europeans should do more and if the United States withdraws from the international scene—and I don't see that right now—the Europeans should be ready to defend their interests," he said.
In the wake of Trump's first meeting with fellow NATO leaders and the G7 Summit, German Chancellor Angela Merkel stated a similar sentiment when she called on Europeans to "take our fate into our own hands."
Brexit
The United Kingdom commenced negotiations on June 19 to work out an agreement on its plan to exit the European Union (EU).
In a meeting with British Prime Minister Theresa May in Paris on June 13, Macron had said that the doors to the EU would remain open to the United Kingdom until the time that Brexit negotiations have been concluded.
Araud predicted that the negotiations between the United Kingdom and the other twenty-seven EU member states would be extremely difficult mainly because each country will be determined to defend its own national interests.
"It will be an extremely difficult negotiation… Let's hope that nobody is going to fan the flames," he said.
Ashish Kumar Sen is deputy director of communications at the Atlantic Council. You can follow him on Twitter @AshishSen.