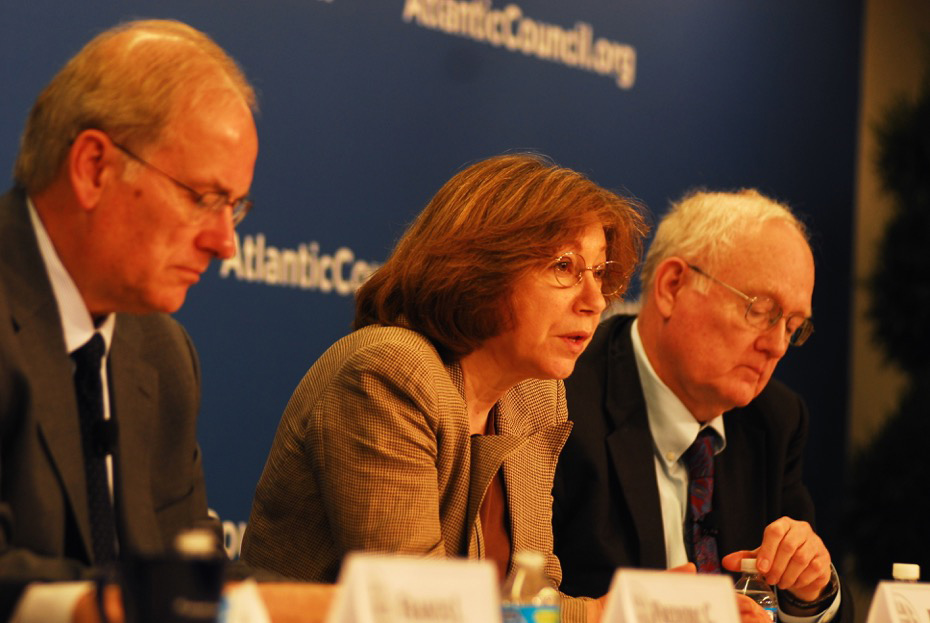 Analysts propose US-led effort to end the war in Syria
Nothing less than a national stabilization force consisting of fifty thousand troops and costing billions of dollars will stop the continuing bloodshed in Syria, three security analysts said April 14 at the Atlantic Council.
The panel coincided with the release of a report, Setting the Stage for Peace in Syria: The Case for a Syrian National Stabilization Force. Co-authors Frederic C. Hof, Bassma Kodmani, and Jeffrey White discussed their findings with Francis J. Ricciardone, Vice President and Director of the Atlantic Council's Rafik Hariri Center for the Middle East.
"Ours is inevitably an imperfect product, yet it's one that sincerely aims to offer a feasible alternative to a policy that cannot succeed in obtaining its objectives," said Hof, a Resident Senior Fellow at the Rafik Hariri Center who served as Special Advisor for transition in Syria to former US Secretary of State Hillary Rodham Clinton.

How much would the proposed Syrian National Stabilization Force cost?
"We're probably talking multiple billions" of dollars over a three-year period, said White, Defense Fellow at the Washington Institute for Near East Policy.
"This is not a cheap proposition. Money adds up, and it's not a one-shot deal where you have one package of $1.5 billion or $2 billion," he said. "This is a three-year effort."
The plan proposed by Hof, White, and Kodmani, Executive Director of the Arab Reform Initiative, is an alternative to US President Barack Obama's "train-and-equip" initiative.
The White House plan, first advocated three years ago, now foresees fifteen thousand nationalist troops taking the fight to the Islamic State of Iraq and al-Sham (ISIS) while battling soldiers loyal to Syrian President Bashar al-Assad and a hodgepodge of foreign fighters.
Hof said such a force is unlikely to survive the onslaught of the Assad regime, much less help defeat ISIS, which is also known as the Islamic State of Iraq and the Levant (ISIL) and Daesh.
"We do not believe the train-and-equip program can accomplish the objectives set before it," Hof said. "It's too small and it's too slow. Fifteen thousand soldiers, even if they were available today, might be useful against ISIL were they and the civilians they try to protect not under constant attack by regime forces and foreign fighters. But they're not available, and the prospect of chasing ISIL in Syria for three years from 30,000 feet up is profoundly unattractive. It would be far better if the US could assemble regional ground forces to sweep ISIL from Syria."
Hof, paraphrasing Obama, said the fight against ISIS will require the development and strengthening of a moderate opposition inside Syria that is in a position to bring about legitimacy for all Syrians, and ultimately end a civil war that has claimed some 220,000 lives and displaced more than 6.5 million people since fighting began in March 2011.
Hof said he and his colleagues recommend that the Pentagon "aim higher than train-and-equip."
"We think initial planning should shoot for a fifty thousand-member stabilization force with three motorized infantry divisions," he said. In the Syrian National Stabilization Force (SNSF) proposed by Hof and his co-authors, these divisions would be further organized into nine brigades, twenty-seven battalions, eighty-one companies, 243 platoons, and 729 squads.
"This force would have a military mission of defeating any combination of enemies obstructing the stabilization of Syria," said Hof. "If we try to recruit solely on the basis of American knowledge, we will fail. Train-and-equip as currently conceived cannot do what the President says he wants done."
Kodmani said neither the Assad regime nor the Syrian opposition can restore peace to Syria.
"Only one party can do it, whether we like it or not, and that is the United States. We have gone through four years of conflict. We have seen each and every player in the region organize its own efforts and strategies, and choose groups on the ground to serve different agendas that do not suit the reality of Syrian society. Only the US is in a position to align these countries," she said.
The Europeans face greater security challenges than the Americans in Syria because of the jihadi threat, not to mention the influx of Arab refugees who risk drowning in the Mediterranean to escape their war-ravaged countries.
"The Europeans simply cannot ignore the situation, but at the same time, they don't see how they could take any initiatives that would make a difference on the ground," said Kodmani.
That's why a sign from Washington is so important for all sides in the Syrian conflict — especially in Tehran and Moscow, she added.
"The message we get from both Iran and Russia is, 'If you want the moderates inside our countries to be heard, we need a signal coming out of Washington,'" Kodmani said. "If there is a signal, we will be able to advocate engagement with the opposition for a political process that involves concessions on the part of the regime."
White, whose 34-year career with the US Defense Intelligence Agency focused on the Middle East, noted that while many officials in the Obama administration are fond of saying there's no military solution to the Syrian problem, there can be no political solution without a military component.
"There is no national strategy by the Syrian opposition for fighting the war," he said. "It's conducted by multiple groups for multiple purposes. At some point, the hand-waving has to stop."
Larry Luxner is an editor at the Atlantic Council.