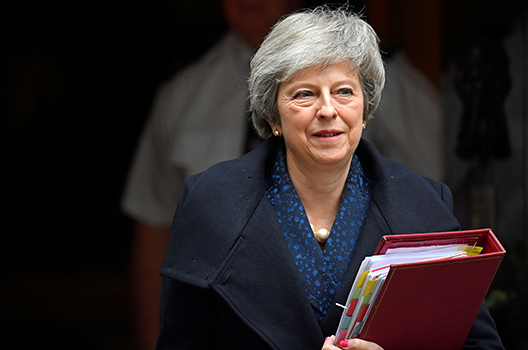 British Prime Minister Theresa May survived a dramatic challenge to her leadership during a Conservative Party vote on December 12, but she still must find a way to pass the Brexit agreement she negotiated with the European Union through a skeptical Parliament.
Serious concerns about how to keep the border between the Republic of Ireland and Northern Ireland open—and the possibility that the United Kingdom may need to remain in the EU's customs union to achieve that—means that right now "we don't have a deal which has a chance of passing the UK Parliament," Peter Westmacott, a distinguished ambassadorial fellow at the Atlantic Council and a former UK ambassador to the United States, said in a call hosted by the Council on December 12.

Without a passable withdrawal deal, the potential scenarios could be limited to crashing out of the EU without a formal deal (hard Brexit) or holding a second referendum on EU membership. While the British prime minister is openly against holding a second referendum, "hard Brexit" is so unpalatable for many British policy makers that "she might be left with no choice," according to Westmacott.
Anger with May's negotiated withdrawal deal—especially among hardline Brexiteers who oppose the possibility of staying in the EU customs union—boiled over as at least forty-eight members of May's Conservative Party submitted letters calling for a vote of no confidence in her leadership of the party. May survived the vote, two hundred to one hundred and seventeen, but did signal that she would hand over leadership once she had seen a Brexit deal passed. According to Westmacott, May mainly survived because there was "nobody better waiting in the wings and this [leadership contest was] seen as something of a distraction."
Whither May's Deal?
May will now focus on trying to rescue her deal and pass it through Parliament. She has already traveled to Amsterdam, Berlin, and Brussels this week to try to convince EU leaders that further changes can be made to their deal to get it passed in Parliament in London. So far, her suggestion has been met with polite rejection in Europe.
According to Antonio de Lecea, a nonresident senior fellow in the Atlantic Council's Global Business and Economics Program and former European Commission official, all May can expect from Europe is "sympathy and further clarifications."
"There have been several statements by [European Council President Donald] Tusk, [European Commission President Jean-Claude] Juncker, also in [the European] Parliament, that this is the best deal that could be conceived of, that therefore they don't see any room for materially changing the deal," De Lecea explained. The apparent political turmoil in London certainly does not strengthen May's hand as if she "cannot deliver on that deal how can the other governments and institutions make concessions to a government that cannot deliver," De Lecea said.
May was also not helped by a European Court of Justice ruling on December 10 that the UK could unilaterally revoke its Article 50 notification, leaving the door open that Brexit could be reversed.
Westmacott argued that in Parliament there is "a majority which says that [hard Brexit] is a disaster and won't let it happen. But Parliament does not have an alternative plan."
Without any other viable options, there could be no choice but a second referendum to get a mandate either to reverse Brexit, significantly change the Brexit deal (i.e. adoption of a full permanent customs union) or go ahead with hard Brexit.
Implications for the United States
While much attention has been paid to the political drama around Brexit, Bart Oosterveld, director of the Atlantic Council's Global Business and Economics Program and C. Boyden Gray Fellow on Global Finance and Growth, argued that US policy makers and businesses have been alarmingly aloof from Brexit's implications.
"Almost every major American company bank is much more likely to have their European headquarters in London than anywhere else on the continent," Oosterveld explained. So far, "we haven't seen the big exodus out of London [yet]…[what] companies appear to be hoping for is some sort of orderly agreed-upon Brexit so that they can retain the network benefits of all being in one location," he said.
In addition to the stakes for US companies in Europe and the UK, the UK's future relationship with the EU could affect trading relations on both sides of the Atlantic. Should, for instance, May's current deal come into effect, the Irish border backstop and retention of a customs union would effectively end London's ability to negotiate a new trade deal with the United States, Oosterveld said.
For Oosterveld, "there was a missed opportunity in terms of American constructive engagement" that could have smoothed the Brexit road from the start. A Washington that engaged as a "benevolent outsider" could have made these negotiations much less dramatic and could have served as a crucial bridge between London and Brussels to avoid scenarios like this, he said.
What Now?
Oosterveld, Westmacott, and De Lecea all agreed that May's deal still looks a long way from being successful. Westmacott suggested that May could try to delay a final vote on a deal "as long as she can," so that "by then it becomes very late in the game to do the primary legislation and other bits of homework necessary to organize a second referendum."
While May wants to avoid this scenario, the door to a second referendum appears to be opening. "The chances of another referendum have increased," Westmacott said, and although an outcome would be hard to predict, "the numbers have changed. . . since the last referendum."
David A. Wemer is assistant director, editorial at the Atlantic Council. Follow him on Twitter @DavidAWemer.