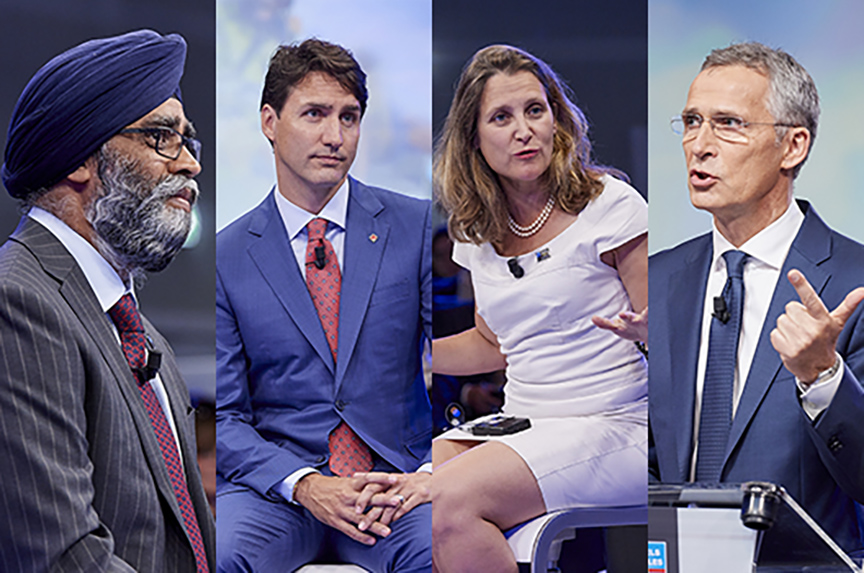 The opening day of NATO Engages: The Brussels Summit Dialogue was marked by passionate endorsements of the transatlantic military alliance that has been credited with giving the West its longest period of peace without a major power conflict in centuries.
It also produced an attempt by NATO Secretary General Jens Stoltenberg to ease the Alliance's relationship with its largest member—the United States.

NATO Engages, a two-day event, is jointly hosted by the Atlantic Council, the German Marshall Fund of the United States (GMF), the Munich Security Conference (MSC), and Women in International Security (WIIS) in Brussels on the sidelines of the NATO Summit.
Here's a look at how the day unfolded.
What's that noise? In the opening session, Rose Gottemoeller, deputy secretary general of NATO, was quick to address the elephant in the room as she noted a "drumbeat of a particular set of topics" in the media—a reference to US President Donald J. Trump's criticism of US allies for not spending enough on defense. Gottemoeller urged the audience to broaden the debate to include topics that are vital to the Alliance's future. As a helpful hint, she listed inclusive security, hybrid warfare, and the role of new technologies.
A call for unity. In the first panel discussion of the day, Turkish Foreign Minister Mevlüt Çavuşoğlu, Polish Foreign Minister Jacek Czaputowicz, and German Defense Minister Ursula von der Leyen issued a call for NATO unity.
German spending. New figures released by NATO on July 10 show that Germany, the second-largest economy in the Alliance, spends 1.24 percent of its GDP on defense. NATO allies agreed at their summit in Wales in 2014 spend 2 percent of their GDP on defense by 2024. Von der Leyen defended Germany's low defense spending and emphasized the need to look at different kinds of contributions it makes to the Alliance.
"You can spend 2 percent on your national defense budget without doing anything for NATO," she said, after noting that Germany has contributed the second-highest number of troops to the Alliance and is the second-largest net payer after the United States.
Different priorities. The Turkish and Polish officials had different perspectives of the threats facing NATO. While Çavuşoğlu argued the threat from terrorist organizations to the Alliance's south should be NATO's top priority, Czaputowicz said "the most important challenge is revisionist states, particularly Russia."

Breaking news. Canadian Prime Minister Justin Trudeau announced that his country will assume command, for the first year, of a new training and capacity building mission in Iraq. Canada has committed to 250 troops and helicopters to this mission. A day earlier, Trudeau committed additional Canadian troops to the NATO mission in Latvia and extended the troop deployment by four years. NATO's mission aims to deter Russian aggression.
Here's that passionate defense we mentioned. Trudeau also delivered a rousing endorsement of NATO at a time when the Alliance is grappling with external—and, equally important, internal—challenges. In a strong endorsement of NATO, Trudeau stated: "[NATO] is about enhancing and protecting the democratic principles that we all hold as our core values. That is something that continues to be as relevant as it has been."
"Canada knows that a peaceful world, a more resilient world, a more democratic world is good for Canada and is good for all of us. And that's why we believe so deeply in NATO. That's why we stand so strongly with the transatlantic alliance," he said.
Giving Trump his due? Next, NATO Secretary General Jens Stoltenberg credited US President Donald J. Trump for delivering a "clear message" on burden sharing. Trump has excoriated NATO allies for not spending enough on defense. This has included sending sharply worded letters in which Trump warned that US patience was running out.
Stoltenberg said "all allies have stopped the [defense] cuts. All allies have started to increase" their defense spending and "a majority of allies have put forward plans to reach 2 percent by the end of the decade."
What about the US commitment to NATO, wondered moderator Barbara Starr, CNN's veteran Pentagon correspondent. "Since Trump became president, US funding for military presence in European has been increased by forty percent," said Stoltenberg.
But how inclusive is NATO? NATO is making great strides to increase inclusion in its operations and personnel, but more must be done, according to panelists in the last morning session. Lina Ahmad from NATO Defense College, Isabelle Arradon from the International Crisis Group, and Lt. Gen. Steven M. Shepro of NATO's Military Committee discussed the steps NATO has taken to increase its gender, ethnic, religious, and other types of diversity and the challenges the remain for the Alliance.
Blessings and curses. Klara Jordan, director of the Atlantic Council's Cyber Statecraft Initiative, moderated a panel discussion on the "Blessings and Curses of Technology." Zdravko Mladenov, an associate partner at McKinsey and Company; Thomas Müller, chief executive officer at Hensoldt Sensors; and Alvin Salehi, a senior technology adviser to the US government and an Atlantic Council Millennium Fellow participated in the discussion. Mladenov argued that non-state actors are becoming increasingly powerful when it comes to artificial intelligence. Democracies—as opposed to countries like China and Russia— are at a disadvantage when it comes to dealing with the challenges posed by technology because of restraints they place on themselves, he said. Müller, noting that the Islamic State of Iraq and al-Sham (ISIS) had used the Internet to spread its propaganda and recruit terrorists, said it was important for nations, including the United States, to work with partners to address the challenge. Salehi echoed that sentiment, stating "sharing and collaboration is the key to remaining competitive in the digital age."
Don't forget about Article 3. While attention has been focused on NATO's Article 5 commitment, Laura Rosenberger of the German Marshall Fund's Alliance for Securing Democracy argued that member states need to remember their Article 3 duties to build the "resiliency" of their societies from attack. This includes "things like election security, cybersecurity, [and protecting] our financial system from being exploited and being used for corrupt purposes. All if this is related to these hybrid tactics which disinformation is one part of." To build their resiliency to these new threats, Rosenberger said NATO members need to "make sure our populations have the tools to think critically about information." Rosenberger participated in a discussion with Julia Ioffe, a correspondent for GQ magazine.
What about the Russian threat? Lithuanian Defense Minister Raimundas Karoblis called on NATO members to do more to deter Russian aggression noting that Lithuania is the Alliance's most vulnerable member to this threat. Karoblis participated in a panel discussion with retired Gen. Knud Bartels, an adjunct professor at the Royal Danish Defense College; Cdr. Helena Linder-Jess, the first female commanding officer of the German Navy; and Noam Perski, international government lead at Palantir Technologies, on how NATO should achieve its core mission of collective defense. Linder-Jess said NATO is already doing a lot to deter Russia, but conceded that a lot more needs to be done, including working on interoperability. Sebastian Sprenger, associate editor for Europe at Defense News, moderated the discussion.
NATO's newest member? Zoran Zaev, president of the Former Yugoslav Republic of Macedonia, joined the stage just minutes after learning that NATO leaders will formally invite his country to begin NATO accession talks. Zaev said his country was motivated for membership because the Alliance helps to "keep the world peace, to take care of stability and security. We want to participate in that. We are a small country, [but] we want to increase our participation to build a better world for everybody." Zaev's session was moderated by Damon Wilson, executive vice president of the Atlantic Council. Wilson said the potential for Zaev's country to join NATO proved that "NATO's founding formula remains powerful, that membership providing security, [also] provides a framework to promote political and economic growth and development."
Shea it Ain't So! Longtime NATO "foot soldier," as Jamie Shea likes to describe himself, is stepping down. Shea, who has served as the public face of the Alliance as spokesperson and more recently as deputy assistant secretary general for emerging security challenges, has some parting advice for US President Donald J. Trump. The president, Shea said, should read the communique agreed to by all members of the Alliance. "If I am President Trump I would think, 'My God! This is music to my ears. It really does push the Alliance in a direction of being useful to me on all of my foreign policy initiatives,'" he said.
The communique, among other things, expresses the Alliance's "unwavering commitment" to see member states dedicate 2 percent of their GDP to defense spending by 2024—a topic over which Trump has excoriated longstanding US allies.
Shea was given a fond farewell by his NATO colleagues, which included a touching video retrospective of his career.
Ashish Kumar Sen is deputy director of communications, editorial, at the Atlantic Council. Follow him on Twitter @AshishSen.

David A. Wemer is assistant director, editorial, at the Atlantic Council. You can follow him on Twitter @DavidAWemer.