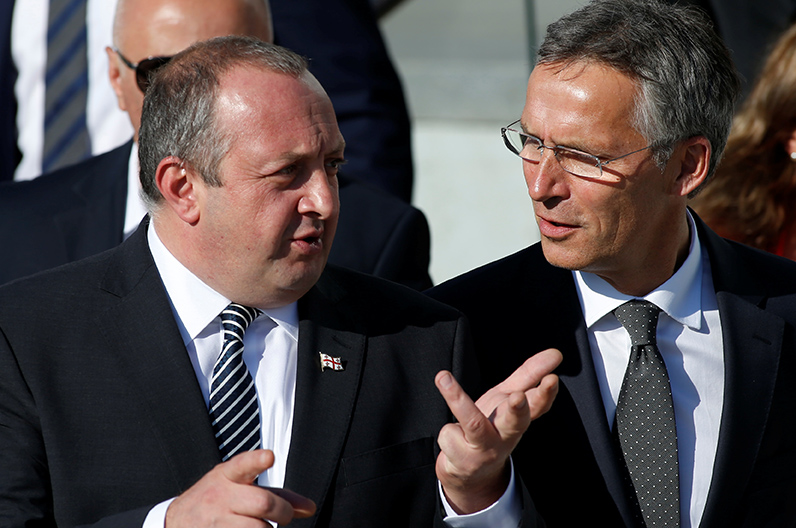 NATO, created as part of Harry S. Truman's visionary solution for a post-World War II Europe, has proven to be one of the most successful alliances in the world. A defensive alliance to protect its members from external threats, NATO has maintained peace and security on the European continent for more than six decades, paving the way for unprecedented economic development and prosperity for its members.
The prospect of NATO membership became one of the strongest incentives for carrying out swift democratic and security sector reforms in countries in Central and Eastern Europe that aspired to join the Alliance at the end of the Cold War. Eventual NATO membership for many of these countries strengthened their security and stability as well as that of NATO itself by reducing uncertainty along NATO's eastern flank.

When NATO leaders meet in Warsaw on July 8 and 9, however, they will be facing some of the most serious challenges in the Alliance's history: Russia's ongoing aggression against Ukraine (and threats to other neighboring states), Brexit, the refugee crisis, and continued economic slowdown. Both authoritarian regimes and non-state actors such as the Islamic State of Iraq and al-Sham (ISIS) are causing havoc in the world. These challenges reinforce the need for NATO to serve as the cornerstone and institutional guarantor of transatlantic unity and the vision of a Europe whole, free and at peace.
NATO's enlargement has been beneficial to international security as each wave of enlargement has strengthened security and stability in the wider transatlantic area. It is vital that the Alliance maintain an open-door policy. Living in one of the remaining aspirant countries, Georgia, we know how critical a role NATO plays in extending security and stability.
NATO's summit in Bucharest in 2008 committed to Georgia and Ukraine that both "will become members of NATO." That statement has been reaffirmed at all subsequent summits. And yet at each of those gatherings since 2008, NATO has failed to offer Georgia a Membership Action Plan (MAP). A MAP is the institutional mechanism to achieve implementation of the Bucharest Summit decision and guarantee proper engagement of the allies in the process of reforms.
Some Alliance members have resisted granting a MAP to Georgia because they are worried that such a step would upset, even provoke, Russia. And yet leaving Georgia in a dangerous gray zone with no concrete advancement toward membership harms the interests of all and increases the possibility of Russian provocations. Since its invasion of Georgia in 2008, Russia has occupied the Georgian provinces of Abkhazia and South Ossetia and continues creeping annexation of Georgian territory in total violation of the EU-brokered ceasefire of 2008.
The best way to address this ongoing threat and to ensure that Moscow does not exercise a de facto veto over aspirant countries' ambitions is for NATO to offer Georgia a clear path to membership. At the same time, further progress in reforms will transform Georgia into a successful country that the occupied territories will want to rejoin.
Georgia has been a strong and committed partner to NATO and has achieved significant progress in the integration process in terms of democratic developments as well as military interoperability. Georgian troops have joined the United States and its allies in operations in Kosovo, Iraq, and Afghanistan. Georgian troops have fought shoulder to shoulder with US troops in Afghanistan's Helmand province. Georgia is the largest non-NATO contributor and second-biggest per capita contributor overall to the operation in Afghanistan.
Furthermore, Georgia's population has strongly supported NATO membership for more than a decade. This support has been constantly challenged by well-organized Russian propaganda—unsuccessfully until today. Since the end of the 1990s, NATO membership has been a declared policy priority of all Georgian governments. And in the past twelve years, Georgia has made significant progress in modernizing its state and institutions.
Despite some concerns regarding the democratic credentials of the current government in Tbilisi, a renewed prospect of European and Euro-Atlantic integration would engender strong public support and serve as an impetus to keep Georgia on the democratic path and induce the current and any future Georgian government to demonstrate a strong commitment to democratic principles and rule of law.

In Warsaw, Georgia should become part of NATO's wider Black Sea regional strategy with Ukraine, Bulgaria, Romania, Turkey, and Ukraine. More importantly, leaders should set a clear path for Georgia's NATO membership to put an end to uncertainty about the future of Georgia and, in turn, the future of Europe and its eastern flank. Setting a clear path in Warsaw to eventual NATO membership for Georgia would be a huge boost for Georgian democracy and for European security and stability. It would also underscore that the decades-old vision of a Europe whole, free and at peace remains viable today.
Vasil Sikharulidze and Batu Kutelia are former Georgian ambassadors to the United States. Sikharulidze served from 2006 to 2008 and Kutelia served from 2009 to 2011.