NATO faces an array of security threats from the Arctic in the north, Russia in the east, and migrant flows from the south, all of which demand a dynamic and flexible defense force. Although members of the Alliance have increased investment in defense, their focus has been on expensive technology for a potential high-end conflict. Counterterrorism operations, meanwhile, have worn out the Alliance's existing capabilities. This approach is unsustainable as NATO's task-saturated and resource-constrained defense forces must both confront today's security threats and prepare for tomorrow's conflicts.

Lower-cost and multi-mission platforms that can address current and future challenges should be at the forefront of Europe's defense acquisition priorities. It is no longer acceptable for individual member states to acquire single-solution and manpower-intensive platforms that are unable to be used in all coalition operations. Modular multi-role unmanned aerial systems (UAS) offer a solution to the range of problems NATO faces today and in the future.
Despite use in many NATO operations in the Balkans, Iraq, Libya, and Afghanistan, UAS make up a small fraction of the Alliance's defense portfolio and their application is limited to counterterrorism operations.
Currently, only the United Kingdom, France, and Italy are flying a NATO interoperable medium-altitude long endurance (MALE) UAS. This is in part due to the continent's myopic quest for EuroMALE, a European-built alternative to existing US systems.
Rather than purchasing existing interoperable MALE UAS from the United States, NATO members are distracted by the potential for an indigenous European platform, false promises of interoperability by foreign UAS suppliers, and competing priorities for other high-end platforms like the F-35.
The significant cost efficiencies associated with tapping into an existing production line notwithstanding, the cost per flying hour of manned platforms is exponentially more than MALE UAS, in some cases more than ten times the cost. Moreover, NATO members are utilizing high-end manned platforms such as fighter aircraft for the same reconnaissance and strike missions performed by multi-role MALE UAS. Unlike UAS, however, these high-end manned platforms must also employ multiple other manned platforms, including tankers, to extend range and persistence. The combination of endurance and ability to carry multiple payloads allow MALE UAS, like the MQ-9, to be a force multiplier, while preserving higher-end platforms for the missions only they can carry out.
The recent deployment of the MQ-9 Reaper to Poland and the temporary movement of MQ-9s from AFRICOM to Larissa Air Base in Greece, can show the benefits of distributed UAS operations to NATO members. While France and the United Kingdom continue to utilize UAS for traditional counterterrorism missions, platforms based in Greece and Italy can help form a more robust European response to the migrant crisis in the Mediterranean. Likewise, the Reaper deployment in Poland will help fill the persistent need for Joint Intelligence, Surveillance, and Reconnaissance (JISR) on NATO's eastern border with Russia. Canada and NATO's Nordic members can utilize maritime UAS platforms in the Arctic to increase the Alliance's maritime and littoral presence with persistent patrols and scientific missions.
Finally, the evolution to the certifiable MQ-9B, which allows for integration into civil airspace, allows for a greater range of civilian and humanitarian missions, building on the Alliance's active participation in missions such as earthquake relief in Pakistan and public protection during the 2004 Athens Olympics.
When NATO members gather for their summit in Brussels on July 11 and 12 they will need to balance the Alliance's full spectrum of threats with significant resource limitations and calls for more burden sharing, requiring a clear path to meet capability targets. NATO members, therefore, should prioritize procurement of multi-role, NATO interoperable MALE UAS, which ensures the Alliance is equipped to confront a broad range of current and future threats. NATO should also develop a road map on Alliance burden sharing with respect to MALE UAS capabilities, leveraging each member's comparative advantage in mission execution. In doing so, NATO will ensure an efficient and effectively distributed NATO force that exploits each member's strengths and relative security threats, whether that is counterterrorism, patrolling the Arctic, or mitigating the migrant crisis.
To maximize its benefits, NATO should undertake a study to determine how existing JISR platforms and the addition of MALE UAS could contribute to Alliance efforts in the civil and humanitarian space.
The United States should also enhance European understanding of the value of existing MALE UAS solutions through targeted deployments by current operators, such as the one conducted in Poland.
As threats to the Alliance become more distributed and complex, NATO must acquire capabilities that can operate across the threat spectrum, while at the same time reducing manpower requirements and cost. Multi-role unmanned systems offer this by enabling a diverse mission set and leveraging each member's comparative advantage.
Niki Johnson is a Millennium Fellow with the Atlantic Council and currently the senior director for government affairs at General Atomics Aeronautical Systems (GA-ASI). She previously served in the Office of the Secretary of Defense.
Jessie Ilkson is currently a senior manager for government affairs at GA-ASI and previously served as the director for Pakistan in the Office of the Secretary of Defense.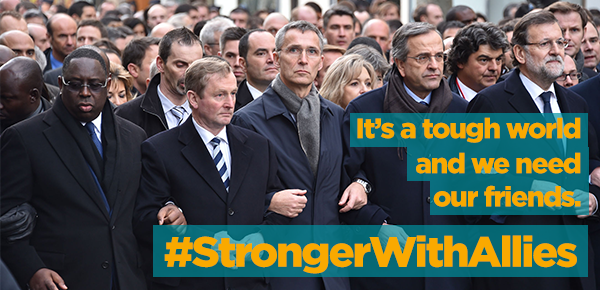 The Atlantic Council is supporting the #StrongerWithAllies campaign, promoting the idea that the United States is stronger and safer with friends abroad. Please join our effort by visiting StrongerWithAllies.org and using our social media toolkit to share your own content about why we're #StrongerWithAllies.