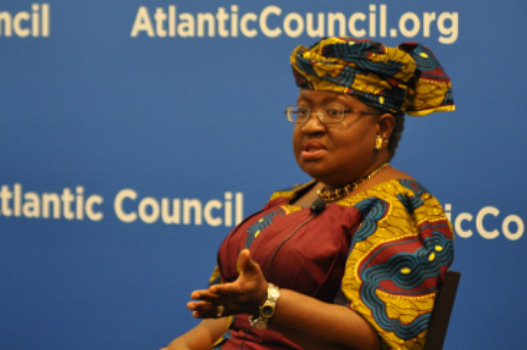 Nigeria is surprised by a US decision to slash oil imports from Africa's top petroleum producer, but is eager to deepen its economic relationship with the US in other areas, according to Ngozi Okonjo-Iweala, Nigeria's finance and economy minister.
In its drive to become a "non-oil" economy, Nigeria hopes to have "good relationships with the US based not on the purchase of oil, but on something much deeper: mutually beneficial trade in other items," Okonjo-Iweala said in a phone interview from Nigeria with Dr. J. Peter Pham, director of the Atlantic Council's Africa Center.
"We should exploit [the African Growth and Opportunity Act] to be able to sell non-oil goods," she added.
Oil, however, remains an important source of revenue for the Nigerian government. The US has slashed oil imports from Nigeria to near zero over the past year.
"We are still asking 'Why the quick shift in buying?'" Okonjo-Iweala said.
"[The US is] still buying oil from other countries like Saudi Arabia. So Nigerians are kind of surprised. Why were we the first to be phased out? … Why was it that Nigeria was phased out so quickly?" she added.
India and China are now the largest buyers of Nigerian oil, easing the impact on Nigeria of losing US business.
"We are struggling with other problems like quantity shocks that came from our pipeline vandalization and shutdowns on oil… and things like the price shocks that we are going through," said Okonjo-Iweala.
Nigeria is looking to lessen its reliance on oil and diversify its economy as global crude prices fall to near $61 a barrel. The Nigerian government has taken a number of steps to respond to the falling oil prices, including devaluing its currency, the naira; imposing taxes on luxury items; and revising the budget.
"All forecasting is done at one's peril, so nobody has it down to a science. … But the intelligence we have on prices is that they are likely to stabilize anywhere between $65 to $70 a barrel, and actually average $70 a barrel next year," said Okonjo-Iweala.
"We revised our budget down to $65 to be realistic with what the oil market is showing. Now, we've told the nation — and it's down in black and white — that if prices for 2015 continue to stay below the $65 mark, the country will then have to take further adjustment measures," she added.
Okonjo-Iweala said the Nigerian government has also told citizens now is the perfect opportunity to shift to a non-oil economy.
"We no longer want to be known as this oil economy," she said.
Okonjo-Iweala laid out her government's plans for economic diversification and sustainable development in detail in an address at the Atlantic Council in October, during an event co-hosted by the Africa Center and Thomson Reuters.
The Nigerian government has made significant strides in telecommunications, media, and retail sectors. It is also focused on agriculture.
These policies have attracted major foreign companies, including GE and Proctor & Gamble. The Washington-based Carlyle Group last month invested in a minority stake in Nigeria's Diamond Bank.
Nigeria's economic agenda is, however, threatened by the security situation in the northeast of the country where Boko Haram militants are conducting a bloody campaign to carve out an Islamic state.
"The security situation in Nigeria, of course, causes uncertainty. And one cannot get away from that — the despicable actions of Boko Haram and so on. But people should have it in context," said Okonjo-Iweala.
"This is a very difficult year. Nigeria will face tough challenges. But if we stick to the measures we put down, we will weather the storm," she added.
Okonjo-Iweala said foreign investors are not fleeing Nigeria because of Boko Haram. In fact, the Nigerian government signed the Azura-Edo Independent Power Project deal in December.
"Can you believe it, in the midst of this? We thought, 'OK, these guys are going to flee because of this.' They said, 'No, we don't change our minds. We want to sign this,'" the minister said.
"I have not heard Unilever's CEO Paul Polman saying he is pulling back on the 115 million euros that he invested. Procter & Gamble are continuing. Aliko Dangote who is the biggest investor domestic, is continuing. So we are really happy that in the real sector, people – yes, there is uncertainty, but we have not had a massive pullback," she added.