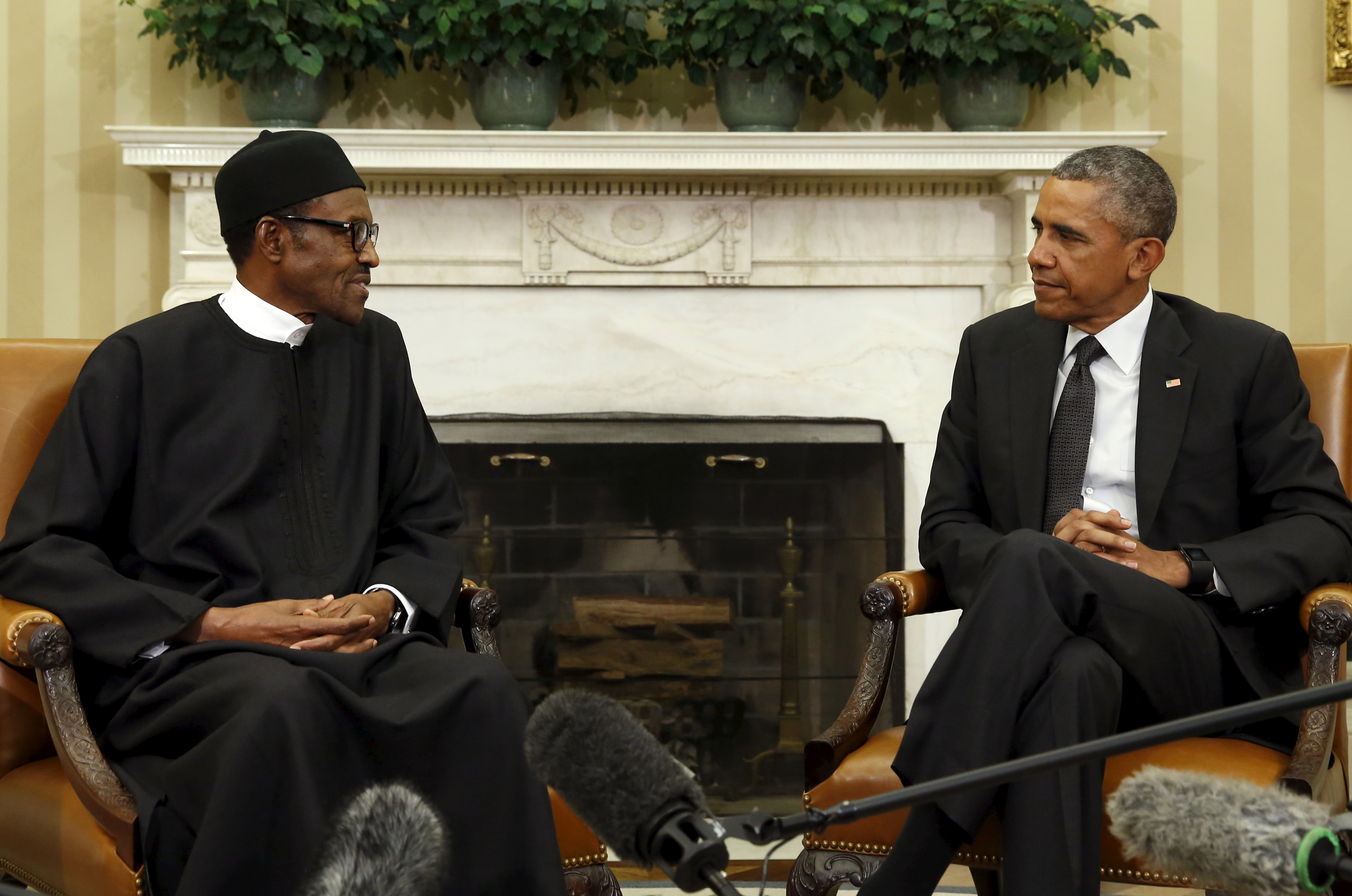 Buhari says legislation that curbs US military aid is abetting Boko Haram insurgency
Nigerian President Muhammadu Buhari—at war with Boko Haram militants at home—in a July 22 address in Washington lashed out at US laws that ban the sale of weapons to foreign militaries accused of human rights violations saying such restrictions have only aided the insurgency.
"Unwittingly, and I dare say unintentionally, the application of the Leahy law amendment by the United States government has aided and abetted the Boko Haram terrorists," Buhari said in an address at the United States Institute of Peace that was co-hosted by the Atlantic Council.

Buhari, a 72-year-old former military dictator-turned-democrat, said the "blanket application" of the Leahy laws on the grounds of "unproven allegations" of human rights violations by Nigerian security forces had denied his military access to the appropriate weapons to fight the militants.
"In the face of abduction of innocent schoolgirls … indiscriminate bombings of civilians… our forces have remained largely impotent because they do not possess the appropriate weapons and technology, which we could have had had the so-called human rights violations not been an obstacle," he said.
The Leahy laws ban US military assistance to individuals and units of foreign militaries that have been credibly accused of committing human rights abuses.
The State Department's annual report on the state of global human rights­ accuses Boko Haram as well as Nigerian security forces of committing attrocities. It specifically accuses Nigerian troops of extrajudicial killings, torture, rape, arbitrary detention, and widespread violence.
Earlier this year, in a letter to The Hill, Sen. Patrick Leahy (D-Vt.) defended the law that bears his name.
"If the Nigerian government wants the United States to support units that have committed heinous crimes with impunity, it needs to get serious about not tolerating it. It's that simple," he wrote.
J. Peter Pham, Director of the Atlantic Council's Africa Center, said in an interview that the Leahy laws are "often too easily invoked as an excuse for not doing things."
"In fact, if you vet [the troops] there are people and units that can receive training," he said.
US Special Operations forces were training a battalion of vetted Nigerian troops until late last year.
Buhari, who met US President Barack Obama at the White House July 20, said he urged the administration and members of Congress to examine how the United States can provide Nigeria with "far more substantial counterterrorism assistance with minimal strings."
"The longer we delay the deadlier the Boko Haram gets," he warned.
'A clear agenda'
At the White House, Obama praised Buhari for having a "very clear agenda" for defeating the Islamic extremist group Boko Haram and rooting out corruption.
While in Washington, Buhari also met Vice President Joe Biden, Secretary of State John Kerry, and National Security Adviser Susan Rice, among others.
Buhari, who was elected in March, assumed power in a historic transition as it was the first time a democratically elected President was replaced by a democratically elected opposition leader in Nigeria since the end of military rule in 1991. The election was widely considered to be free and fair.
US-Nigeria ties
The United States has ended imports of petroleum products from Africa's largest oil producer because of the energy revolution at home. Besides losing its largest customer, Nigeria's economy has also been battered by falling oil prices.
But ties between the United States and Nigeria became strained under Buhari's predecessor, Goodluck Jonathan.
Late last year, the Jonathan administration abruptly canceled the final phase of a specialized program run by Pentagon trainers to help Nigerian troops fight Boko Haram after the Obama administration, citing concerns about atrocities committed by Nigerian soldiers, blocked the sale of US-origin Cobra helicopters by Israel to Nigeria.
Fighting Boko Haram
The Jonathan administration, in its final months in office, conducted a massive military operation to root out Boko Haram militants from their strongholds in the northeastern part of the country.
While largely dispersed, Boko Haram has since allied itself with the Islamic State of Iraq and al-Sham (ISIS) and rebranded itself as Islamic State West Africa Province (ISWAP).
In his address at the USIP, Buhari affirmed his government's commitment to defeating Boko Haram and finding a durable solution to the problem. The cost of the insurgency to the Nigerian people has been "staggering" he said while vowing to reclaim every inch of Nigerian territory from the militants.
Pledging that the war will be waged in compliance with Nigeria's commitments under domestic and international human rights obligations, Buhari said: "We have no illusions whatsoever about the enormity of the challenges ahead of us. We know that it will be a long and bruising struggle, but this is a fight we are in to win."
A regional solution
Boko Haram has spilled across Nigeria's borders sucking its neighbors into the conflict.
Soon after assuming the presidency Buhari visited two neighbors that are allied with Nigeria in the fight against the militants—Chad and Niger. He will visit a third, Cameroon, July 29.
Nigeria is improving coordination with its neighbors to add "depth and muscle" to its strategy to defeat Boko Haram, the President said.
Acknowledging US support for this effort to root out the militants, Buhari said a new strategy is needed to "prioritize the mobilization of maximum capacity to fight terrorism while ensuring the safety and protection of local communities in the frontline of the fight against terrorism."
Addressing root causes of insurgency
The new Nigerian government is not relying on a military strategy alone to defeat Boko Haram.
Buhari said his administration will expand economic opportunities, create jobs, and improve the quality of governance to ensure a government that is responsive, inclusive, transparent, and accountable.
The President is also determined to root out corruption for which he said he has "zero tolerance."
Earlier this month, Buhari fired the entire top leadership of the military, which he has accused of corruption.
Ashish Kumar Sen is a staff writer at the Atlantic Council.