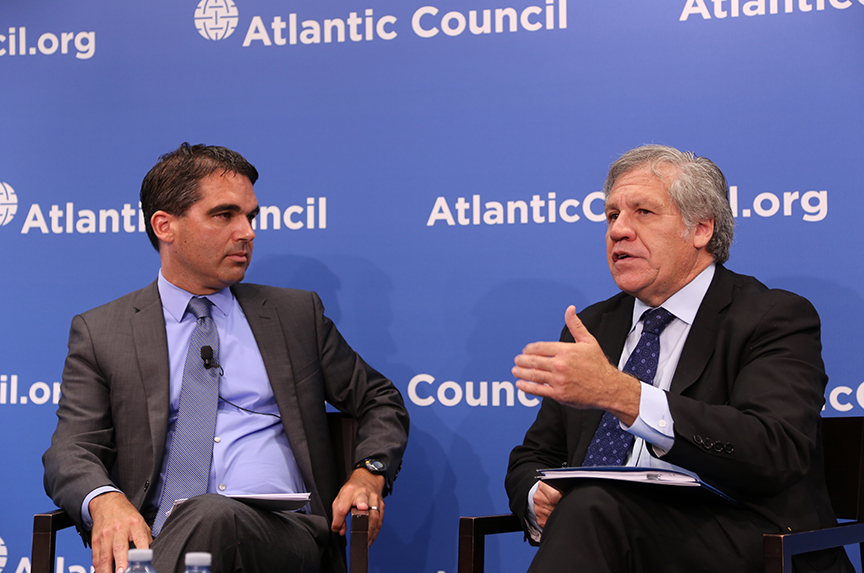 Targeted US sanctions, including against Venezuela's oil sector, would be a welcome move against a regime that has plunged this South American nation into an economic and humanitarian crisis, Luis Almagro, secretary general of the Organization of American States (OAS), said at the Atlantic Council in Washington on July 21.
US sanctions on Venezuelan officials "have been very positive, and we think that future sanctions would be very positive," said Almagro.

In February, US President Donald J. Trump's administration slapped sanctions on Venezuelan Vice President Tareck El Aissami over his alleged involvement in drug trafficking. In May, it imposed sanctions on eight members of Venezuela's Supreme Court, which attempted to strip power from the opposition-led National Assembly.
Almagro suggested sanctions against senior members of the administration of Venezuelan President Nicolás Maduro, especially those involved in the torture of civilians. But, he added, a thorough analysis should be first conducted to ensure that the international community is willing to sign on to these sanctions, the impact on the hemisphere is determined, and civilians do not suffer.
On July 16, more than seven million Venezuelans participated in a symbolic referendum to oppose Maduro's plans to rewrite the constitution. The next day, Trump called Maduro a "bad leader who dreams of becoming a dictator" and said: "The United States will not stand by as Venezuela crumbles." Maduro has called a vote on July 30 to pick members of the Constituent Assembly that would rewrite the constitution.
"If the Maduro regime imposes its Constituent Assembly on July 30, the United States will take strong and swift economic actions," Trump said, suggesting the possibility of unilateral US action. US officials have said all tools are on the table.
Describing military intervention as unacceptable and sanctions as the strongest international tool for applying pressure, Almagro contended that sanctions work when coupled with internal pressure for change—as was the case in South Africa during Apartheid. "When the internal pressure isn't there, the external pressure is not sufficient," he said, citing the example of Cuba.
Following his keynote address, Almagro participated in a discussion moderated by Jason Marczak, director of the Latin America Economic Growth Initiative at the Atlantic Council's Adrienne Arsht Latin America Center.
This session was followed by a panel discussion that featured Mexico's Permanent Representative to the OAS, Luis Alfonso de Alba Góngora; Francisco Rodriguez, chief economist at Torino Capital; and Beatriz Borges, executive director of the Center of Justice and Peace, CEPAZ (Venezuela). Gustau Alegret, US news director at NTN24, moderated the panel.
Sanctions, said De Alba Góngora, have had an uneven track record. "One would have to make a very careful analysis of what kinds could work and which ones might not, but we absolutely have to distinguish between multilateral sanctions and unilateral sanctions," he said.
De Alba Góngora expressed concern that unilateral sanctions would not be imposed in a coordinated way and that there is no political will to impose multilateral sanctions. "Regardless of what sovereign nations might decide, it would be good that all nations take into account the impact that any actions might have on the cohesion within the G14 so we don't end up further away from a solution than we are now," he said.
Rodriguez warned that sanctions could "backfire politically."
Noting that the Maduro government is highly unpopular both in Venezuela and abroad, he said: "The risk exists that if sanctions are imposed they might be used by the government to reinforce the perception that it isn't the government, but actions against the government that are hurting them."
"What we have to do with the governments of Maduro and Chavez is to leave them alone, because when you leave them alone they will do the harm they are doing and people will realize it is their fault," said Rodriguez, referring to Maduro's predecessor Hugo Chavez.
"There are other factors that complicate the situation that might give credibility to the story that Maduro is trying to tell—that it is the external factors that are harming the people," he added.
Venezuelan authorities have cracked down on the opposition in the wake of what many Venezuelans see as an attempt by Maduro to retain control of the country once his term ends in 2019. More than ninety people have died in protests over the past three months. Anti-government protesters know there is a high probability of being arrested, injured, or killed, said Borges. Nevertheless, the protesters are determined to pursue peaceful, democratic actions, she added.
Venezuelans today face levels of child mortality and malnutrition that are on par with nations ravaged by war. Oil is the primary source of income for Venezuela, which is teetering on the edge of bankruptcy. Senior US officials have said US action against Venezuela could include an oil embargo.
Rodriguez cited a recent poll jointly conducted by Torino Capital and the Venezuelan polling firm, Datanalisis, on Venezuelans' attitude toward sanctions. That poll found that 62 percent of Venezuelans oppose oil-related sanctions.
While there is ample concern that the Venezuelan people would suffer most from an oil embargo, Almagro is less worried. "We don't see the profits of oil sales benefiting the Venezuelan people," he said. The Maduro government, he said, is using oil revenue to buy support, "weapons of oppression," and "kill Venezuelans."
Almagro's tough stand on Venezuela is nothing new, yet the OAS has been unable to promote change in Caracas.
Almagro listed his oft-repeated demands to the Maduro government: all political prisoners in Venezuela need to be freed, the powers of the state should be reinstated, and an emergency plan should be put in place to attend to the needs of those suffering from a lack of food and medicine.
"The Venezuelan government has systematically rejected humanitarian aid offers, but it has bought arms with the bit of resources they still have," said Almagro. "Every death in Venezuela should hurt the whole international community… It is our responsibility to defend the people of Venezuela," he added.
Meanwhile, international efforts to address the crisis in Venezuela have been lukewarm at best.
"The OAS is the only political forum that has spoken about this crisis. It is the only one that is discussing the problem of Venezuela," said Almagro. "Our voices have to be made louder," he added.
Toward this effort, the Atlantic Council's Adrienne Arsht Latin America Center has launched a three-pronged Venezuela strategy, said Frederick Kempe, president and chief executive officer of the Atlantic Council, in introductory remarks. These three prongs are: exposing the atrocities committed by the Venezuelan government and putting forward a new plan to emerge from the crisis, providing a roadmap for additional US and regional efforts, and drawing attention to the actions of international actors in Venezuela and the implications for US national security and regional stability.
De Alba Góngora said the action taken by the OAS against Maduro's government so far has neither been a "punitive exercise" nor has it been led by the United States. "This has been a collective vision that has evolved internationally and that has tried to find all diplomatic ways to solve the problem," he said.
"Sanctions should not only be considered economically. They should be taken into account in a political light," he said, noting that, for example, more foreign governments could cut off diplomatic ties with Venezuela and shut their embassies in Caracas.
Meanwhile, Borges noted: "People are speaking of a humanitarian crisis, but we see we have a complex humanitarian emergency on our hands" in Venezuela.
Emphasizing the need for pressure and solidarity against the Maduro government, Borges said: "We need support and action more than sanctions, which could hurt the Venezuelan people."
"We don't want to keep dying of hunger," she added.
Ashish Kumar Sen is deputy director of communications at the Atlantic Council. You can follow him on Twitter @AshishSen.