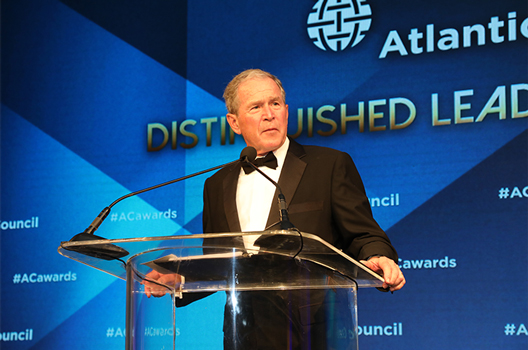 Atlantic Council President and CEO Frederick Kempe reflects on President Trump's Iran decision and the 2018 Distinguished Leadership Awards
It was a piquant coincidence that we scheduled the Atlantic Council's annual Distinguished Leadership Awards dinner, saluting former President George W. Bush for his life-saving work against HIV-AIDS, opposite President Trump's most consequential leadership decision to date, the undoing of the Iran nuclear deal.
Receiving his award on May 10, the date on which Winston Churchill became Prime Minister in 1940, President Bush spoke with a clarity that ensured his meaning was not missed:
"Churchill said in his lifetime two world wars had shown that oceans no longer protected the new world from the problems of the old. The only way for peace was through partnership and engagement. If we are together, nothing is impossible. If we are divided, all will fail. That's why the Atlantic Council is important today. And I appreciate your good works."

I rarely use this space to celebrate the Atlantic Council's products or purpose. However, we face an Inflection Point of historic dimensions in the dangers that confront the global system of institutions and values the Council's founders helped create alongside allies some seventy years ago. Common cause to confront this rising peril is as crucial as it was in Churchill's time.
So we appreciated President Bush's tip of the hat before our audience of more than 750 guests from more than 70 countries (see full report here).
Quoting again from Churchill, Bush said:
"The price of greatness is responsibilities. One cannot rise to be in many ways the leading community in the civilized world without being involved in its problems, without being convulsed by its agonies and inspired by its causes…people in the United States cannot escape world responsibility."
Fifteen years ago this month, President Bush signed into law the United States President's Emergency Plan for AIDS Relief. Said Bush, "my administration believed that of those to whom much is given, much is required. We believed that we're all God's children and every human life is precious. So in 2003, we decided that the greatest, wealthiest nation had a moral responsibility to intervene."
In his powerful introduction for President Bush, former National Security Advisor Steve Hadley said the outcome of the PEPFAR plan was that "over 13 million lives have been saved, and we are turning the tide on this pandemic"
Just two days before President Bush received his award, President Trump announced his decision to leave the Iran nuclear deal (JCPOA).
As I wrote on our New Atlanticist blog this week:
"It is no accident that Trump announced it even as he dispatched Secretary of State Mike Pompeo to meet with North Korean leader Kim Jong-un. These two engagements will do much to define the Trump administration's policy toward nuclear proliferators and determine whether Trump's disruptive approach can produce real results."
"Whether Trump's decision today proves to be the right tonic to finally counter Iran's multiple threats depends on whether the administration can craft a strategy that is as coherent as today's action was bold. At the moment, that is not the case."
It will be some time before we know whether Trump's intentionally disruptive style produces outsized results or outsized problems, or perhaps some of both. However, Trump would have greater odds of success if he heeds Churchill's words regarding the primacy of partnerships in tackling inescapable global responsibilities.
Trump entered uncharted leadership territory this week. Having abandoned a useful but deeply flawed Iran nuclear deal, one that had been painstakingly negotiated alongside allies, requires urgent work on an alternative strategy that better prevents Iran from developing a nuclear weapon, addresses its development of ballistic missiles, and counters Iran's destabilizing regional actions and terrorist support.
Neither the Obama administration then nor the Trump administration now has conjured a credible, sustainable Iran policy beyond the time-limited nuclear pact.
Speaking on behalf of Germany, the UK and his own country, French President Emmanuel Macron expressed regret about the Trump decision, but he at the same time signaled a willingness to engage in efforts to reach a more comprehensive Iran approach.
President Trump should embrace this French offer. Though the President's first instincts aren't to galvanize allies, he's got a better chance of countering Iran and of denuclearizing North Korea if he can galvanize them.
Repeating Churchill, "If we are together, nothing is impossible. If we are divided, all will fail."
Also, read in my weekly newsletter more about our three other extraordinary awardees at the Distinguished Leadership Awards, Supreme Allied Commander Europe General Scaparrotti, Starbucks' Executive Chairman Howard Schultz and seven-time Grammy winner Gloria Estefan.
Don't miss this week's must-read: Senator John McCain, one of America's great leaders and recipient of the Atlantic Council's Freedom Award, takes aim at Russian leader Vladimir Putin in an excerpt from his new book.
As Senator McCain struggles for his life, the Atlantic Council will continue to fight for his values.
Frederick Kempe is president and chief executive officer of the Atlantic Council. You can follow him on Twitter @FredKempe. This blog post is based on his weekly InflectionPoints newsletter. Read the newsletter in full here.