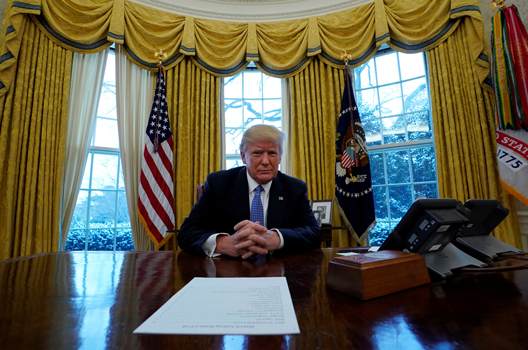 US President Donald J. Trump marks his first year in the White House on January 20. We take a look at some key US policies before Trump took office, what he has said and done on these issues, and how, if at all, US policy has changed.




AFGHANISTAN



US President Donald J. Trump reversed former President Barack Obama's policy to pull US troops out of Afghanistan.
Read more of our analysis here.
CLIMATE CHANGE



Despite the fanfare surrounding Trump's June 1, 2017, announcement that he was pulling the United States out of the Paris Agreement there is a drawn-out legal process for withdrawing from the pact.
Read more of our analysis here.
CUBA



Trump scaled back the Obama-era rapprochement with Cuba, placing restrictions on US travel to Cuba and business with Cuban entities linked to military, security, and intelligence agencies; recalling US diplomats from Havana; and expelling many Cuban diplomats from the United States.
Read more of our analysis here.
IMMIGRATION



Between ending the Deferred Action for Childhood Arrivals (DACA) program and terminating Temporary Protected Status (TPS) for many countries, the Trump administration has worked to curb unauthorized immigration and send thousands of Latin Americans back to their countries of origin, undermining his own foreign policy.
Read more of our analysis here.
IRAN



Trump has threatened to withdraw from the Iran nuclear deal unless the United States' European allies and the US Congress fix what he believes to be a "disastrously flawed" agreement.
Read more of our analysis here.
ISRAEL



Although Trump recognized Jerusalem to be Israel's capital, he didn't describe it as the undivided capital of Israel. Why does this matter?

Read more of our analysis here.
NATO




Trump's public skepticism toward multilateral organizations has created uncertainty among traditional US allies. Washington's commitment to NATO, in particular, has been called into question in the first year of the administration. Despite critical rhetoric and ongoing concerns over allied burden-sharing, the Trump administration, alongside European allies, continues to take concrete steps to bolster transatlantic security.

Read more of our analysis here.
NORTH KOREA





North Korea's march toward a nuclear weapon presented US President Donald J. Trump with his first international crisis. Though difficult to see against the backdrop of missile tests and inflammatory rhetoric, Trump's approach to the situation has maintained a significant degree of continuity with the policies of his predecessors. He has been unconventional and unforgiving in many ways, but has taken a policy stance which conveys US expectations and is geared toward a check on North Korean nuclear ambitions. The success of that policy remains uncertain.
Read more of our analysis here.
OFFSHORE DRILLING



In the first year of his administration, Trump pursued what he called an "America First" energy strategy, seeking to maximize domestic production of oil and gas resources by rolling back regulations, lifting restrictions, and opening additional land up for development.
Read more of our analysis here.
PAKISTAN


Trump started off 2018 with a tweet blasting Pakistan for providing safe havens to terrorists. Days later, the Trump administration cut off what is expected to be $1.3 billion in annual security aid to Pakistan. It is betting that this strategy will lead Pakistan to get tough with all terrorists on its soil. Will it?
Read more of our analysis here.
RUSSIA



As a candidate and president-elect, Trump spoke constantly about the need to improve relations with Russia. Whatever Trump's inclinations and statements, his administration has produced a more robust and wiser policy towards Russia than his predecessor.
Read more of our analysis here.
TRADE



In 2017, Trump withdrew from the Trans-Pacific Partnership (TPP) and began renegotiating the North American Free Trade Agreement (NAFTA). Although NAFTA needs to be updated to better fit our 21st century economy, we can't forget the positive effect it has had on American wages, employment levels, and the quality of jobs.
Read more of our analysis here.
VENEZUELA



The United States has ramped up sanctions on the Venezuelan regime, including Venezuelan President Nicolás Maduro.
Read more of our analysis here.