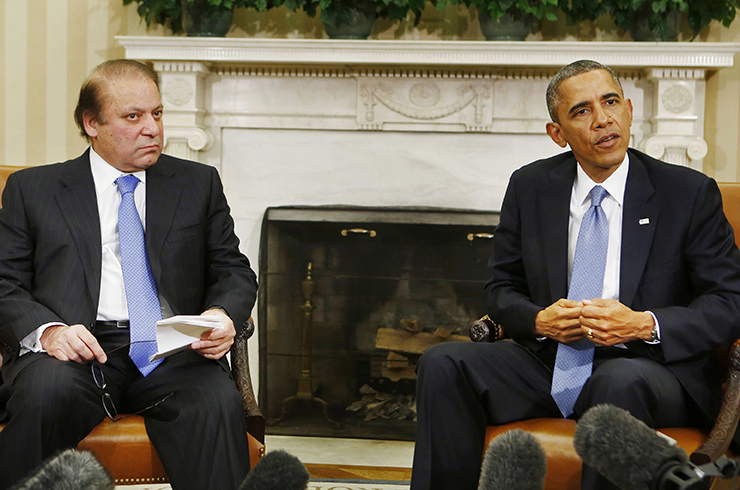 But it's the military that calls the shots in Pakistan, says former US official
Though US President Barack Obama will meet Pakistani Prime Minister Nawaz Sharif at the White House on Oct. 22 in an effort aimed at rekindling a peace process in Afghanistan, it is the military that really calls the shots in the South Asian nation, Vali Nasr, a former Obama administration official said Oct. 16.
"Nawaz Sharif's administration has fallen into the same pattern as [former] President [Asif Ali] Zardari, which means that there is a very stable civilian façade that actually does not make any critical decisions, particularly on security issues that [are] very obviously delegated to the military," Nasr, who served as Special Adviser to Obama's Special Representative for Afghanistan and Pakistan from 2009 to 2011, said in a panel discussion at the Atlantic Council.
When it comes to Pakistan's Afghan, Indian, and general security policies, the "real decisionmakers" are in the military, specifically Army Chief Gen. Raheel Sharif, said Nasr. "That's the new normal in Pakistan: No coups, civilian governments that will end their terms but basically make no waves."

Since its independence in 1947, Pakistan has cycled through periods of civilian rule that have been routinely punctuated by military dictatorships. Sharif previously served as Prime Minister from 1997-1999 when he was abruptly ousted by his army chief, Gen. Pervez Musharraf.
Nasr, who now serves as Dean of the Johns Hopkins School of Advanced International Studies, said today's Nawaz Sharif is very different from the Sharif of the 1990s who was "bold on economic change and willing to push the envelope with the military."
"The real conversations on a host of issues [are] going to happen with the military," he added.
Gen. Sharif is expected to visit Washington later this year.


From left: James B. Cunningham, a former US Ambassador to Afghanistan who is now a Senior Fellow at the Atlantic Council and the Khalilzad Chair, moderated a panel discussion on Oct. 16 with Vali Nasr, Dean of the Johns Hopkins School of Advanced International Studies, and Shuja Nawaz, a Distinguished Fellow in the Atlantic Council's South Asia Center. (Atlantic Council/Victoria Langton)
The Prime Minister's visit comes on the heels of Obama's decision not to draw down US troops in Afghanistan at the end of 2015 as he had originally pledged.
Some of the security problems in Afghanistan will be blamed on Pakistan, because of issues such as terrorist safe havens and the relationship between elements of Pakistan's security and intelligence services with the Taliban, but some has to do with "wrong assumptions of American strategy" in Afghanistan, said Nasr.
A critical piece of the US' Afghan strategy is the emphasis that has been placed on Afghan President Ashraf Ghani as the "right kind of leader as opposed to [his predecessor] President Karzai as the wrong kind of leader," he added.
Ghani took a significant political gamble early in his presidency when he reached out to Pakistan with a plea to shut down terrorist safe havens and facilitate negotiations with the Taliban.
The fragile peace process fell apart this summer when it was revealed that the Taliban's longtime leader, Mullah Omar, had been dead for more than two years. Since then the Taliban has stepped up attacks across Afghanistan and in September briefly seized the northern city of Kunduz.
Both these developments have put Ghani's political judgment on the line, said Nasr. "I would expect that he would recoil from further engagement with Pakistan without the Pakistanis giving him something serious" in return, he predicted.
"It would be a mistake to basically make Afghanistan about Pakistan at this stage. It is really about American strategy," he added.
Shuja Nawaz, a Distinguished Fellow in the Atlantic Council's South Asia Center, said only when there is clear evidence that Pakistan is shutting down terrorist safe havens on its side of the border will it be easier for Pakistan and Afghanistan to work together, and, eventually, for Iran and China to join in the process as well.
A broad spectrum of terrorist groups, some of which plot and carry out attacks on Afghan and US targets in Afghanistan, are lodged in safe havens in Pakistan.
The Pakistani military launched an operation against some of these groups in the North Waziristan region in the summer of 2014.
Militant bases in North Waziristan "have been destroyed," said Nawaz. Miranshah, the administrative headquarters of the North Waziristan agency, "is like Dresden after the Second World War."
Afghan and US officials say the Pakistani military operation merely flushed the terrorists across the border into Afghanistan.
"The question now is can we persuade Pakistani authorities to accelerate their timetable of depriving [the militants] of their ability to actually escape back into Pakistani territory," said Nawaz.
The rise of ISIS
The emergence of the Islamic State in the Khorasan, the South Asia franchise of the Islamic State of Iraq and al-Sham (ISIS), has added a layer of complexity to an already complex situation in Afghanistan. The group has sought to exploit rifts in the Taliban's ranks that were exacerbated following confirmation of Omar's death.
James B. Cunningham, a former US Ambassador to Afghanistan who is now a Senior Fellow at the Atlantic Council and the Khalilzad Chair, said in an earlier interview with the New Atlanticist that much of the so-called ISIS presence in Afghanistan is really Taliban who have rebranded themselves as ISIS for a variety of reasons. Cunningham moderated the discussion between Nasr and Nawaz.
The emergence of ISIS in Afghanistan is playing psychologically on the minds of the Taliban and is likely to produce an even more hardened rhetoric from the Afghan militants "because they don't want to lose the high ground, which they have occupied, to another force over which they don't have control," said Nasr.
The emergence of ISIS in Afghanistan has also created an opportunity for engagement between the United States and Iran on dealing with the terrorists, which Tehran views as more of a direct threat than the Taliban, he added.
Economic ties
Economics could be the key to addressing mutual suspicious between Afghanistan and its neighbors as well as unlocking regional potential.
Nawaz advocated a greater emphasis on opening the western route of a Pakistan-China economic corridor that he said could then become a springboard for opening wider regional trade links with and through Afghanistan. An economic and a trade hub in the region would benefit not just Afghanistan, but also its neighbors, he said.
Pakistan's tense relationship with India plays heavily into how it views India's investments in Afghanistan.
Noting that both India and Pakistan view Afghanistan as territory that they can use against each other politically as well as militarily, Nasr said, "Pakistan's fundamental fears and aspirations in Afghanistan haven't actually changed."
Pakistan has also watched with unease as the United States, its Cold War ally, has developed and deepened a strategic relationship with India as it seeks to contain China's rise.
Nuclear deal for Pakistan?
Furthermore, the decision by the George W. Bush administration to reach a civilian nuclear agreement with India was the cause of much consternation in Pakistan.
Pakistani officials have demanded a similar deal from the United States, but have been routinely rebuffed. Both India and Pakistan are not signatories of the nuclear Non-Proliferation Treaty.
On the eve of Prime Minister Sharif's visit to Washington, Obama administration officials are reportedly considering a deal that would limit the scope of Pakistan's nuclear arsenal.
If the Obama administration is indeed considering such a deal, it would only be because it considers now to be the right time to slow down the pace of development of Pakistan's nuclear weapons, said Nasr.
"To that extent, this is in India's interests," he said. "Ultimately you would end up with a technological gap between India and Pakistan in Pakistan's favor if the current trends continue."
Ashish Kumar Sen is a staff writer at the Atlantic Council.