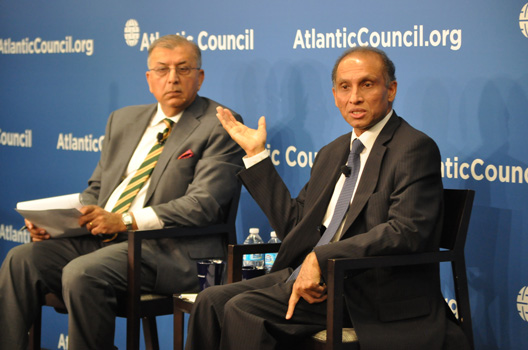 Pakistan's Foreign Secretary says military campaign against terrorists in 'critical phase'
The Pakistani military has dismantled the Taliban's core in a successful operation that is now in a "critical phase," Pakistan's Foreign Secretary Aizaz Ahmad Chaudhry said June 4 at the Atlantic Council.
The terrorist group's leadership "is on the run," Chaudhry said.

In June 2014, the Pakistani military launched Operation Zarb-e-Azb in the tribal region that abuts Afghanistan and provides sanctuary to a broad spectrum of terrorist groups.
"Nearly 90 percent of the area has been cleared" thanks to the campaign in Pakistan's North Waziristan and Khyber tribal agencies, Chaudhry said, adding that some al-Qaeda leaders have also been captured or killed in Pakistan over the past year.
But the military operation has also displaced about 500,000 people, sparking a humanitarian crisis, says the United Nations Refugee Agency.
Chaudhry spoke at a meeting hosted by the Atlantic Council's South Asia Center. Shuja Nawaz, a Distinguished Fellow in the South Asia Center, moderated the discussion.
Support for Afghanistan
While cracking down on terrorists on its side of the border, Pakistan now also supports efforts by Afghan President Ashraf Ghani to make peace with the Taliban. In May, the two countries pledged closer defense and security cooperation.
Chaudhry said Pakistan has released fifty Taliban prisoners at Afghanistan's request and has arranged meetings between the terrorist leaders and Afghan officials.
A successful Afghan-led peace process could help Afghanistan facilitate the return of millions of refugees, end the drug trade, and stop cross-border terrorism, said Chaudhry.
"Pakistan's efforts to achieve security have started at home," he said. "We are determined not to allow our territory to be used against any of our neighbors. We expect the same from our neighbors as well."
Seeking better ties with India
Chaudhry said Pakistan wants good relations with all its neighbors, including India.
A short honeymoon between the nuclear-armed South Asian neighbors followed the May 2014 election of Indian Prime Minister Narendra Modi. But in August, India suspended Foreign Secretary-level talks with Pakistan, after Pakistan's High Commissioner in New Delhi met a Kashmiri separatist leader.
"We have made consistent overtures to India to start the dialogue process," Chaudhry said, adding that his government is committed to normalizing relations with India. "I don't see that consensus on the Indian side."
However, following a seven-month hiatus, Indian Foreign Secretary Subrahmanyam Jaishankar held talks in March in Islamabad with his Pakistani counterpart, Aizaz Ahmed Chaudhry.
Pakistan wants US nuclear deal
Chaudhry was in Washington to attend the seventh round of the US-Pakistan Security, Strategic Stability, and Nonproliferation Working Group. The Pakistani delegation sought "access to peaceful nuclear technology as a socioeconomic imperative," according to a joint statement that followed the June 2 meeting.
Chaudhry repeated that pitch at the Atlantic Council, saying a US-Pakistani nuclear deal would help level the playing field with India. In 2005, India and the George W. Bush administration struck a civilian nuclear deal that Chaudhry called "destabilizing." Neither India nor Pakistan have signed the nuclear Non-Proliferation Treaty.
The Obama administration has been reluctant to offer Pakistan a similar deal, partly because of the activities of Abdul Qadeer Khan, the father of Pakistan's nuclear bomb. In 2004, Khan confessed on Pakistani TV to selling nuclear secrets to Libya, Iran, and North Korea, but later claimed his concession was coerced by then-President Pervez Musharraf.
"Pakistan believes that we are a responsible nuclear state. In the last decade or so, we have come a long way," said Chaudhry. "We think we are a mainstream international partner in the global nonproliferation regime."
The Foreign Secretary said Pakistan has enacted stringent export controls to prevent the proliferation of dual-use technology and that it has an "impeccable" nuclear safety record, despite the rise of regional terrorism.
Pakistan, he said, has also developed a "multifaceted" nuclear partnership with China, which is building at least six nuclear power projects there. Acknowledging that relationship's immense economic potential, Chaudhry said his government wants to "mainstream our endeavors in this regard with the international community."
The United States remains Pakistan's "critical partner," he said, noting that "we wish our long-term partnership to be anchored on trade instead of aid."
Pakistan's plans for a gas pipeline with Iran—known as the peace pipeline—has been on hold due to Western sanctions against Iran over its pursuit of nuclear weapons. Now with a June 30 deadline approaching for the P5+1 and Iran to reach a deal that curbs the nuclear program in exchange for sanctions relief, the pipeline's prospects look brighter.
"We hope that [the nuclear negotiations] would reach its logical end and we would be one of the beneficiaries of that," Chaudhry said. "[The peace pipeline] project is very much in the cards."
Ashish Kumar Sen is a staff writer at the Atlantic Council.