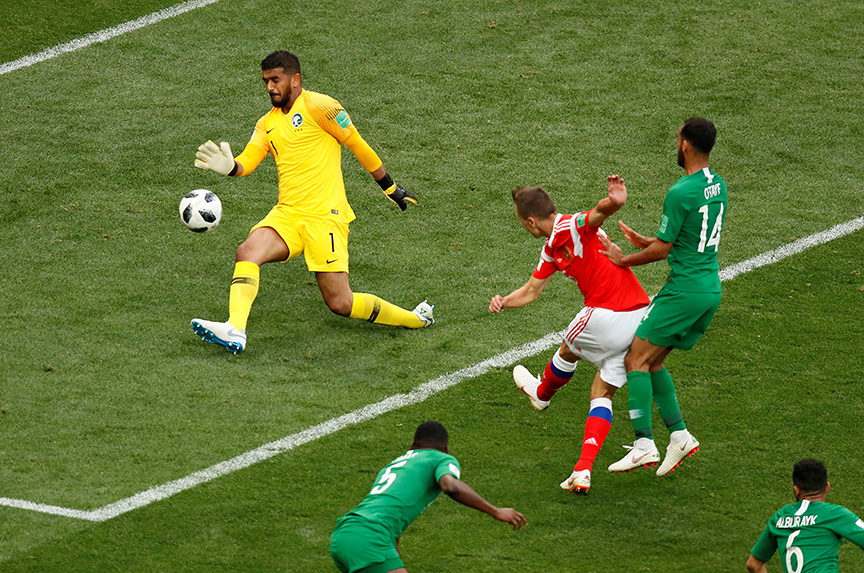 The author and political thinker George Orwell was many things, but a soccer fan he was not.
In an essay titled "The Sporting Spirit," written in 1945 during then-Soviet soccer club Dynamo Moscow's Cold War British tour, Orwell called soccer "a game in which everyone gets hurt and every nation has its own style of play which seems unfair to foreigners."
He then extrapolated that sport "is bound up with hatred, jealousy, boastfulness, disregard of all rules, and sadistic pleasure in witnessing violence: in other words it is war minus the shooting." Orwell recognized the political symbolism inherent in sport and resented it for being one of many drivers of the nationalism fueling international rivalry.
Today's fans might disagree with Orwell's joyless characterization of sport as "an unfailing cause of ill-will," but there is no denying that this World Cup, set in Vladimir Putin's Russia, is politically charged. For the teams hailing from the Middle East, geopolitical rivalry and international relations undergird the action playing out on the field. The politics mirror the game itself, with frustrating ebbs and hopeful flows that leave observers on the edge of their seats.
Saudi Arabia enters the tournament, which started on June 14, as the lowest-ranked qualifying seed at sixty-seventh in the world (though hosts Russia, who automatically qualify, are ranked seventieth). Accordingly, Saudi Arabia's off-field antics have been as notable as its Green Falcons' on-field efforts.
Developments within the arena have been relatively positive, politically speaking. Since 2017, Saudi Arabia has allowed women to attend soccer games within its borders as a part of its Vision 2030 socioeconomic reforms. This move deserves more scrutiny in the context of recent arrests of female activists but, for now, it remains a small, yet notable, step toward new rights for Saudi women.
Saudi Arabia has also used soccer as a diplomatic tool to help restore relations with neighboring Iraq, where the two countries' national teams played the first international exhibition match in the country since 1990. The Green Falcons' 4-1 defeat at the hands of their hosts was overshadowed by the symbolism of the predominantly Sunni and Shia nations meeting on the field in Basra, a major Shia hub in Iraq's south; this is especially remarkable given Saudi Arabia had only reopened its embassy in Iraq after twenty-six years in 2016. Saudi King Salman's offer to build on the game's success by constructing a 135,000-seat stadium in Baghdad indicates that soccer will play a public role in Saudi Arabia's soft power push against Iranian influence in Iraq.
Political dynamics outside the stadium, however, have proven more complicated to assess. Qatari-owned beIN Media, which holds the World Cup broadcasting rights throughout the Middle East, accused the Saudis of illegally broadcasting "premium live sports content stolen from beIN and other broadcasters" following the controversial blockade of Qatar by Saudi Arabia, the United Arab Emirates, Bahrain, and Egypt beginning in 2017. FIFA-brokered negotiations between Saudi Arabia and Qatar failed to produce a $35-million broadcasting agreement for Saudi TV providers to carry games. As a result, millions of Saudis will likely be forced to illegally stream the matches from Russia.
Saudi-Qatari tension is not limited to this World Cup, though. Since the Gulf crisis started, officials from the blockading countries have called on Qatar to renounce its 2022 World Cup hosting duties, which have been marred by charges of corruption and violations of workers' rights. The Saudis also recently tried and failed to convince FIFA, the international football federation, to hasten expansion of the tournament field from thirty-two to forty-eight teams in time for the Qatar World Cup, a move scheduled for 2026 that would have stretched Qatar's hosting capacity and forced games to be held in Saudi Arabia and other neighboring states. The Saudis were successful, however, in creating their own FIFA voting bloc to support a North American 2026 hosting bid over Morocco, which was unsuccessfully backed by Qatar.
On the Persian side of the Gulf, Iran may be the strongest of all the Middle East's contenders. Team Melli swept through its qualifying group, finishing with a win-loss record second only to Brazil. Iran alone of this year's Middle East challengers also has the experience of having appeared in the 2014 World Cup.
But, in addition to facing stiff competition in Russia from Group B powers Spain and Portugal, reimposed sanctions have thrown a spanner in the works for Iran. US President Donald J. Trump's decision to pull the United States out of the Iran nuclear deal—formally known as the Joint Comprehensive Plan of Action (JCPOA)—prompted a number of international corporations to withdraw trade and investment from Iran, and last week Nike announced that it would no longer be providing cleats to Iran's national team for fear of violating sanctions. Experts have cited a lack of sanctions waivers for US-origin clothes exported to Iran, though Nike confusingly provided the team's cleats under Obama administration sanctions in 2014.
Economic sanctions have impacted the Iranian team's gear, travel, warm-up matches, and even payment in the past, and Iran arrived the earliest to Russia to take advantage of superior training facilities. As political tensions with the United States remain high and economic uncertainty prevails in Iran, the national team will likely garner sympathy from international fans and one might expect reminders that Iran's first and only World Cup win came against the United States in 1998.
Compared to the geopolitical intrigue of the Saudi and Iranian stories, Egypt's soccer politics are decidedly domestic. They also happen to be centered on one man: Mohamed Salah, Egypt's star and great hope for advancing in the tournament.
Salah set England's Premier League alight this past season, scoring forty-four goals in all competitions and setting a league single-season scoring record to lead his Liverpool team to the UEFA Champions League final. Salah's statistically triumphant season, which grabbed headlines and made highlights, catapulted him to international stardom. But nowhere did Salah's amazing season resonate as strongly as in his native Egypt. His face adorns buildings around the country, and one newspaper bestowed upon him the title of Egypt's "fourth pyramid."
However, Salah's success story has become something of a domestic political Rorschach test. Over one million Egyptians wrote in Salah's name on their ballots in a presidential election earlier this year, simultaneously highlighting his popularity and the perceived futility of voters' ballots under Egyptian President Abdel Fattah al-Sisi. Though not a new tactic, the move left over seven percent of Egyptian ballots invalid.
Despite his inadvertent role in this symbolic act of protest, some commentators have noted that Salah has been slow to speak out against the Sisi regime's use of his image and the country's stifling political situation in general. This week, he was almost quite literally dragged into a photo op with Ramzan Kadyrov, the strongman head of Russia's Chechen Republic, as the Egyptian team controversially trained for the tournament in Grozny. His silence resonates in a country where ultra fans of Egypt's club teams are politically outspoken and have a history of participating in protests and deadly clashes against regime security forces.
Even though he remains reticent to speak out explicitly on political manners, Salah serves as an important role model in Egypt and beyond. He has been praised as a religious and cultural ambassador to the United Kingdom, openly sharing his Muslim faith in a country that has historically struggled with tolerance in the sport (one lighthearted Liverpool chant for Salah boasts the lyrics, "if he scores another few/then I'll be a Muslim, too"). His rag-to-riches ascendance from his rural childhood north of Cairo, combined with his continuing charity work, has made him an idol in Egypt and across the Arab world.
Orwell may have had a point in his anti-soccer screed that "nations… work themselves into furies over these absurd contests," and fans of the Middle East's teams will have to reckon with the troubling aspects of their countries' politics of sport this World Cup. But as Salah's star turn, Saudi's soccer diplomacy, and Team Melli's resilience demonstrate, soccer can produce moments of transcendence and hope that resonate regardless of political borders.
Every once in a while, there is some joy to be had in "encouraging young men to kick each other on the shins amid the roars of infuriated spectators."
Owen Daniels is an associate director with the Middle East Security Initiative in the Atlantic Council's Scowcroft Center for Strategy and Security. Follow him on Twitter: @OJDaniels.