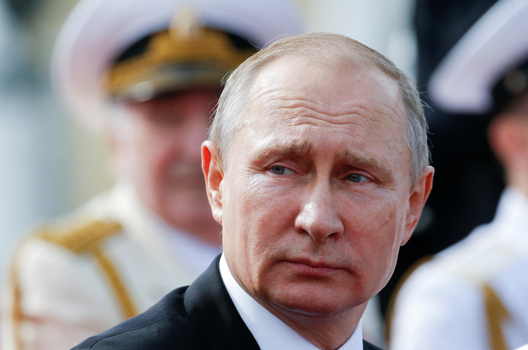 Will Russia's reaction to US sanctions be short-lived?
[Editor's note: US President Donald J. Trump signed the new sanctions bill on August 2.]
The Kremlin's reaction to the new US sanctions indicates that Russian President Vladimir Putin is in a "lashing-out mood," that, while unsettling, will be short-lived, according to Daniel Fried, a distinguished fellow at the Atlantic Council's Future Europe Initiative.
"I would not take this terribly seriously," said Fried of the Kremlin's mandate on July 30 that the United States must cut 755 members of its diplomatic staff in Russia. "These kinds of diplomat wars seem important at the time," he added, yet, when comparing the current situation to a similar diplomatic fallout between the United States and the Soviet Union in the 1980s, Fried said it is clear that Russia's response will not have long-lasting detrimental effects.
Fried described how "the Soviets tried this," adding that "this sort of thing captures headlines." While "it works in the short run; it doesn't work in the long run," he said.
"For now," however, "we're going to be in a rough period," said Fried, a former sanctions policy coordinator at the US Department of State.

On July 27, the US Senate voted ninety-eight to two in favor of a new sanctions bill which would tighten existing economic sanctions, and add further sanctions on Russia, Iran, and North Korea. The US House of Representatives voted overwhelmingly in favor of the bill on July 25, 419 votes to three.
The sanctions, which John E. Herbst, director of the Atlantic Council's Dinu Patriciu Eurasia Center, called a "justified response," will be placed on Russia in response to its meddling in the 2016 US presidential elections in favor of US President Donald J. Trump. Other sanctions were already in place for Russia's invasion of Ukraine in 2014.
Noting that the sanctions will "of course" add to the harsh rhetoric between the United States and Russia, Edward Fishman, a senior fellow with the Eurasia Center, said that "this bill is about drawing a clear stance against Russian aggression and defending America and its allies from the threats posed by Moscow."
Iran and North Korea were also sanctioned in the new bill for their ongoing nuclear programs. The day after the Senate vote, July 28, North Korea launched an inter-continental ballistic missile (ICMB). Trump has expressed his support for sanctioning those two countries, while being hesitant to place further strictures on the Kremlin.
On July 28, the White House announced Trump would sign the bill.
"The Russians are certainly responding nervously," said Fried. However, he added, it is uncertain "whether this is worry about the new sanctions bill or simply frustration on the part of Vladimir Putin that whatever he thought he would get out of Donald Trump hasn't materialized."
Since the campaign trail, Trump has expressed a desire to improve relations with the Kremlin. He and his top advisers also remain embroiled in investigations regarding possible collusion between his campaign and Russia.
"I suspect the president is signing the bill because he knows if he vetoed it, it would be overridden," Fried said.
The sanctions bill "could be stronger," said Herbst, a former US ambassador to Ukraine, "but it's going to pose significant additional penalties on the Russian economy."
According to Fishman, "Congress deserves immense credit for not only passing the bill so overwhelmingly with bipartisan support, but also for passing a bill that's very serious, and very tough." While the new legislation is not on par with the sanctions placed on Iran before the landmark 2015 nuclear deal with the Islamic Republic, "it's the most significant enhancement of sanctions [on Russia] since 2014," said Fishman.
Fishman described how "sanctions are necessary, but not sufficient" as a lever of coercive pressure on Moscow.
Sanctions, such as those put forth in the new legislation, "are one tool, a piece of what must be an overall policy," said Fried, adding: "The Trump administration needs to put its policy together."
While each of the experts agreed that there is more that could be done to deter Russian aggression, "this makes the price higher," for the Kremlin to continue its war in Ukraine, said Herbst. He said: "It's clear that this [bill] is perceived in Moscow as an unfriendly act."
However, according to Herbst, "Putin is able to compartmentalize." As a result, he said, there is still space for cooperation between Russia and the United States in both Ukraine and Syria. According to Fried, "we want to manage outcomes, [and] we want to keep up at least lines of communication with the Russians."
"It's absolutely essential as a precondition for Russia [to be] working with the United States in Ukraine," to end the ongoing conflict on the country's eastern border, said Herbst. However, Putin "may realize that the price of his aggression in Ukraine is going up, and the United States is the reason for that."
Russia has also played a hand in propping up the regime of Syrian President Bashar al-Assad amid the country's ongoing civil war. Trump has expressed interest in finding common ground with Putin regarding the conflict in Syria, and when the two leaders met at the G20 summit in Hamburg, they established a ceasefire. "I don't think the Russians are going to walk away from that [agreement] because of the sanctions," said Herbst.
US allies in the European Union (EU) have reacted negatively to the sanctions bill, particularly the provision targeting Russian gas pipelines. EU members have expressed concern that this will affect European companies, and the production of the Nordstream 2 pipeline, consequently impacting European energy security, largely tied to Russian sources. According to Fishman, their concern is predicated on a misunderstanding of the provision in question. "That provision [regarding pipelines] is discretionary, it's entirely optional, and almost definitely is not going to be directed at European firms in the near future," he said.
However, as Germany looks ahead to elections in September, the campaign climate has led "some European leaders to see a political benefit in distancing themselves from the United States and showing that they are willing to stand up to America," said Fishman. However, he added, "I wouldn't read too much into it."
According to Fried, the expulsion of diplomats in retaliation for the imposition of sanctions is a means "to panic the Europeans into thinking that somehow if Europe doesn't break with the United States we'll all be involved in a terrible conflict."
However, Fishman said he would be "surprised if this bill causes a serious rift in the transatlantic relationship."
Rachel Ansley is an editorial assistant at the Atlantic Council.