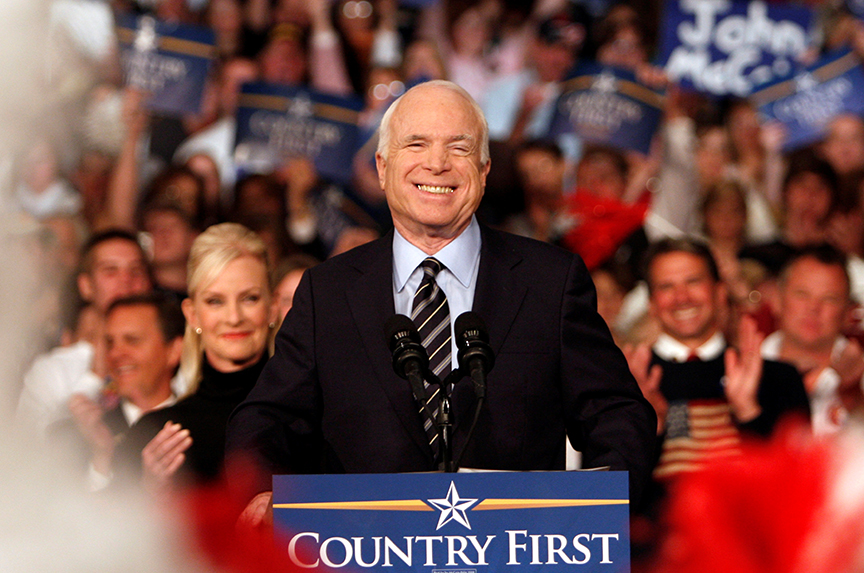 US Sen. John McCain—a Vietnam veteran, six-term senator, and recipient of the Atlantic Council's Freedom Award—passed away on August 25. He was 81. Atlantic Council leadership and fellows share their tributes to McCain.

Madeleine K. Albright, former US secretary of state and member of the Atlantic Council's International Advisory Board
"John McCain was a patriot, war hero, and giant of the United States Senate. He was also one of the world's most vocal and effective champions of human rights and democracy. As chairman of the National Democratic Institute, it was my privilege to work closely with him in his capacity as chairman of the International Republican Institute to support democratic movements in every region of the world. He embodied American values, serving and sacrificing to protect liberty and to help freedom flourish. He was also a great believer in bipartisanship who understood that our country is stronger when Republicans and Democrats work together to advance America's interests and defend the fundamental principles that protect the rights of all citizens.
"Wherever I traveled, I saw first-hand how his words and actions motivated democracy's advocates, while instilling fear in tyrants across the globe. I have not known anyone with greater courage, stronger convictions, or more devotion to country than John McCain. He will be missed, but his legacy will live on wherever democracy is defended, human rights are protected, and American leadership is exerted in defense of universal values."
Stephen J. Hadley, former assistant to the president for national security affairs and executive vice chair of the Atlantic Council
"Senator John McCain's moral integrity and commitment to what was best for our nation was beyond question. In a time of cynicism about public service, Senator McCain always answered his country's call. He was a fighter to the very end. In his passing, America has lost a great patriot and a great public servant."
J. Peter Pham, vice president and director of the Atlantic Council's Africa Center. He served as the senior foreign policy advisor on Africa for McCain's 2008 presidential campaign.
"Throughout his long and distinguished career of public service, John McCain always lived by the warrior's code of honor and duty, selflessly putting 'country first' before any personal interest and never doubting the promise and greatness of America. It was a high privilege to have been able to contribute in a modest way to his presidential campaign and an inspiration to continue to work following the example he set of what our country can and should represent."
Frederic C. Hof, diplomat in residence at Bard College and a nonresident senior fellow with the Atlantic Council's Rafik Hariri Center for the Middle East
"John McCain was a true believer: in his country, in the United States Senate, in the existence of objective truth, and in himself. No stranger to error and disappointment, he could be as harsh to others as he was unforgiving to himself.
"He became a hero of mine because of his extraordinarily heroic and selfless service as a Vietnam PoW. One of the distinct disadvantages of living too long is to see his leadership and sacrifice as a naval officer—the kind that was universally honored in the United States of my parents—disparaged publicly in a manner acceptable to tens of millions of voters. Although our policy positions were not always on the same page, I supported his 2000 run for the Republican nomination and had the honor of voting for him in the Maryland primary.
"Among the highest compliments I ever received professionally was one from the lips of Sen. McCain: 'Fred, I read what you write about Syria and I like it very much.' I traveled once with the senator to the Munich Security Conference, attended McCain Institute conferences in Sedona, and spoke with him periodically in Washington. Eliciting his true thoughts and feelings was never difficult or time-consuming.
"John McCain, warts and all, was a real American. The sooner his countrymen accept as their baseline standard his patriotism and his ethic of service, the better. His passing will be an irretrievable loss only if genuine Americanism is buried with him."
John Herbst, director of the Atlantic Council's Eurasia Center.
"John McCain was a fearless defender of the freedom of oppressed peoples against their authoritarian governments and of smaller nations against their larger, aggressive neighbors. In both roles, he was a powerful voice for Ukraine in Washington. He endorsed both the Orange Revolution against a falsified election and the Revolution of Dignity against the increasingly authoritarian Yanukovych regime. He advocated strong support for Ukraine (and Georgia) in the face of Kremlin aggression."
William Greenwalt, nonresident senior fellow at the Atlantic Council and former professional staff member on the Senate Armed Services Committee
"I had the great fortune to work for Senator McCain from 2015-2017 on the Senate Armed Services Committee. I had last left the Senate in 2006, but came back a decade later to support his defense acquisition reform efforts. There was nothing like having the support of Chairman McCain to get things done. Driven by the realization that the threat was radically changing and the acquisition system was optimized for a different set of circumstances and a different place in time he was like a steamroller moving past all obstacles to achieve what he believed was best for the men and women of our armed services.
I should have expected no less from the Senator. My first experience seeing him in action was when I first arrived as a Senate staffer in 1994. He had already been in the Senate for seven years and was surrounded in the Armed Services Committee by the giants of the Senate of that time – Sam Nunn, John Warner, Edward Kennedy, Robert Byrd, Carl Levin, and Bill Cohen. His concern for national security, effective oversight and accountability were well established by then. I can't help but think that his love and respect for "regular order" and the institution of the Senate that he outlined in his last major speech on the Senate floor were forged over the years in the committee room of the Armed Services Committee. It was here where the National Defense Authorization Act (NDAA) was shaped in much the same way for almost sixty years.
The NDAA is a throwback. It is the epitome of regular order and is the only policy bill to stand the test of time and be passed into law every year since the early 1960s. That success was not easy. It required bipartisanship, compromise and the opportunity for all Senators to have their say. Members didn't always win (Senator McCain may have lost more battles than he won) but they knew the process was fair and in the end they would have the chance to put their thumbs up or down on any provision they wanted to debate.
In the last decade, Senator McCain recognized that the rest of the Senate had changed. It had become more partisan with debate constrained both in committee and on the floor. He hated that. The Armed Services Committee would not succumb to those trends if he had his way and as Chairman he worked to protect the uniqueness of the SASC. I remember once during the committee markup of the bill there was an acquisition amendment that the Chairman strongly disagreed with and knew he would lose a vote on it if it were brought up. Even worse he know that the House would likely support the provision which would mean that any positive Committee vote would ensure that this provision would become law. Staff duly recommended a procedural tactic that would have kept the amendment from being voted on, but that was not how John McCain rolled. He allowed the amendment vote to proceed and abided by the will of the Senate. That was classic Senator McCain. In his worldview, principles and the furtherance of full and open debate in the Senate oftentimes mattered more than just winning.
Michal Kobosko, senior adviser to the Atlantic Council in Poland
"Senator McCain was a great supporter of a strong US presence in Europe and one of the greatest friends of Poland in the United States. He twice attended the Wroclaw Global Forum, a transatlantic conference co-organized by the Atlantic Council in Wroclaw, Poland. While there in 2011, the senator was honored with an Atlantic Council Freedom Award in recognition of his extraordinary efforts to defend and advance the cause of freedom around the world.
"In 2014, Senator McCain joined the Forum again, just weeks after Russia's illegal annexation of Crimea and the start of the war in Donbas. While in Wroclaw, the senator spoke these words that made history: 'When I look into Vladimir Putin's eyes I see three letters: KGB.' The following months and years showed that the senator was more than right to describe Putin in such a strong and direct manner.
"The next time John McCain played an important role in US-Polish relations came in early 2016 when a group of US senators wrote a letter to the Polish prime minister urging her to restore Poland's position as a leading democracy in Central Europe. The senators expressed support for a strong bilateral relationship as well as their concern about new Polish laws that could infringe on fundamental values, including the freedom of the press and an independent judiciary.
"Poles owe a lot to Senator McCain. We will never forget his active role, amazing activity, and engagement in our issues."
*Please check back for more tributes.