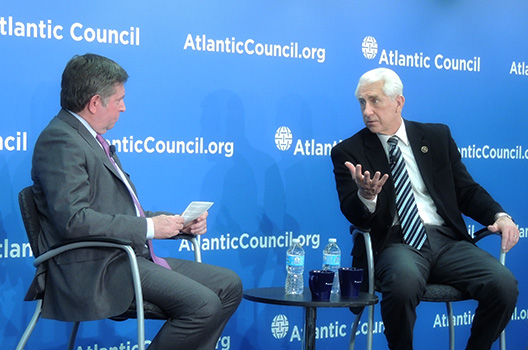 Considering legislation does not mean giving up constitutional rights to president, says Reichert
Opponents in the US Congress of trade promotion authority legislation must realize that they are not giving up their constitutional rights to the president by considering this measure, but are, in fact, setting parameters for negotiations, a top Republican lawmaker said on February 5.
"There is a faction within the Republican side of the House of Representatives… who believe they are seceding their constitutional rights to the president when they look at a TPA agreement," Rep. Dave Reichert, Washington Republican, said at the Atlantic Council on February 5.

"The argument, of course, is obvious for us and that is, 'No, in fact, what you're doing is you are upfront setting parameters for the negotiations and that does two things: one, it lets the administration know that this is what the people of the United States of America want… two, the countries who are negotiating with us require that agreement because now they know what the parameters are and you can negotiate in good faith,'" he added.

Reichert is Chairman of the House Ways and Means Committee's Trade Subcommittee and Co-Chair of the Friends of Trans-Pacific Partnership Caucus.
TPA would allow the president to submit trade deals to Congress for up-or-down votes without amendments.
Reichert said that without TPA, any trade package negotiated by the administration would never stand a chance in Congress.
"Everyone would want to amend trade agreements," he said.
"If I were negotiating with the United States I would be deathly afraid" of the entire Congress amending trade agreements, he added.
In his State of the Union address in January, US President Barack Obama made a strong push for Congress to give him trade promotion authority to protect US workers.

House Ways and Means Committee Chairman Paul Ryan, Wisconsin Republican, said this week that he expects Congress to pass TPA legislation with bipartisan support this spring.
Reichert said the legislation could be passed soon in a conversation with Daniel Price, Managing Director of Rock Creek Global Advisors and member of the Atlantic Council Board of Directors.

Some lawmakers are looking to the White House to provide the momentum to carry TPA across the finish line.
"The president needs to get on the phone and start making some phone calls. He knows that," said Reichert.
Obama has reached out to Democrats in an effort to push his trade agenda, including meeting lawmakers on this issue this week.
Besides some Republican critics, a group of freshmen Democratic lawmakers have also expressed their opposition to TPA.
Reichert said the process of educating lawmakers about the benefits of TPA has to continue every election cycle because of the regular turnover on Capitol Hill.
"When you look at trade … TPA is an absolutely critical component, and I think most people recognize that," he said.
The lawmaker said the private sector should support TPA through their spheres of influence.
"You need to talk about the jobs that are created," he said.
"We want to buy American, but we also want to sell American. Selling American products really is one that hits home," he added.

Trade agreements have a national security element as well as they create opportunities for conversations between nations, said Reichert.
Recalling his experience as a law enforcement officer, Reichert said: "If you ignore what your neighbor is doing your neighborhood goes the wrong way. If you don't step up and work with your community to improve it it's not going to improve. Somebody has to take the lead and those relationships and partnerships have to be developed within a small community."
"Why would that concept not work on a global basis? My argument would be that it does work," he added.
Ashish Kumar Sen is an editor with the Atlantic Council.