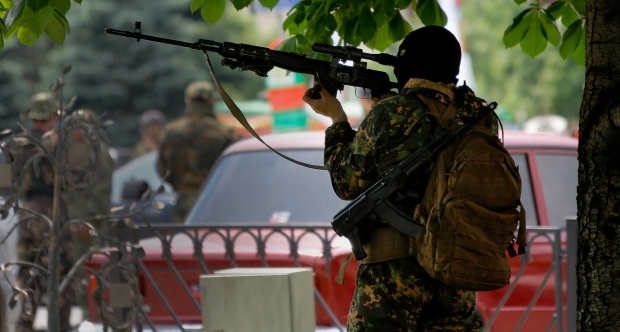 Chechen Militiamen Talk to Western Journalists About Their Mission

It's clear this week that Russian government is allowing or actively organizing an unknown number of battle-hardened Russian fighters from Chechnya and nearby regions to reinforce the Russian-led militias battling to seize control of two provinces in southeastern Ukraine. The entry of fighters from Russia's North Caucasus region follows a series of setbacks for the militias, who are fighting to separate the southeast from Ukraine, and could significantly escalate the violence there.

As fighting spread in the city of Donetsk in recent days, notably at its airport, reporters from at least four news organizations (CNN, BBC, the Financial Times and Vice News) have interviewed three separate groups of Chechen fighters who confirmed their recent arrival to join the nine-week-old battle for the Donbas (Donetsk Basin) region. Two of the groups interviewed said fighters also had come from North Ossetia, a part of Russia that abuts Chechnya in the North Caucasus region. The presence of North Caucasus fighters in Donbas has been reported for weeks, but with little in the way of details or confirmation.
The reinforcement by Chechen and Ossetian Russians is a thinly veiled operation by Russian authorities, according to accounts from Chechen fighters interviewed by Vice and the Financial Times, and from Chechen political historian and analyst Mairbek Vatchagaev, based in Paris. Vatchagaev cited his Chechen sources as saying that Russia's Federal Security Service (or FSB, the former KGB) has recruited fighters from Chechnya, signing them to three-month contracts that pay $2,000 to each man.
The Russians drove the recent recruits to the southern Russian city of Rostov, where loyalists of former Ukrainian President Viktor Yanukovych briefed them for their mission in Ukraine, Vatchagaev said in an account in Russian e-mailed to the Washington-based Jamestown Foundation.
In interviews with journalists, separate groups of the Chechens said they are loyalists of Ramzan Kadyrov, the Chechen political and militia leader who has served since 2007 as Russian President Vladimir Putin's appointed head of the Chechen government. Vice News quoted wounded Chechens and their comrades at a Donetsk hospital as saying their participation was ordered by Kadyrov. Other fighters in a convoy downtown told CNN on camera that "we're Kadyrovtsy," (loyalists of Kadyrov), but said they had decided on their own to come and join the battle in Ukraine.
"The entry of Kadyrov-supported fighters into eastern Ukraine is extremely worrying," said Sabine Freizer, an Atlantic Council non-resident fellow and longtime analyst of the region. Kadyrov's family heads one of several traditional Chechen clans that allied with the Russian government during its years of war against Chechen separatists, providing hundreds or thousands of militiamen for Moscow's cause. Since Russia's recovery of control in Chechnya, Ramzan Kadyrov has sent his militias into other battle zones at Moscow's behest.
"It's not the first time that Russia has relied on North Caucasus fighters to carry out operations abroad," said Freizer. "They did it in Abkhazia in 1993 and in Georgia in 2008," and were considered the most effective" of several North Caucasus fighting groups that Moscow used in this way, she said.
Kadyrov said in a statement May 28 that he has not ordered his men into Chechnya, saying that other Chechens may have gone as volunteers.
It is unclear how many Chechen and Ossetians may be in Ukraine or on the way. The Chechens interviewed at the Donetsk hospital by Vice and the Financial Times, said their group numbered thirty-four, and said a group of sixteen Ossetians were also present in the city.
The emergence of the North Caucasus fighters comes as a portion of the disparate pro-Russian forces in Donetsk city has been prominently using the name of a "Vostok Battalion." It is unclear what this may mean. A pro-Russian "Vostok Battalion" of Chechens was formed during the 1990s-2000s Chechen insurgency, and later was dissolved. Vatchagayev cites his sources as saying that, while no such real organization now exists, Russian intelligence officers recruiting the current fighters for Ukraine have told them to identify their group with that name.
James Rupert is managing editor at the Atlantic Council.