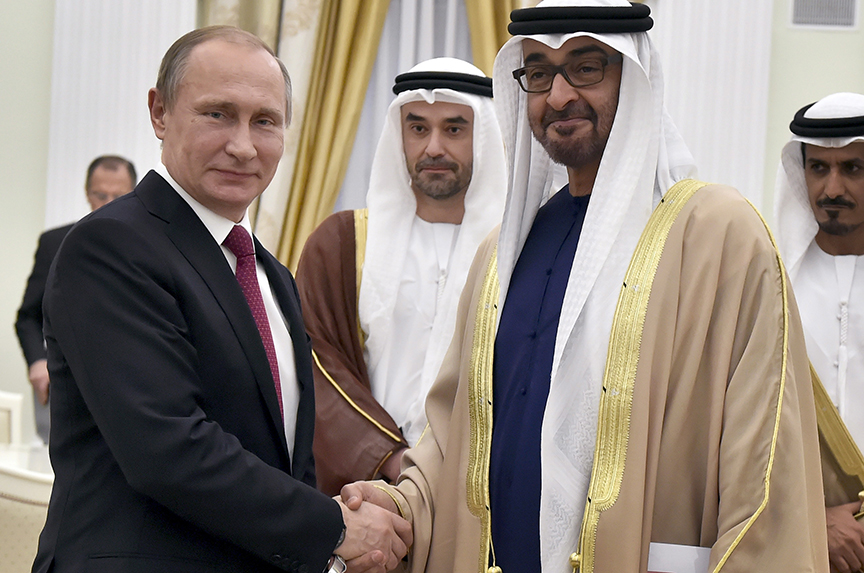 Russia's deepening engagement in the Middle East is a positive development from the United Arab Emirates' perspective. The Emiratis, with their unique relationship with the Kremlin, are trying to resolve regional security challenges that threaten their interests. More importantly, the Emiratis' relationship with the Kremlin could help the UAE become an important interlocutor in efforts to defuse tensions between US President Donald Trump and Russian President Vladimir Putin.
The UAE's strong relationship with Russia was on display when Sheikh Mohammed bin Zayed Al Nahyan (MBZ), Crown Prince of Abu Dhabi and Deputy Supreme Commander of the UAE Armed Forces, visited Putin in the Kremlin on April 20. The two discussed crises in the Middle East as well as strengthening an already substantial relationship between their two countries. The visit took place at a time when the Trump administration has ratcheted up its anti-Iran rhetoric and US-Russia relations have reached an all-time low.

In Russia, MBZ said channels of communication between Abu Dhabi and Moscow are open on all regional and international issues, and Russia can play a constructive role in bringing stability and peace to the Middle East. In a joint statement issued at the end of the visit, the UAE and Russia declared their "intention to study a strategic partnership to further promote Russian-UAE relations."
According to both Russian and Arab officials, this emerging strategic partnership's first focus is Yemen, where the UAE wants Russia to help extricate Saudi Arabia from its war against the Zaidi Houthi rebels. With the Kremlin's help, the Riyadh-led coalition could achieve this goal following a political process that includes holding presidential elections in Yemen later this year.
It is no secret that Yemeni President Abd Rabbu Mansour Hadi is unpopular among Yemenis. The Gulf Cooperation Council (GCC) and its Russian interlocutors have noted that the Emiratis and Saudis want former Yemeni Prime Minister Mohammed Basindawa, who resigned in 2014 following deadly clashes between Houthi rebels and the army in Sana'a, to be Yemen's next president because he has good relations with Ali Abdullah Saleh, Yemen's longtime president who was ousted in 2012. Specifically, Abu Dhabi sees utility in keeping Basindawa close despite his Muslim Brotherhood credentials because it will serve the UAE's objectives in Yemen.
Under this plan, Saleh, who attended the Moscow meeting, according to Arab diplomats in Russia, will remain in Yemen, potentially as defense minister in a Basindawa administration. The question then is what becomes of Ali Moshen, Hadi's military commander and a Saleh foe?
Russia's role in Yemen
Russia, with the UAE's help, is working to bring peace to Yemen. The Emiratis and the Saudis want Russia to press Iran to stop arming the Houthi rebels in Yemen.
Any Russian help that extracts Saudi Arabia from the war in Yemen will bring dividends to the Moscow-Riyadh relationship.
Specifically, Russia is to receive berthing space for its naval vessels in Aden. This would give Russia its fourth "pit stop" from the top of the Suez Canal in the Mediterranean to the Arabian Sea, the others being Alexandria, Aqaba, and Fujariah.
As Russia plans to be a light, rapid modern blue water navy, such maintenance and repair depots are critical for future Russian naval operations in and around the Middle East, whether it be delivering humanitarian aid or protecting international sea lanes from pirates and terrorists. Given the fact that sea lanes of communication are critical to the Arabian Peninsula's economic prowess, such type of thinking appeals to Emirati sensibilities.
Taking control of the strategic Red Sea port of Hodeidah from Houthis is also a high priority for the UAE and its allies in Yemen. On the operational side, the Americans, depending on the Trump administration's decision on Hodeidah, may take the lead on an air-sea operation in the wake of US Defense Secretary Jim Mattis' visit to Saudi Arabia in April. Arab navies may embark to Yemen from Djibouti, which the Pentagon chief also visited on his trip to the region.
On land, deals will be made with anti-Houthi but pro-Saleh local militias—or so it is thought following Saudi Deputy Crown Prince Mohammed bin Salman's meeting with the al-Murad Tribal Confederation on April 5.
Russia, meanwhile, will provide aid with support from the UAE. When this aid bridge starts, Russia is likely to use the UAE as a major hub to Yemen, as well as other parts of the Middle East, Africa, and Asia. This emerging model of UAE-Russia cooperation in Yemen will boost the Kremlin's profile in other regional hot spots as well.
Overall, MBZ's visit to Moscow will likely facilitate Russia's return to southern Yemen. Emirati and Russian officials are hopeful that their collaboration on the Yemen file can advance the two states' mutual interests with respect to resolving the Yemeni crisis, eradicating Sunni Islamist extremists from the Arabian Peninsula's southwestern corner, and securing bodies of water and passages that are critical to global maritime trade. Having an influential strategic partner such as the UAE strengthens Russia's ability to establish itself as a go-to-power and indispensable negotiator in the Middle East with key allies, partners, and friends on all sides of the tumultuous region's geopolitical fault lines.

Theodore Karasik is a senior advisor at Gulf State Analytics (@GulfStateAnalyt), a Washington, DC-based geopolitical risk consultancy.

Giorgio Cafiero is the CEO of Gulf State Analytics.