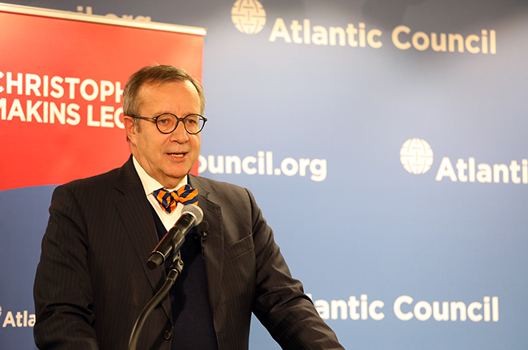 Toomas Hendrik Ilves, a former president of Estonia, sees the dangers of digital warfare

Russian cyberattacks that aim to disrupt elections in Europe—much like they did in the United States in 2016—have put transatlantic security in "a whole different light," Toomas Hendrik Ilves, a former president of Estonia, said at the Atlantic Council on February 9.
"Today, unconstrained by the limits of kinetic war, by the range of missiles and bombers, by the logistics needed to support an armored division, we can succumb to digital warfare," Ilves said. "You don't have to hack the power grid, let alone attack with a division of tanks, if you can hack the elections and change the policies of a country," he added.

Former US President Barack Obama's administration, backed by the entire intelligence community, concluded that Russia meddled in the 2016 election with the goal of getting the Republican nominee, Donald Trump, elected. The Democratic nominee, Hillary Clinton, was hurt by cyberattacks and a fake news campaign linked to Russia. Trump won the election on November 8.
Ilves delivered the seventh annual Christopher J. Makins Lecture at the Atlantic Council. The lecture is named for the late Makins, an influential expert on the transatlantic relationship and a former president of the Atlantic Council.
Fred Kempe, president and chief executive officer (CEO) of the Atlantic Council, noted in his opening remarks that Makins "embodied the very best of Atlanticism."
The cyber threat
Russian cyberattacks have created unease in Europe as the Netherlands, Germany, France, the Czech Republic, and possibly Italy prepare for elections this year.
Ilves, whose tiny Baltic country was the target of a massive cyberattack in 2007 that was blamed on Russia, admitted to being nervous about the damage cyberattacks are doing to liberal democracies.
"In every one of these countries [in Europe, where elections will be held this year] we already see operating the same mechanisms we saw in the United States—Russian hacking, fake news riling up an anti-immigrant sentiment with anti-EU and anti-NATO candidates benefiting," Ilves said.
German officials and intelligence agencies have, for example, reported a dramatic increase in Russian propaganda and disinformation campaigns as well as cyber espionage ahead of federal elections in September in which Chancellor Angela Merkel is seeking a fourth term.
In France, which will hold its first round of presidential elections in April, officials are bracing for a wave of cyberattacks aimed at helping far-right presidential candidate Marine Le Pen of the National Front. And in Italy, officials suspect Russia was behind a cyberattack on the Italian Foreign Ministry last year.
Russia has denied responsibility for all of these incidents.
Ilves, however, underscored the gravity of the threat. "All democracies, not just the transatlantic ones that are joined together through NATO or the European Union, are basically under threat," he said, noting that on a recent visit to Japan he heard similar concerns about foreign meddling. "Authoritarian regimes, using the methods that we have seen and are seeing today in Europe, can do the same thing to any democracy be it Australia or Japan, South Africa or Mexico," he added, while emphasizing the disruptive power of digital technology.
The former Estonian president suggested addressing the threat by establishing a nongeographic, criteria-based organization to defend genuine democracies.
Internet turns against democracies
Ilves said that not only are the values of liberal democracy under attack, but the Internet, too, has been turned against liberal democracy. A few years ago, there was hope that social media would help get rid of autocracies during the Arab Spring uprisings in the Middle East and North Africa, he noted. Instead, today "our own societies are under threat from fake news, by anti-democratic, often racist rhetoric that drowns out the voices of reason and tolerance," he added.
He also expressed dismay at "dog-whistle rhetoric that is racist and prejudiced" from mainstream politicians in the United States as well as Europe.
Noting the dichotomy between privacy and security, Ilves said while some people support cyber hacks that reveal the contents of e-mail inboxes, no one would be in favor of breaking into a person's home and stealing their private correspondence.
US leadership, Ilves said, is vital for maintaining a Europe that is at peace and whole. "Without US leadership the rest of the world need not follow nor be capable of doing things," he said.
The Trump-Putin relationship
Following his remarks, Ilves participated in a discussion moderated by Susan Glasser, editor of Politico. He said he did not know what to make of what Glasser described as the "mutual admiration society" between US President Donald Trump and his Russian counterpart, Vladimir Putin.
"It runs counter to the thinking of most people I know, regardless of whether they are Democrats or Republicans, so we don't understand," he said.
Ilves said Russia's annexation of Crimea in 2014 and its war with Georgia war in 2008 were clear signals that "we can't really count on peace necessarily without being prepared for war."
"Someone who has never had any experience with governance… doesn't quite understand the threats," he said.
The warm rhetoric between Trump and Putin has created unease in Europe about whether the United States would be willing to keep up the pressure of sanctions, imposed on Russia for its annexation of Crimea from Ukraine in March of 2014.
The Washington Post reported on February 9 that prior to Trump taking office his National Security Advisor Michael Flynn had—despite denials from the Trump administration—discussed the sanctions with Russia's ambassador to the United States.
"Many people in Europe are worried about what potential deal [Trump] would make. What is it that you would get for lifting sanctions which are in response to clear violations of international law and something that has actually been very difficult to maintain unity in the European Union," said Ilves.
If the United States backs away from the sanctions, other countries in Europe—especially those that are hurting most from the decision to impose sanctions—will use that as an excuse to lessen the pressure on Moscow. "At which point you have legitimized and OK'd the occupation of Crimea, and everything that has happened in the Donbas, and shooting down of MH17," Ilves said, referring to the Malaysian Airlines commercial jet that was shot down by a Russian missile on July 17, 2014.
Trump and his team have also rattled the United States' NATO allies by demanding that all of the Alliance's member states meet the 2 percent of GDP threshold for defense spending and raising questions about whether the United States would honor its Article 5 commitment to defend an Alliance member in the event of an attack.
Newt Gingrich, a Trump supporter and former speaker of the House of Representatives, had expressed doubts about whether the Trump administration would risk nuclear war with Russia by coming to the defense of Estonia in the event of a Russian attack.
Ilves noted that Estonia is one of the five NATO member states that actually spends the required 2 percent of its GDP on defense. Besides, he said, Estonia has suffered high casualties with its military deployments in Iraq and Afghanistan. "We are among those that do our share," he said.
Noting that calls for Alliance members to up their defense spending were not restricted to the Trump administration—the previous Obama administration had made similar calls—Ilves urged other Alliance members to meet their financial commitments.
US tanks, meanwhile, rolled into Estonia and the other Baltic States—Latvia and Lithuania—earlier in February in an effort to reinforce NATO's frontline with Russia.
Ashish Kumar Sen is deputy director of communications at the Atlantic Council. You can follow him on Twitter @AshishSen.