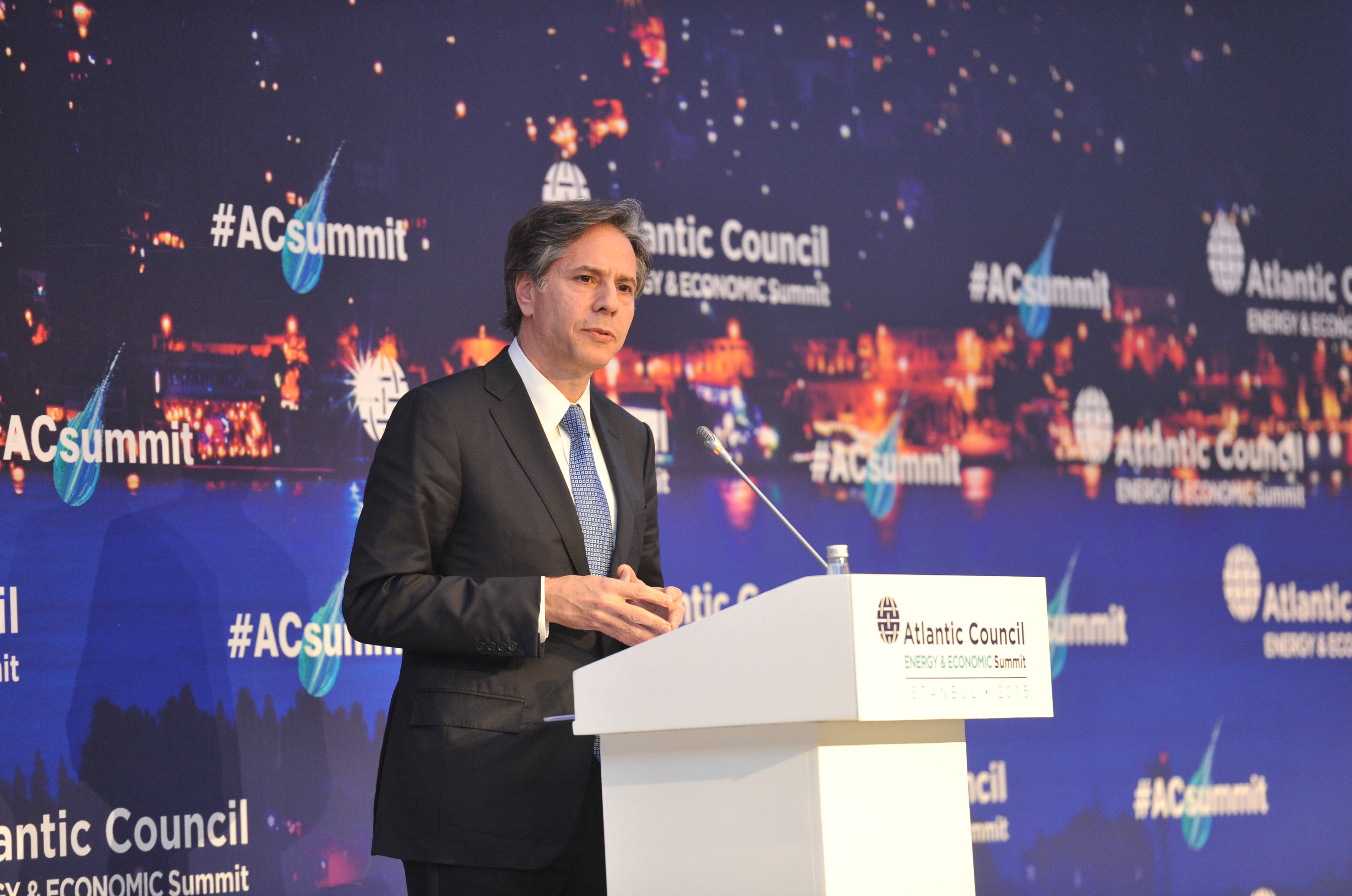 Deputy Secretary of State Blinken says Moscow realizes it cannot sustain costs and risks of intervention
Russian intervention in Syria has improved the prospects of a political transition in Damascus because Moscow "cannot risk the growing costs of its actions," US Deputy Secretary of State Antony Blinken said in Istanbul on Nov. 20.
Differences between the United States and Russia over the political fate of Syria's embattled President Bashar al-Assad have been a key sticking point in efforts to end the war, now in its fifth year. The Obama administration insists Assad cannot be part of a solution. Russian President Vladimir Putin disagrees.
"Real differences remain, especially concerning Assad's future, but the prospects for a political transition are better than they have been in a long time, and, ironically, part of the reason for this is Russia's … intervention — to hold onto its sole foothold in the Middle East, the Assad regime," Blinken said in his keynote address on the final day of the Atlantic Council's seventh annual Energy & Economic Summit in Istanbul.

https://www.youtube.com/watch?v=<a href="https://www.youtube.com/watch?v=tptrFGYFtlM" target="_blank" id="LPlnk81619" rel="noopener noreferrer">tptrFGYFtlM</a>

Russia, which has a naval facility in the Syrian port city of Tartus, launched an air campaign in Syria over the summer. Russian warplanes have targeted Assad's enemies, mostly US-backed opposition fighters.
Russia's intervention has increased its leverage over Assad, but it has also increased the conflict's leverage over Russia, said Blinken.
"Moscow increasingly realizes that it cannot sustain or risk the growing costs of its actions," he said. "By putting its air power at the service of Assad, Hezbollah, and Iran in their vicious campaign against the majority of Syrians, it risks alienating 85 percent of the Muslim world that is Sunni, including its own Muslim population."
Russia's actions in Syria have also made it a target of the Islamic State of Iraq and al-Sham (ISIS), also referred to as the Islamic State (IS), ISIL, and by its Arabic name, Daesh.
ISIS has claimed responsibility for the bombing of a Russian commercial airplane over Egypt's Sinai Peninsula on Oct. 31. All 224 people on board, mostly Russian tourists, were killed.
Becoming a target of ISIS has created a "compelling incentive for Russia to work for, not against, a political transition [in Syria] and to shift its focus from defending Assad to defeating Daesh," said Blinken.
Winning the war against ISIS
Blinken provided a rundown of the international coalition's successes in the effort to degrade and ultimately destroy ISIS.
"In both Iraq and Syria we are starting to squeeze Daesh," he said. "As we undermine the foundations of its self-declared caliphate, the edifice will begin to crumble."
The United States has put together a global military coalition, which includes Arab countries, to fight ISIS in Syria and Iraq. This coalition has deprived ISIS of 40 percent of the territory it once controlled in Iraq, has liberated cities that were once under the terrorists' control, and has secured 85 percent of the border in northern Syria and is now working to secure the remaining 15 percent — a seventy-mile stretch — thereby shutting off a vital ISIS supply line of fighters and material.
US President Barack Obama has also deployed Special Operations Forces in Syria and Iraq to aid in the fight against ISIS. The United States has also stepped up its support for moderate opposition groups in Syria.
Stronger laws to identify and prosecute suspected terrorists and a robust cyber effort are key prongs of the anti-ISIS strategy. "We are fighting back hard … and that social space is changing," Blinken said, referring to efforts to counter a pro-ISIS jihadist narrative on social media platforms. A digital communications hub set up by the United States and the United Arab Emirates in Abu Dhabi is part of that effort.
Fourteen months ago, the social media space was dominated by ISIS supporters, said Blinken. "Eighty to ninety percent of the messages and information in that space were pro-Daesh — that has entirely flipped, and now that space is dominated by anti-Daesh messages and it is beginning to have an impact," he added.
Targeting ISIS' oil revenue
The illicit sale of oil has been an important source of revenue for ISIS in Syria and Iraq. It is estimated that the group earns an estimated $1 million a day from oil sales. The international coalition targeted ISIS' oil operations early in the conflict, but ISIS was quick to adjust its strategy.
"But we've adapted as well," said Blinken, noting recent successes by Iraqi and Kurdish forces in seizing control of oilfields and refineries in ISIS-controlled territory in Iraq.
"In both Iraq and Syria, we are have aggressively gone after Daesh's ability to benefit from energy resources and we are not letting up now," the Deputy Secretary of State said. But, he added, ISIS will not be defeated while a war continues to be fought inside Syria.
"As long as Assad remains, there will not be peace. That's why Secretary [of State John] Kerry is working so hard to pursue a political transition that assures Syria's unity, its independence, its territorial integrity, and its secular character," Blinken said.
He added that for the first time all the major stakeholders are "starting to move in the same direction." A meeting of seventeen of these stakeholders in Vienna earlier in November produced an agreement that UN-supervised elections will be held in Syria in eighteen months.
Energy security
In his remarks, Blinken discussed the importance of energy security, especially for Europe, which relies heavily on Russia to meet its needs.
"In 2005 and again in 2009, Europe could only watch as Russia halted its gas flows into Ukraine in the dead of winter. That specter rose again in 2014 — a stark, cold reminder of what continued dependence on Russia would mean for the aspirations of all of Europe," he said. Russia annexed Crimea from Ukraine in the spring of 2014 and has since backed separatists in eastern Ukraine.
Since 2014, many European countries have taken steps to diversify their sources of energy and reduce their dependence on Russia.
Europe needs better interconnections and strategic liquefied natural gas (LNG) infrastructure so that gas can easily be delivered to any customer in Europe, said Blinken.
"Thanks to technological advances, the democratization of supply sources, new infrastructure projects, Europe is on track to greater security with a more transparent, integrated, and stable energy market," said Blinken.
He noted the significant progress in the Baltic States, which a year ago were an "energy island, entirely dependent on a single source for all their natural gas needs" and are now on track to being one of the world's most integrated energy regions by the end of this decade.
A similar approach must be taken in a number of other strategically important projects, including building floating energy terminals in Croatia and Greece, and completing the Greece-Bulgaria interconnector, Blinken said.
"The opening of the Southern Gas Corridor will change the energy map of the continent by building the links needed to deliver Caspian gas from Azerbaijan to Europe," said Blinken. This corridor will energize growth and enhance Europe's energy security, he added.
But, Blinken emphasized, developing European energy security is not a strategy aimed at eliminating Russian gas from the European market. "Russia will, and should, remain a major player, so long as it plays by the rules," he said.
Ashish Kumar Sen is a staff writer at the Atlantic Council.