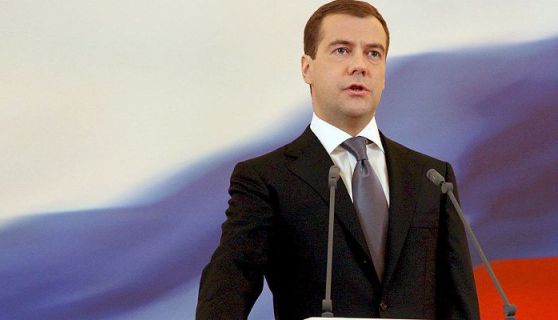 Russia's presidential vote Sunday poses a dilemma for Western leaders and American presidential candidates Hillary Clinton, John McCain and Barack Obama. Is it better to condemn the rigged elections or embrace the victor in hopes of encouraging a more cooperative Kremlin?
Answer: Hold your nose with one hand and extend the other to Dmitry Medvedev, who will win because Vladimir Putin has arranged it to be so. Putin will abide by his two-term constitutional limit and leave the presidency, but he is trying to remain Russia's most influential player by reinventing himself as prime minister.
There are several reasons to embrace Medvedev beyond his professed taste for the rock bands Deep Purple and Led Zeppelin. To name a few: the lack of good alternatives, Russia's crucial role on issues from European energy security to nuclear weapons proliferation and the precedent that new Russian leaders often surprise.
Nikita Khrushchev was a Josef Stalin protégé complicit in his purges. Yet he denounced his former boss once in power and tried a more liberal course. Western Kremlinologists didn't appreciate at first the far-reaching impact of Mikhail Gorbachev's first use of the words "glasnost" and "perestroika," ushering in historic Soviet political and economic openings. Putin himself was considered an uninspired if safe choice by Boris Yeltsin as successor.
It is too early to know whether Medvedev might also surprise, and Putin in co-habitation will act as a suspicious chaperone. But there are glimmers of hope.
Less Confrontation
Medvedev has signaled a less confrontational approach to the West, a more liberal attitude toward individual rights and free speech and a determination to "root out the practice of unlawful decisions by request or for money."
"Russia is a country of legal nihilism," he said. "No European country can boast such a universal disregard for the rule of law."
He also sees the need for improved relations with the U.S.
"It is necessary that the United States and Russian Federation cooperate," he said. "It is inevitable."
This conciliatory tone may merely set up Medvedev as good cop to Putin's bad cop, yet he's not alone among Russian elites in his concern that an adversarial course with the West could backfire economically.
Anatoly Chubais, head of Russia's electricity monopoly and former privatization boss, and former Finance Minister Alexei Kudrin both warned that the country's obstinacy might hurt it in the face of a global economic slowdown. While the U.S. and Europe seem happy to let the Chinese and Gulf Arabs buy considerable stakes in troubled financial houses such as Citicorp Inc. and UBS AG, they are far more suspicious of Moscow's intentions.
"Need to Adjust"
"In the nearest future we need to adjust our foreign policy goals to guarantee stable investment," Kudrin said.
The other reason to reach out to Medvedev is that Western attitudes toward him could affect his influence in the early days of his power-sharing arrangement with Putin. The constitution for the moment puts the nuclear codes and foreign summitry in presidential hands.
"You can either enhance or undermine his authority," says Thomas Graham, a former National Security Council official who now is a consultant at Kissinger Associates.
Medvedev is positioning himself to maintain presidential authority, even as Putin maneuvers to strengthen the prime ministerial role. In public, at least, Putin has given lip service to the primacy of the presidency.
Even if Putin manages to remain the foremost figure in Russian politics for some time, Graham says he won't be able to dominate the political process the way he has and that will present a chance for a fresh approach toward Russia. Two sources of power in today's Russia might not be an altogether bad thing, providing a bit more open debate on some issues.
Surly Mood
It's impossible to predict whether or when Medvedev will emerge as his own man or fulfill Western hopes. The current Russian mood is surly toward the West, resentful of the arrangements at the end of the Cold War that dismantled the Soviet empire and proud of its ability now to push back and be heard on global issues.
Medvedev himself played to this populism with his trip to Serbia this week, further stoking a dangerous nationalism in response to Kosovo's independence declaration.
Still, smart leaders around the world and on the campaign trail should leave their options open.
Russia's election process has been unfair, but the outcome holds promise.
Frederick Kempe is president and CEO of the Atlantic Council. Originally published 29 February 2008 by Bloomberg News. Reprinted with permission.