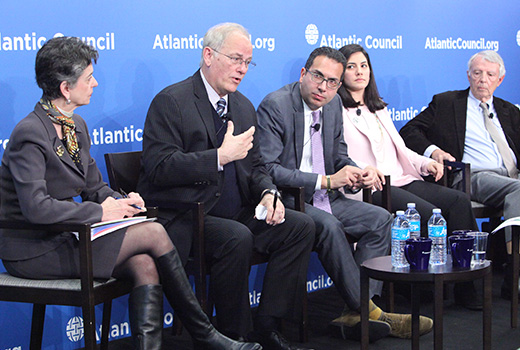 Plan seen taking heat off Gulf Arab states over role in war on ISIS, putting onus on the United States to do more
Saudi Arabia's offer to deploy ground troops to fight the Islamic State in Syria is seen as putting pressure on the Obama administration—which has been urging its Arab Gulf partners to ramp up their efforts—to itself take on a greater military role in Syria.
"[US Secretary of State John] Kerry has been going around saying, 'Everybody has to do more. Our Arab allies have to do more,'" said David Ottaway, a Middle East Fellow at the Woodrow Wilson International Center for Scholars. "They're saying, 'OK, we'll do more, but you have to do more.' And they know the US is not going to do more, so they're not going to have to do more."
"As a diplomatic ploy, I think it is a wonderful way of taking the heat off them and putting it on the United States," he added.

Frederic C. Hof, a Resident Senior Fellow at the Atlantic Council's Rafik Hariri Center for the Middle East, agreed. "It does turn the tables" on the Obama administration, he said.
Hof and Ottaway were part of a panel hosted by the Atlantic Council's Future of Iran Initiative on February 9. The other panelists were Amir Handjani, President of PG International Commodity Trading Services, and Sara Vakhshouri​, a Nonresident Senior Fellow in the Council's Global Energy Center. Barbara Slavin, Acting Director of the Future of Iran Initiative, moderated the discussion.
Saudi Arabia's offer to deploy ground troops in Syria comes with a caveat: that it is supported by the US-led coalition currently fighting Islamic State militants in Syria and Iraq.
Contending that solutions to problems in the Middle East should come from the Middle East, Handjani said he did not think it would be in the United States' national interests to deploy ground troops in Syria. To support his assertion, Handjani cited as an example the US experience in Iraq following the 2003 invasion.
Hof responded: "The sum total of the American experience abroad does not come down to Iraq 2003 or Libya 2011. It is not beyond the wit of American planners to put together a reasonable, rational, and executable civil-military stabilization plan" for Syria.
NATO Defense Ministers will discuss the Saudi proposal and the war on the Islamic State, also known as ISIS, at a meeting in Brussels on February 10.
If the Saudi plan materializes, it will put the Sunni kingdom's troops in a potential confrontation with Iran. Tehran provides military support to Syrian President Bashar al-Assad's regime through its Revolutionary Guards and proxy Lebanese militia group Hezbollah.
Iran and the Assad regime have reacted strongly to the Saudi offer: Syrian Foreign Minister Walid Moallem said Saudi troops would leave Syria in "wooden boxes," while Gen. Mohammad Ali Jafari, the head of Iran's Revolutionary Guards, said the deployment of Saudi troops in Syria would "be the end of Saudi Arabia."
Saudi Arabia has succeeded in provoking Syria and Iran to make "over-the-top negative statements that demonstrate that those entities want ISIS in Syria, in business, indefinitely," said Hof.
"In Syria, ISIS is of unsurpassed value to the Russians, to the Iranians, and to the Assad regime," he added.
The Saudi-Iran feud
Saudi Arabia cut off diplomatic ties with Iran in January after an Iranian mob, angry over the execution of a Shia cleric, attacked the Saudi Embassy.
The Sunni kingdom and the Shia Islamic Republic have advanced their competing strategic interests through their proxies in Syria. Iran and Saudi Arabia are also on opposing sides in the war in Yemen where a Saudi-led coalition is bombarding Iranian-backed Shiite Houthi rebels.
While such proxy wars continue to play out, Saudi Arabia's Deputy Crown Prince and Defense Minister, Mohammad bin Salman, ruled out a direct military confrontation between Saudi Arabia and Iran.
"[W]hoever is pushing towards that is somebody who is not in their right mind. Because a war between Saudi Arabia and Iran is the beginning of a major catastrophe in the region, and it will reflect very strongly on the rest of the world," Salman said in an interview with the Economist in January.
"For sure we will not allow any such thing," he added.
Tensions between Saudi Arabia and Iran have been heightened following the nuclear deal Tehran struck with the P5+1—the United States, the United Kingdom, Russia, China, France, and Germany—in July of last year. The deal removes sanctions imposed on Iran over its nuclear program in return for Iran shelving its nuclear ambitions. Saudi Arabia has, in response, ramped up its lobbying efforts in Washington in an effort to counter Iran.
Russia tips the balance
The picture in Syria became further complicated when Russia deployed its military assets on the side of the Assad regime last September. Russian support has, in part, helped tip the balance in Assad's favor. The regime today stands on the verge of capturing the northwestern city of Aleppo—a development that is expected to exacerbate the humanitarian crisis in a war that has already left more than 250,000 people dead and forced eleven million people to flee their homes.
Kerry will participate in meetings in Munich on February 11 that aim to find a political solution that is acceptable to all Syria stakeholders and focuses efforts on defeating ISIS. Representatives from Russia, Saudi Arabia, and Iran are expected to join these meetings.
Kerry has probably been disabused of the belief that ISIS is a common enemy for Washington, Tehran, and Moscow, said Hof. "For Moscow, Tehran, and the Assad regime, ISIS is a gift that just keeps on giving," he said. "The so-called caliph [of the Islamic State], Abu Bakr al-Baghdadi, serves as a wonderful foil for Bashar al-Assad… Baghdadi, in many respects, is his potential ticket back to polite society."
Hof contended that the Russian and Iranian objective in Syria is to eliminate all alternatives to Assad and ISIS thereby leaving the West with a "horrific binary choice between the two."
"The thesis of a common enemy in terms of [the Islamic State of Iraq and al-Sham] has been destroyed totally, and now, unfortunately, the United States is left with picking up the pieces diplomatically," said Hof.
What do the Iranians think?
Tehran, which has close ties with Assad's regime and sees it as a bulwark against groups like ISIS, considers what is happening in Syria not just as an existential issue, but also as a threat to Western civilization, said Handjani. ISIS was behind the November 13 attacks in Paris last year that left 130 people dead.
In the context of Saudi links to terrorism—from the fact that fifteen of the hijackers on 9/11 were Saudis to the inspiration that the Wahhabi ideology provides to Syria-based groups like ISIS and Nusra Front, and Boko Haram in Nigeria—Iran finds US policy "quite unbelievable," said Handjani. "Iran views US policy as somewhat talking from both sides of their mouth: they want to confront ISIS, but they don't want to deal with the root of this ideology, which comes from Riyadh."
What do the Saudis think?
The Saudis, on the other hand, believe Iran first ratcheted up tensions when it called for the overthrow of the al-Saud family during the 1979 Islamic Revolution in Iran, said Ottaway. "From their point of view, it is Iran that has looked for trouble and pushed them into a corner," he added.
As a consequence, there is a feeling of what Ottaway described as being a "national necessity" inside Saudi Arabia to stand up militarily to Iran. The Saudi offer to deploy troops to Syria should be seen in this context, he said.
"Saudi Arabia has no military throw-weight. They have never been able to show that they can stand up and deal with Iran or Syria," said Ottaway. "For them, with this feeling that the United States is slowly withdrawing from the Middle East, they realize that they have got to stand up with their allies and fend for themselves."
Such an approach has led Saudi Arabia to become mired in Yemen. Some analysts doubt that Saudi troops can have much of an impact in Syria.
The Saudis "export money to fundamentalist groups around the world to go about and fight for them; that's what they are good at. They're not good at putting boots on the ground and fighting for themselves," said Handjani.
Ashish Kumar Sen is a staff writer at the Atlantic Council.