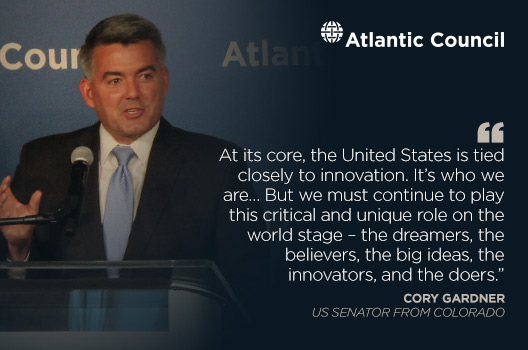 United States Senator Cory Gardner (R-CO) implored policymakers to take the steps necessary to protect and grow the United States' global leadership in innovation during a keynote speech at the Atlantic Council on June 26.

"The United States has a history of lifting pragmatists and problem-solvers," he said. "We're builders, dreamers, and innovators with diverse backgrounds, but a unique zeal to get things done. That commitment to collaboration and advancements is what keeps us as the world's innovation leader. . . it's so important, because of that leadership, that Congress pursue policies that keep us in that leadership role."
Senator Gardner spoke at the launch of "The Global Innovation Sweepstakes: A Quest to Win the Future," a report from the Atlantic Council's Scowcroft Center for Strategy and Security in partnership with Qualcomm. The report explored the state of technology hubs in ten different countries and involved over 200 interviews with scientists, business leaders, and policymakers. The report follows on last year's study "Keeping America's Innovative Edge," which laid out a strategic framework for how the United States could reinvigorate its innovative advantage.
Gardner warned the audience that this edge is slipping, as developing countries such as India and China continue to grow their domestic research and development (R&D) budgets. The consequences of losing this lead would be dire, he warned. "We saw what happened with the loss of economic opportunities, technology development, and more when the Japanese beat us in the race to 3G." Gardner specifically noted the United States' lackluster telecommunications innovation, resulting in "spectrum crunch" in densely populated urban areas and sparse coverage in rural areas. Remarking on his hometown of Yuma, Colorado, he said "we have five bars in our town, it's just not on our phone."
Gardner was particularly concerned about China's rise, noting that Beijing was on pace to outspend both the United States and the European Union on R&D spending in the near future. "Imagine a world where China discovered the latest and greatest innovations. It's a world where budding scientists and entrepreneurs would flock to Beijing and Guangzhou over San Francisco and Boulder. It's a world where free-thinking and public-private partnerships might give way to the party line and centralized bureaucracy. Ultimately, it's a world that would deprive the United States of our spot around the globe as the scientific innovator in chief, and strip us of a major driver of our economy."
To avoid losing the United States' innovative advantage, Gardner was adamant that the federal government must play a role. While noting that the private sector funds almost three-fourths of R&D spending in the United States, he pointed out that "there are instances in which. . . private investment alone doesn't make either economic sense or. . . [is] in itself going to be insufficient to generate major breakthroughs." He used Google's search engine algorithm and the iPhone's glass screen as examples of technological innovations originally supported by federal research funds. Without additional support from the government, Gardner argued, the United States would soon find itself behind other international leaders, adding to those "who believe that private corporations will pick up the remaining part of science research if we just leave the field to them, I would encourage them to start speaking and learning Mandarin."
Along with the need to keep up with foreign spending, Gardner highlighted growing security concerns as a potential obstacle to the United States' innovative edge. "Now, more than ever, our economic and political adversaries wish to infiltrate our networks, steal our patents, and otherwise disrupt the American communications landscape and the American economy." Importantly, however, Gardner maintained that these concerns "should not require that the [United States] withdraw from our trade relationships around the globe or discourage the establishment of new ones," in contrast to the deteriorating trade relationship between the United States and China, over accusations that Beijing is stealing American technology.
Despite the challenges, Gardner is optimistic about America's innovation future, because he believes innovation is so engrained with American identity. "At its core, the United States is tied closely to innovation. It's who we are. Our nation's very founding was an innovative approach to government. Many scoffed at the notion of throwing off the yoke of a foreign ruler and starting a country steeped in the ideals of freedom. But we succeeded, and that daring American character has withstood centuries, and our values have spread across the globe. But we must continue to play this critical and unique role on the world stage – the dreamers, the believers, the big ideas, the innovators, and the doers."
A transcript of Senator Gardner's full remarks can be found here: http://www.atlanticcouncil.org/news/transcripts/the-global-innovation-sweepstakes-senator-cory-gardner
Video of Senator Gardner's remarks and the entire launch event can be found here: https://www.youtube.com/watch?v=697viDWrj3M&t=4091s
The Atlantic Council's report, "The Global Innovation Sweepstakes: A Quest to Win the Future" can be found here: http://www.atlanticcouncil.org/innovate
David Wemer is assistant director of editorial content at the Atlantic Council.