With the flurry of investor attention in the world of environmental, social, and governance (ESG) impact funds and socially responsible business, the climate-friendly and environmental aspects are front and center. The other facets of ESG—the social and governance elements—are slightly more nebulous, however, and are sometimes forgotten amidst the great green gold rush.
One clear example is the focus on diversity and, specifically, increasing the participation of women in senior corporate management and board governance. Yet, just as there are accusations of "greenwashing" in climate finance, the championing of women can often be viewed as just lip service. To put it bluntly, companies may strategically highlight their token female executive among their top ranks but fail to make much substantive or sustainable change beyond what's in their marketing material.
Still, as William Pesek observes, "Women are good for business, not charity cases." Numerous studies demonstrate the statistically significant relationship between increasing the number of women in senior management and on corporate boards, and accelerating company performance. In data taken from the Italian manufacturing sector, the Standard & Poor's (S&P) 1500 in the United States, two million firms in 34 European countries, and corporate boards in China, adding several women to either an executive management team or a board has been shown to have a positive impact on performance in several ways, including increasing wages and sales per worker and improving productivity—thereby boosting return on assets, as well as the firm's underlying economic value.
A closer look at the data reveals that supporting female leadership has material macroeconomic implications. The very ways in which women executives are shown to enhance performance address some of the clear underlying problems in advanced economies today, such as improving flatlining productivity, reducing the gender wage gap and income inequality, generating sustainable corporate profits, boosting competitiveness, navigating the shift from old to new economic growth, managing the effects of automation, and stimulating innovation.
What are the facts?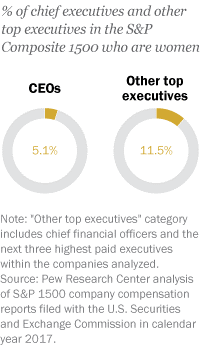 Based on examining the S&P 1500, the number of companies with more than a "small minority" of female leaders is "vanishingly small." As Figure 1 shows, only 11.5% of senior executives in the S&P 1500—and only 5.1% of chief executive officers—are women. Even in Europe, the spiritual home of ESG, serving as a senior executive or on a corporate board "remains predominantly a male phenomenon." Despite initiatives such as the European Commission calling for women to make up 40% of board representation for publicly listed European companies by 2020, or the implementation of a Norwegian law mandating 40% female board composition (and similar regulations implemented by sixteen other countries), women comprise less than one fifth of senior executives, and only 5.1% of CEOs in Europe today. As Figure 2 shows, this is hardly representative of the labor force participation (LFP) rate of women in Europe—which averages about 65%.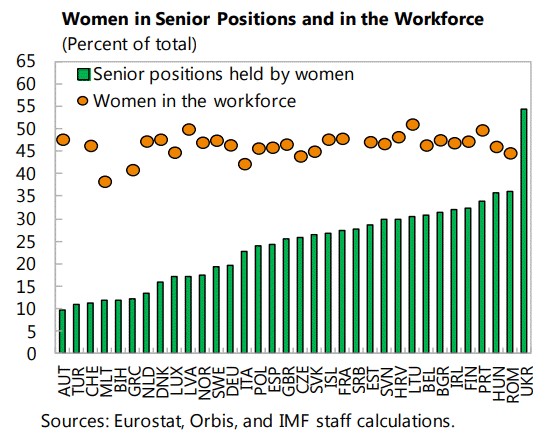 In many European countries, female LFP has increased in recent years, as governments and companies have enacted accommodative family leave policies. These forward-thinking steps, combined with the widespread implementation of regulations on increasing the number of women in board seats, imply that something else is at play that prohibits a more balanced representation of women in senior leadership. In economist jargon, this may be a result of "demand-side constraints;" that is, social norms may be inhibiting wider acceptance of women as executives.
Where are the bright spots?
In a sample of companies in the Italian manufacturing sector, one group of researchers found that female CEOs are likely to increase the wages of women at the higher end of the wage distribution. The data shows that women earning above the median earn, on average, 7.8% more than they would with a male CEO. One of the reasons might be that female executives are better able to match the specific skills of women to complex tasks. This "signaling" to female workers by female executives improves productivity and, in turn, wages at the higher end of the spectrum. Having a female CEO overseeing a workforce of at least 20% women also boosts sales per employee by 14%. And, although harder to quantify, the extent to which having a female executive in a company is emblematic for younger women wishing to rise, and to be fairly rewarded for their performance, cannot be discounted.
Balanced voice within the management team
Research shows that adding female executives to a senior management team is healthy for decision-making. The presence of women may "legitimize the expression of divergent perspectives among the male majority." And, even if a female executive holds a viewpoint aligned with that of her male colleagues, her mere presence may generate a more diverse and creative decision-making environment. Having access to this balanced voice may also help executives in this age of information bombardment; when management teams are faced with reams of data, it may be beneficial to have a clear and grounded view on how to synthesize relevant information in order to make strategic decisions. Additionally, if an organization's target customer is largely female (such as with specific consumer industries), the contribution of female perspectives may equally enrich the broader corporate strategy.

Crucially, the move to increase the number of female executives is not about a revolution. Data shows that the performance boost disappears when women make up more than 60% of the management team. This suggests that the emphasis needs to be placed on achieving equilibrium, and a broad complement of voices and leadership styles.
Premium on innovation and the new economy

A recent study of S&P 1500 firms also highlights the positive relationship between increasing female corporate leadership and innovation. The presence of female executives also helps to improve creativity for workers further down the hierarchy. Evidence shows that "empowering and participatory leadership styles have been linked to intrinsic motivation and creativity." Female executives may be more willing to spend time mentoring and enhancing the personal performance of their subordinates, which may, in turn, increase workers' individual creativity and motivation.
Indeed, for S&P 1500 firms with a higher innovation intensity, female representation on the management team is shown to boost firm value (measured in Tobin's Q ratio) by $42 million, as well as to spur "superior accounting performance." An examination of two million firms in Europe also shows that the positive impact of female executives on firm performance is most dramatic in knowledge-intensive and high-tech sectors. An increase in female executives is especially profitable in industries "with greater demand for creativity and critical thinking."
A common-sense buttress against fears regarding the future of work
While politicians, executives, and economists puzzle over how to improve flatlining productivity, which has plagued the West for the better part of 40 years, one clear way is to increase female executives, who may be better equipped to match skills to tasks for a growing number of women in the labor market. This may, of course, also be a pragmatic solution for addressing a top concern of executives: the availability of key skills. Adding a few women to the executive team has the power to unlock the motivation and creativity of a growing share of a company's employees.
And with an increasing focus on reducing the gender pay gap—and the endemic issue of income inequality—greater representation of women in corporate management can help to increase the wages of female managers. This, in turn, may yield a boost to consumption—or, indeed, an increase in sustainable investing. (With the growing female participation in the labor force, women are evidenced to motion for more sustainable investing choices.)
Additionally, as innovation is at the heart of corporate strategy for "old" and "new" economy companies alike, incorporating female voices in the senior management team has the power to boost creativity. Crucially, in this age of automation anxiety, skills such as creativity, innovation, intuition, and critical thinking cannot be automated. Rather than fret about job losses, business leaders would do well to pivot toward accommodating a balance, from which spring human, rather than robotic, qualities that are growing in demand.

Dr. Alexis Crow is a nonresident senior fellow with the Atlantic Council's Global Business and Economics Program and leads the Geopolitical Investing Practice for PricewaterhouseCoopers.