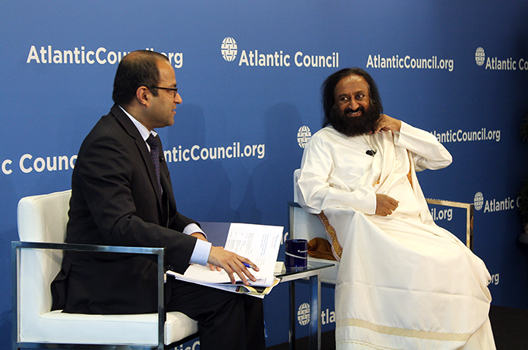 Compassion and cooperation are key to dealing with global conflict, one of India's renowned spiritual leaders, Sri Sri Ravi Shankar, said at the Atlantic Council in Washington on April 19.
"The value of compassion, of cooperation…should be emphasized more than aggression," said Sri Sri Ravi Shankar, founder of the Art of Living Foundation.
"When we speak to people, we make them understand that we understand them," said Shankar, founder of the Art of Living Foundation. He called for world leaders to apply this principle to their politics. According to Shankar, in the midst of conflict, opposing parties must be made "to feel they are part of [a] dialogue. You cannot accuse someone and expect them to come forward."

"The value of compassion, of cooperation…should be emphasized more than aggression," said Shankar.
His words can—and have been—applied to conflicts all over the world.
Shankar spoke on the importance of spirituality in geopolitics and conflict resolution. He participated in a conversation moderated by Bharath Gopalaswamy, director of the Atlantic Council's South Asia Center.
"If there is a conflict, the first thing is that there is a communication breakdown. Second, there is a trust deficiency," said Shankar. "If we can bridge these somehow, then the process begins."
Shankar applied this principled to his intervention in the conflict in Colombia. In 2015, he met with members of the Revolutionary Armed Forces of Colombia (FARC), the rebel group who had waged a guerilla war against the Colombian government for over fifty years. Thousands died on both sides.
Rather than attack the FARC when they agreed to a meeting, Shankar approached the conversation with compassion and empathy. "I understand you are also victims," he said. Shankar described his conversation with the FARC leaders, saying he told them he agreed with their fight for social justice, but not their violent methodology.
"Inside every culprit is a victim crying for help," said Shankar. "If you can heal the victim, the culprit will disappear."
Ultimately, understanding broke down entrenched barriers. In the wake of Shankar's visit, the FARC agreed to a ceasefire. In 2015, a peace deal was formed, agreed upon, and signed by the FARC and Colombian President Juan Manuel Santos.
However, Colombia now faces an election that threatens the future of the peace agreement. Right-wing candidate Iván Duque Márquez openly opposes the deal. With the election looming in June, he currently sits at the top of the polls.
"Peace deals can happen, but to keep those promises, there must be a political win," said Shankar. "Different voices—for their own political reasons—can disrupt peace, but the people have to decide," he added.
However, the conflict between the FARC and the Colombian government is only one of many such conflicts threatening stability on a global scale. Complicating factors, namely the information warfare dominating headlines, has ratcheted up tensions in the security space.
Conflict may take place in only one physical location, said Shankar, but because of any form of false information, "you have to put [in] tremendous effort to contain disturbances."
"In a digital age…when we don't have any boundaries," Shankar said, "we should remove the boundaries from our minds and become global citizens."
"The voice of peace and sanity must be heard loud and clear," he said.
On the issue of combatting religious extremism, Shankar said: "Wrong indoctrination must be set right."
The solution? Education.
According to Shankar, "multicultural and multi-religious education will help remedy not only violent extremism but many other social ills." Through such education, "accommodating and accepting diversity will become a part of [children's] genes. This must be done," he said.
"The other is always a threat," said Shankar, but with education, "the threat or fear will disappear." Ultimately, he said, "thought process changes [when] perception changes," opening the door for cooperation and change.
Shankar called or a whole-of-society reset to address the way people all over the world have begun to think about others and the world around them. When constantly bombarded by negative information, he said, "the human psyche is shaken."
"We need to bring back the faith in humanism," Shankar implored. "There are good people everywhere; it's not bad news everywhere."
Rachel Ansley is assistant director of editorial content at the Atlantic Council.