Tanks and armored fighting vehicles have proven time and again that they can be the difference between victory and defeat on the battlefield. Nobody knows that better than Sergeant 1st Class James Pilkington, who commands a platoon of Tennessee National Guard combat engineers helping to protect NATO's eastern flank in Poland.
Pilkington's Berserker Troop platoon has been training with Polish soldiers in the huge Bemowo Piskie Training Area of northern Poland for several months. The US-led battle group in Poland, which includes US and Polish troops, also has British, Romanian, and Croatian soldiers.
Combat engineers' main task is protecting armor against enemy fire. Two ways they do this are digging holes and building earthen walls to conceal armor and prevent rounds from reaching it.
"I'm basically digging foxholes for Abrams tanks and Bradleys (fighting vehicles)," Pilkington said, with the tools being bulldozers and backhoes instead of shovels.
Combat engineers also use demolition and other techniques to remove enemy-laid obstacles such as mines and concertina wire that can disable tracked and wheeled vehicles.
"Rows of concertina wire will roll up like a spindle on the track of a tracked vehicle and jam it up, preventing it from moving," Pilkington explained.
Besides protecting allied armor, his platoon is trained in ways to keep enemy armor from rolling into position to knock out friendly armor. This involves building earthen berms, and laying mines, concertina wire, and barbed wire.
"These counter-mobility obstacles either keep the enemy out or allow us to channel the enemy into places we want them to go," Pilkington said.
Other skills that combat engineers are taught include bridging rivers, building helipads, and spotting and cordoning off areas around roadside bombs known as IEDs.
Because combat engineers often work long hours alongside infantry and armored troops close to the front, their job is not just grueling, but dangerous.
Pilkington experienced the danger when he was stationed at Balad Air Base near Iraq's capital of Bagdad in 2010. An insurgent-fired rocket landed 90 feet from him, but failed to go off. "The prayers they were saying for me back home worked," he said.
The troops nicknamed the base Mortaritaville because it took so much mortar and rocket fire, Pilkington said. There were seventy-two attacks in less than a year while he was there.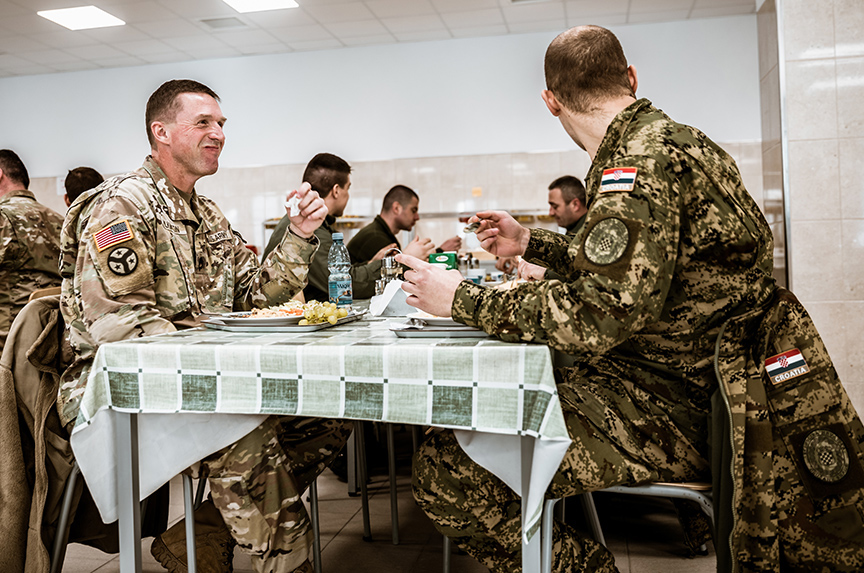 Pilkington didn't get involved in clearing IEDs in Iraq. That task went to specialists known as explosive ordnance detail technicians.
He has taken lots of training for a role just as dangerous, however: clearing mines.
"I have been sent to three in-depth, 80-hour courses over the years at Army bases such as Fort Campbell, Kentucky," he said. The training usually involves AN/PSS-14 mine sweepers, which can detect both metal and plastic mines.
The Berserker Troop's deployment to Poland has given its members a chance to fine-tune skills they would have had little opportunity to hone back home, Pilkington said. It has also made him an enthusiastic supporter of working with allies to defend democracy.
Pilkington has become close to a number of European troops and been impressed with the quality of their non-commissioned officers (NCOs). And he cherishes the warm reception that Poles gave his platoon at the country's 100-year independence celebration in Warsaw on November 11, 2018.
In addition to training with allied troops, Berserker Troop has done reclamation work at the Bemowo Piskie Training Area, restoring bomb-damaged terrain.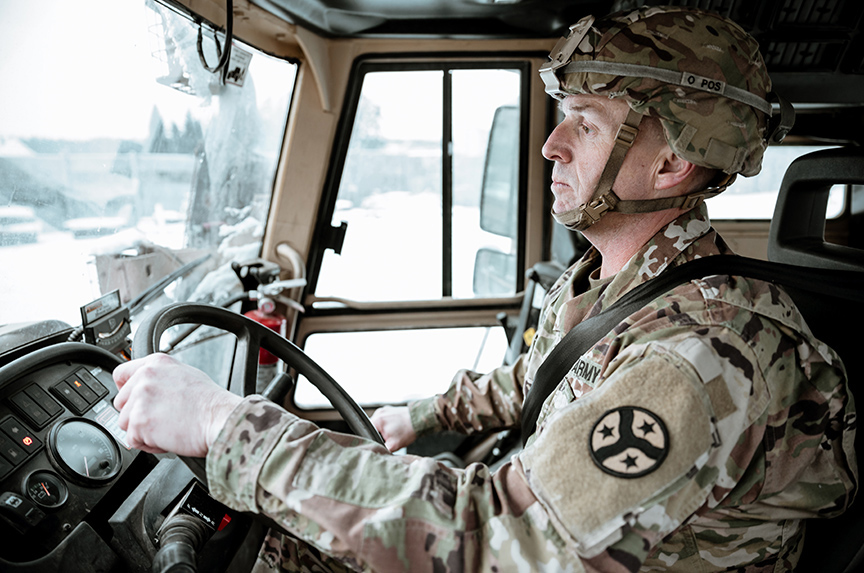 Pilkington is a native of Monteagle, Tennessee. His platoon is attached to the Second Squadron of the Tennessee National Guard's 278th Armored Cavalry Regiment in Russellville.
He received his initial combat engineer training as a Marine at Camp Lejeune, North Carolina, in 1985. He stayed in the field after switching to the Army, where he took both combat-engineering specialty courses and leadership training.
His first focus was demolition — a crucial and widely used combat engineering skill. Later he switched to heavy equipment.
Although combat engineers learn a range of skills, some units specialize. The thirteen members of Berserker Troop are masters at earth moving, Pilkington said.
The platoon can dig a hole to hide an armored vehicle in as little as 45 minutes. "We can also push up a protective earthen berm fairly quickly," he said.
The holes are dug to a standard width, length and depth, although they can be tweaked at an armored commander's request. Front and rear exits allow a vehicle to surge out of a hole in the direction that offers the best firing position.
Combat engineers prefer digging during the day because sunlight makes the job easier, but work at night when they have to. "If the enemy is expected to be in a certain place at a certain time, we have to finish what has to be done before he gets there," Pilkington said.
Berserker Troop usually has to dig holes for two to five armored vehicles at a time, he said.
An example of the unit's hustle is that "we did a 500-mile anti-tank ditch" in one day recently, Pilkington said.
The Bemowo Piskie Training Area has given the platoon some of its most valuable training ever, he said.
Opportunities to go to a US training area "to work hand and hand with armored or other units" is limited, he said. "Here, every day we train in-depth and in minute detail."
The Polish troops the platoon works with include top-flight NCOs "with a lot of experience in Afghanistan and other places — so there is a mutual respect there," Pilkington said.
"One of the best things about being here is meeting the other NATO troops," he said. "We've had great cooperation with all of them."
He's developed what he expects to be lifelong friendships with some of the Croatian troops with whom Berserker Troop shares a barracks.
"I've been invited to a couple of their homes," and will go if there's a chance, he said.
Pilkington will never forget the trip his platoon took to Warsaw to help Poles celebrate the centennial of their independence.
Berserker Troop was among units from all twenty-eight NATO countries that the Polish government asked to set up displays in front of the Chancellery building, the prime minister's headquarters.
"We had a tent where we were in uniform with our body armor and our equipment," Pilkington said. "There were just throngs of Polish people taking photos of us, looking at our equipment, trying on our helmets. They were so happy, and so welcoming. It really made me proud to be demonstrating our commitment to NATO and the Polish people on that day."
Hal Foster is a freelance journalist based in Moldova.