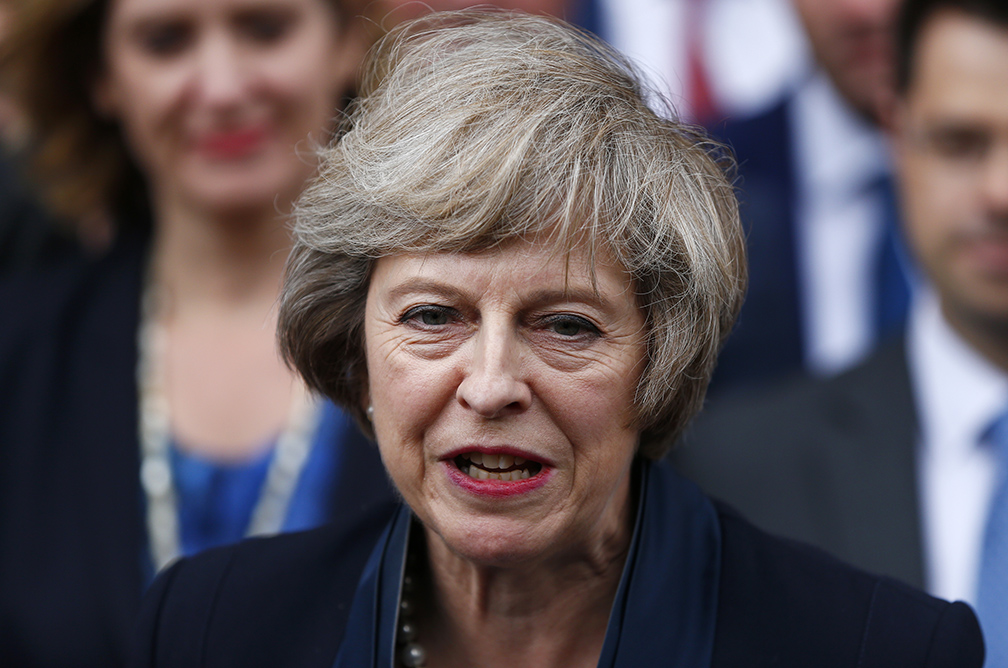 British Prime Minister Theresa May's government was engulfed in turmoil on July 9 as she lost two senior Cabinet members over her plans for a soft Brexit.
Within a span of twenty-four hours, David Davis resigned as Brexit secretary and Boris Johnson as foreign secretary. If forty-eight members of Parliament write letters of no confidence, May will be forced to face a vote of no confidence.

The United Kingdom is due to leave the European Union (EU) on March 29, 2019. However, the two have yet to reach a decision on trade after Brexit.
After more than twelve hours of discussions at May's country residence, Chequers, on July 6 her Cabinet signed off on a plan that would keep close trade ties between the United Kingdom and the European Union. The Chequers meeting produced a plan for a new "UK-EU "free trade area." Not all Conservative Party members support that plan as was evident from the resignations of David and Johnson.
Peter Westmacott, a distinguished ambassadorial fellow with the Atlantic Council's Future Europe Initiative and a former British ambassador to the United States, discussed the latest developments in an interview with the New Atlanticist's Ashish Kumar Sen. Here are excerpts from our interview.
Q: Why are Conservative members of Parliament angered by Prime Minister May's Brexit plan?
Westmacott: What the prime minister has done, and this was her strategy at Chequers on [July 6], is to try to come up with a plan which bridges the differences within the Conservative Party and which, she hopes, has a chance of flying in Brussels. But it was, inevitably, a strategy which was more soft than hard as the reality has dawned of the damage which a "hard" Brexit would do to the economy and Britain's standing in the world.
Moving toward membership of a customs union and the single market are among a number of the things that the hardline Brexiters don't like in the Chequers document. Although all the ministers who were present [at Chequers] signed up to it, within twenty-four hours legal experts from the Euroskeptic Leave camp had torn it apart and then we had these two high-profile resignations and some junior ones with it. It is an indication of the fact that the Conservative Party is still split down the middle on the type of Brexit that the United Kingdom should be trying to negotiate.
Q: What are the implications of the resignation of Boris Johnson—widely seen as the face of the Leave campaign—for the May government?
Westmacott: I think the departure of David Davis is in some ways more significant because he was the person supposedly in charge of negotiations with the European Commission. Boris Johnson had nothing to do with that. He is a figurehead who was the foreign secretary and out there making trouble by regularly criticizing the prime minister's position on Brexit. The fact that he has left the government potentially means that he can make more trouble outside government, but within the administration, frankly, I think it removes a thorn from the prime minister's flesh and it might make it easier for her to keep her ministers aligned and pointing in the right direction.
Q: Do you see Johnson mounting a leadership challenge to May?
Westmacott: It is hard to tell at the present time. I think that it is unlikely unless you get the famous forty-eight signatures from members of Parliament which call for a leadership contest. In which case, there would have to be one. Boris on his own cannot trigger that. There would have to be a widespread sense of discontent within the Conservative Party that the prime minister isn't doing a decent job. Theresa May will resist any attempt to unseat her. But if there is a leadership contest, I would be very surprised if Boris Johnson did not put his hat in the ring. However, he has very little support among other members of Parliament even if the base of Conservative Party still seems to be quite fond of him.
Q: Can May survive a no confidence vote?
Westmacott: It is hard to predict, but my hunch is that she probably could. She could, I believe, see off a leadership challenge from within the Conservative Party. No one can be sure at the moment whether she could survive a motion of no confidence in Parliament. If she lost one, it would open up the possibility of an early general election. It is one thing to have a prime minister who replaces one without having won an election, but to have one [who is] two removed from an electoral victory creates issues of political legitimacy. But the Conservatives may rally around her, with the support of the Ulster Unionists who make up her working majority, given their fear that an early general election could spell victory for Jeremy Corbyn and the opposition Labour Party.
Q: What would such an outcome mean for the prospects of Brexit?
Westmacott: If Corbyn became prime minister, we don't know. Jeremy Corbyn is known to be Euroskeptic, but has been saying that his party should be moving in a direction which is more pragmatic on the European Union. There is a strong majority within his parliamentary party—in other words, among Labour members of Parliament—to have a pragmatic Brexit rather than a hard one. That is true within the Conservative Party as well. In a free vote, there would be an overwhelming majority in favor of a soft Brexit—and a substantial vote in favor of no Brexit at all.
Q: Would the Chequers plan survive a Commons vote?
Westmacott: The next thing that is supposed to happen is the production of a government white paper, reflecting the conclusions of the Chequers document. Trouble is, the Chequers plan might not [survive a Commons vote] in its present form. In many ways the more important thing is whether it would survive scrutiny in Brussels. And the answer to that is probably no. I see the Chequers document as an exercise in trying to bring the Conservative Party together, which lasted twenty-four hours. But it was never likely to be an effective manifesto on behalf of the United Kingdom that was going to make much difference to the negotiations in Brussels.
Q: What are the likely implications of President Trump's visit to the United Kingdom as it comes amid this turmoil in the May government?
Westmacott: The visit was supposed to be about strengthening the bilateral relationship and Trump's feelings towards the United Kingdom. It now seems likely to be a review of the NATO summit the day before, a preview of the president's meeting with [Russian President Vladimir] Putin in St. Petersburg, and an attempt by the UK government to get him to recommit to a quick and favorable post-Brexit free trade agreement between the United States and the United Kingdom. But it will inevitably be affected, if not overshadowed, by the political crisis in which the British government now finds itself embroiled.
Ashish Kumar Sen is deputy director of communications, editorial, at the Atlantic Council. Follow him on Twitter @AshishSen.