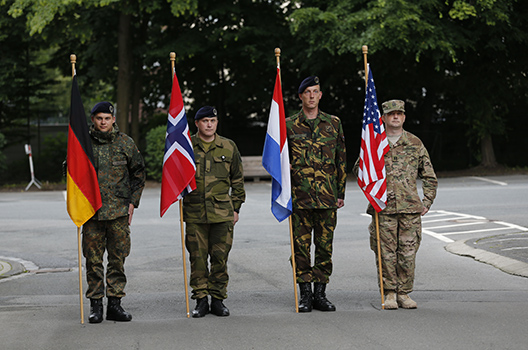 Since the election of US president Donald J. Trump, much attention has been focused on the defense spending of European NATO members and whether the Alliance has been "too costly for the United States," as claimed by Trump. Long-standing burden-sharing concerns have morphed into larger disagreements on the value the United States gets from being part of NATO.
The Alliance, however, is more than just a defense mechanism for continental Europe. It is a major provider of security around the world. Since the end of the Cold War, NATO has expanded its mission to address threats outside of Europe and protect its members from a wide range of security challenges.

Here is a look at what NATO has been doing since the end of the Cold War:
Afghanistan and Iraq
NATO launched the International Security Assistance Force (ISAF) in Afghanistan in December 2001 in response to the terrorist attacks of September 11, 2001. The force remained in Afghanistan until December 2014 when NATO transitioned into its current non-combat training mission, Resolute Support.
From February to April 2003, NATO deployed radar aircraft and defense batteries to protect Turkey as operations continued in Iraq, as part of Operation Display Deterrence.
In 2004, NATO created the NATO Training Mission in Iraq, which oversaw the training and development of the Iraqi Security Forces. The mission was completed in 2011 and all NATO member states contributed either direct ground personnel or financial contributions.

Libya
NATO launched Operation Unified Protector to enforce two United Nations Security Council resolutions and protect civilians during the uprising against Muammar Gadhafi in Libya in 2011. The operation enforced an arms embargo by sea, a no-fly zone over the country, and conducted air and naval strikes to protect civilian areas from military attack. Non-US NATO members contributed more than 60 percent of the assets for this operation.

Southeastern Europe
NATO conducted operations in 1994 and 1995 during the Yugoslavia crisis, including enforcing arms embargos and no-fly zones, as well as carrying out United Nations (UN) requested airstrikes on Bosnian Serb military targets in Operation Deliberate Force.
In 1995, NATO deployed in the region as part of the United Nations peacekeeping force, followed by a 32,000-troop deployment as part of the Stabilization Force. NATO's peacekeeping force was replaced in 2004 by the European Union's Operation Althea.
NATO conducted airstrikes against Serbia from March to June 1999 in response to Serbian human rights abuses in Kosovo. NATO troops remain in Kosovo today to train multiethnic police and security forces.

Counterterrorism and Counter-piracy
On October 4, 2001, NATO launched its first ever counterterrorism operation— Operation Eagle Assist—following the 9/11 terrorist attacks on the United States. NATO assets from more than thirteen member states flew air patrols over the skies of the United States. Operation Eagle Assist was the first time that NATO assets were used for common defense of a member state and the 9/11 attacks were the first and only time a member state invoked Article V, NATO's principle of collective defense.
NATO has patrolled the Mediterranean Sea on counterterrorism and civilian rescue missions since 2001 as part of Operations Active Endeavour and Operation Sea Guardian.
NATO patrolled the Gulf of Aden and Somali coast to protect against piracy from August 2009 to December 2016 as part of Operation Ocean Shield, as well as several smaller missions to protect UN and African Union peacekeepers and relief workers entering Somalia.
NATO provided security assistance during the 2004 Olympic and Paralympic Games in Athens, Greece.

Natural Disaster Relief
In 2005, following the devastation caused by Hurricane Katrina in the United States, NATO launched a humanitarian support mission. Nine NATO members provided 189 tons of material support to the United States.
In October 2005, NATO launched a relief mission to Pakistan to assist with the recovery from the earthquake that killed 53,000 people. NATO members airlifted supplies and deployed medical and engineering experts.
NATO continues to provide regular disaster relief support to its members and global neighbors.
David Wemer is an assistant director of communications, editorial, at the Atlantic Council. Follow him on Twitter @DavidAWemer.
*Editor's Note: This article was originally published on July 6, 2018 in anticipation of the July 11 NATO Summit. It was updated with new wording on January 15, 2019.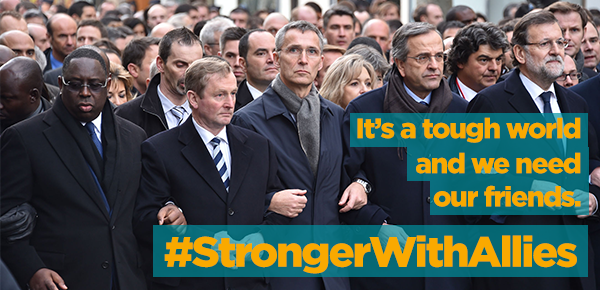 The Atlantic Council is supporting the #StrongerWithAllies campaign, promoting the idea that the United States is stronger and safer with friends abroad. Please join our effort by visiting
StrongerWithAllies.org
and using our social media toolkit to share our own content about why we're #StrongerWithAllies.