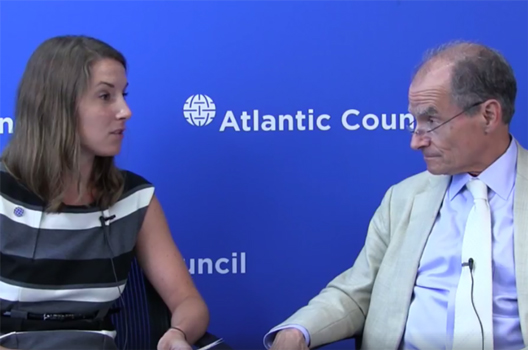 The Russia sanctions bill passed overwhelmingly by the US House of Representatives on July 25 is a "strong" piece of legislation that makes it clear that the United States must work jointly with its European allies to impose those sanctions, according to Daniel Fried, a distinguished fellow at the Atlantic Council.
"[The House bill] locks in the sanctions against Russia because of Ukraine; locks them in because of congressional concerns that the Trump administration is going to unilaterally lift them," said Fried, who served as the State Department's coordinator for sanctions policy in the Obama administration.
Fried spoke in a Facebook Live discussion with Ellen Scholl, an associate director in the Atlantic Council's Global Energy Center, on July 24. The following day, the House approved the sanctions legislation, which targets Russia, Iran, and North Korea, by a 419-3 vote.


A Senate vote on the bill is expected soon.
The Trump administration has sent mixed signals on whether the president will sign the legislation into law. "He has no intention of getting rid of [sanctions on Russia], but he wants to make sure we get the best deal for the American people possible," White House spokeswoman Sarah Huckabee Sanders said on July 24. "Congress does not have the best record on that… He's going to study that legislation and see what the final product looks like," she added.
The European Union expressed alarm at the legislation, which, it believes, would harm European energy companies that have ties to Russia and undermine European energy security.
"If our concerns are not taken into account sufficiently, we stand ready to act appropriately within a matter of days. 'America First' cannot mean that Europe's interests come last," European Commission President Jean-Claude Juncker said in a statement.
Fried noted that the language in the House bill calls on the president to impose new sanctions in coordination with the EU. "One of the big problems in sanctions against Russia is that we often get sidetracked and start fighting with the Europeans," said Fried. "Never forget what it is you're trying to achieve. You're not trying to achieve some symbolic fight with Europe to show how tough you are. You are trying to work with Europe as much as possible."
Kelly Russo is a communications intern at the Atlantic Council.